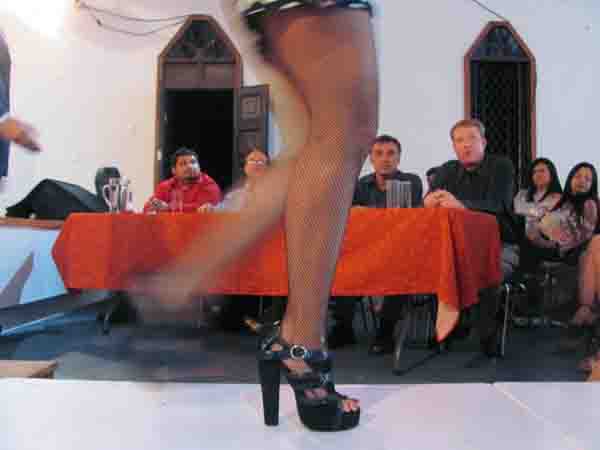 A bus full of American men wearing dress shirts and ironed slacks is heading towards a Latino bikini contest held in a castle once owned by the textile king of Medellín. (His notoriety: The first man in Colombia kidnapped and held for ransom.) Passing Plaza Botero, nervousness fills the air -- like one would have if they were off to meet their future wife.
"What the fuck would I want to go to Kiev for? It's just a nuclear plant right next to Chernobyl," exclaims Earl from Oregon, ranting about international online dating. "Russia is run by the mafia. You're not always chatting with the girl in the profile." Earl looks like he's had some hard living. Earlier he boasted about being a stockbroker ("I lost a million dollars in one day") and a former heroin addict. Sitting next to Earl is a silent Colombian woman. She'll soon be Earl's wife. Neither of them can speak each other's language. The two will be married in a few days.
Medellín, Colombia, has been considered one of the ten most dangerous tourist destinations in the world. These men have paid $1,595 plus airfare to fly to City of Eternal Spring for the AmoLatina mail order bride tour. The six-day romance excursion is trumpeted as: "The ultimate guys holiday -- the women are a bonus. You're immediately immersed in great friends and very beautiful women who are intrigued by you."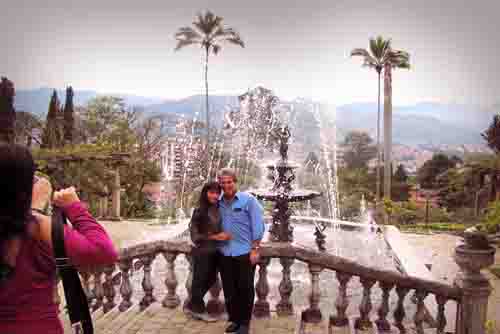 No one wants to die alone. I don't. You don't. Neither do the twenty-four men who sit in a conference room on the 2nd floor of the Hotel Dann Carlton.
"You gentlemen are about to join a select group of guys who haven't experienced what you are about to experience," says tour leader Larry Cervantes at the first day briefing to the brood of bride-seekers: middle-aged men who run life's gauntlet. Divorced. Thrice divorced. Widowed. Never married. Some with grown children who they want to keep this secret from. These are men who are now looking for something different; real estate agents, oil industry engineers, software programmers, blue collar guys, and ex-military.
"You wont find the numbers you will when you come back to the U.S. Colombia is a place with an enormous amount of beautiful women -- we tapped into it." Larry says. Conversely: "This isn't a tourist town. Be aware of your surroundings -- this city has a history for a reason!"
Opening my AmoLatino orientation book, I notice such important phrases to memorize as, "I love you and only you" ("Te quiero a ti y solamente a ti") and "You drive me crazy" ("Me vuelves loco").
"It's a good idea to go on double dates," Larry continues. "Most of the women can't speak English," he says, while the men diligently take notes. Finally: "Be the man and take control of the situation."
Problems arise when the man doesn't take control. If the lady is allowed to choose the restaurant, the man could suddenly finds her entourage growing to include her relatives, neighbors, and extended family. "When you're out, it's all on your dime," Larry stresses. "This is your responsibility."
"This is a grand Shangri-La of women. Happy hunting!" As the men get up out of their chairs, Larry adds, "Find your princess!"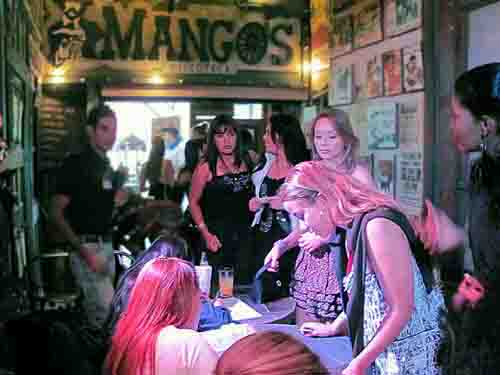 Barry, an engineer at Cisco, looks around the room at the surreal sight. "I've been chatting to a couple of girls online. They've both showed up," he says with little kid excitement. Though he's has never met either of the women in person, the fact that he trekked from Virginia to Medellín weighs in his corner: "It indicates that I'm serious." A large queue of muchachas -- mostly in their late teens and early twenties -- continues to check in at the registration desk. Dressed in their nightclub best, 480 women have registered for tonight's social at Mangos: a Wild West themed nightclub in the heart of Medellín. The club is like fantasy batting camp for these middle-aged gents; table after table of beautiful Colombian women -- a parallel universe where young Latino maidens quest the loins of older men from faraway lands.
American men wearing nice dress pants attempt to do the booty dance. The energy of the frenzied club swells -- fueled by Club Colombia beer and free tequila shots.
"Don't lock in too early; the lady will try and occupy your time," Larry says, providing some last minute advice to a pack of guys.
The sharks circle the cage -- on the prowl for their Colombian trophy wives -- as if they were for sale by owner. An estrogen-charged fervor -- normally reserved for Chippendale's dancers -- is directed towards the twenty-four men on the AmoLatino tour. Bart, a grey-haired, retired high school principal takes his place at a table with four women, holding court as if he were royalty or a famous celebrity like MC Hammer.
The insane 20-to-1 ratio has left the majority of women unattended. Expectations. Optimism. Boredom. Doubt. Fertile young Latino women. Older American men with money.
"Back home a younger woman doesn't want an older man. But here they do," says Fernando, a truck driver from Fresno who drove his rig all the way to Miami so he could catch his flight. Single since 2003, he adjusts his cowboy hat and explains why he's here. "American women want you to work, work, work, so they can spend, spend, spend," he says.
"How did they let you take time off work?" I ask, slugging back my beer and taking in the charged electricity set to the thumping beat of music.
"It was a bit difficult, but I begged, pleaded, and screamed," he says with a laugh.
Larry advised if you see a girl you want to connect with, ask a translator to make an introduction -- because she might not speak English. A group of lovely Medellín college girls act as the tour's translators.
Example of typical things translated:
"Do you have children?" "You have lovely teeth." "Are you married?"
Some translators change the meaning of the men's words. One of the guys wanted to ask a woman: "Will you stand up and do the booty dance?"
"I just didn't think it was appropriate," explains our table's translator.
"Why do you think a lot of the women are here?" I ask, while a few guys linger around the room like high school social studies teachers at a school dance.
"In Colombia everyone from outside is seen as better," she says, explaining her country's self-esteem. "Better jobs. Better money. Better life. It's an opportunity to move to America."
Everyone has something to offer. The older men represent security. The young Colombian women represent not dying alone. Everyone has needs.
I stand at the bar with Adrian, a former British diplomat who ditched that life to run the local AmoLatino office. On stage, women in a line take turns doing an overly sexual dance that involves squatting near a phallic-shaped, upright beer bottle. (Could one of them be the future Mrs. Leon?) "We're selling happiness," Adrian says, as an older woman's gyrating squat-thrusts puts her younger competition to shame. "I can't think of anything more satisfying."
Calling all HuffPost superfans!
Sign up for membership to become a founding member and help shape HuffPost's next chapter