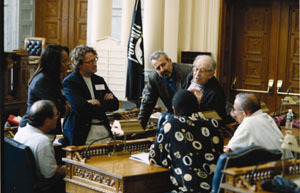 If, as the quip goes, democracy is the worst form of government except for all the others, that doesn't mean we should accept its limitations. And we haven't. Through long and hard struggle, for example, voting rights have been won by groups who had been unjustly denied.
These days democracy is mired in a crisis of trust and legitimacy because special interests have too much influence and ordinary people too little. Citizens want a fuller voice in the decisions that affect their lives.
Moreover, the kinds of knotty, non-technical, "wicked" problems that bedevil us - such as improving race relations, creating an economy that works for everyone, and contending with the myriad challenges of climate change - cannot be solved by government policy alone. Rather, these problems will require public officials and communities working together to learn and sustain change over time.
Democratic governance has yet to adequately respond, and so the crisis deepens - but some communities are trying. A case in point is the state of South Australia, where I recently spent a week consulting on their ambitious public engagement strategy for governance.
As it turns out, the state's Premier, Jay Weatherill, is a fan of the landmark study in deliberative democracy, Coming to Public Judgment, by Dan Yankelovich, a social scientist, pollster and pioneer in the field of public engagement. (Dan is also the co-founder of my organization, Public Agenda.)
Premier Weatherill distributed the book to his Cabinet, asking them to take Dan's principles to heart. He also formed a "Better Together" public engagement team to conduct demonstration projects and build capacity for citizen and community engagement on public policy concerns across the government.
They're off to a good start. For example, over 9,000 people helped shape the 2011 update of South Australia's Strategic Plan through face-to-face community meetings, stakeholder forums and other gatherings, as well as online through blogging and social media.
More recently, the Better Together team has conducted public consultations on how cars and bikes can better and more safely share the roads, better sentencing options within a criminal justice reform initiative and many other topics. They've developed a robust website and social media presence. One government department has created a "public engagement ninja squad" consisting of dozens of trained practitioners who are dispersed so that some expertise resides within virtually all teams within the enterprise.
While in Adelaide, I had the opportunity to meet with Premier Weatherill, along with many of his Cabinet Ministers, to learn about their efforts and share some of my thinking and experience based on my 25 years in the field.
Some of what I talked about with the South Australia government includes good engagement practices for all policymakers and people looking to foster social change:
Pick the right issues. When seeking to begin or expand a public engagement campaign, it's best to select issues that fall at the intersection of what the public cares about and what the government cares about. It's also helpful to choose issues that are actionable by many parties, from public officials to community-based organization to individual citizens.
Find the right partners. Partnerships with community-based organizations can change the dynamic around engagement initiatives, especially if there is a history of broken trust between community members and the government. Such partnerships can also boost the participation of hard-to-reach groups and build capacity for community engagement beyond what the government alone may be able to do. Similarly, collaboration across governmental departments can be a good way to loosen up rigid silos, foster new collaborations across departments and spread engagement capacity across government.
I look forward to following South Australia's progress and learning from their efforts to make democracy more responsive to the people it is meant to serve.
Calling all HuffPost superfans!
Sign up for membership to become a founding member and help shape HuffPost's next chapter