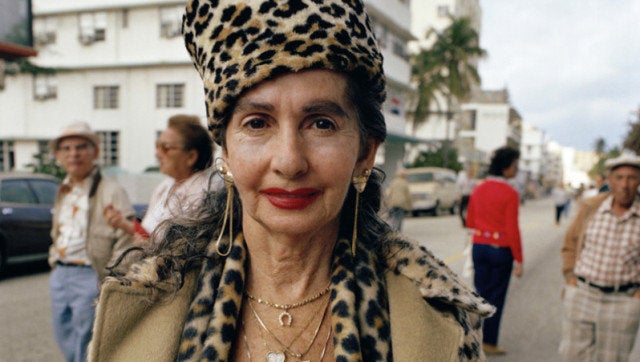 Before Art Basel took over Miami's South Beach, bringing international art stars to the town's pastel streets, the cozy Art Deco haven was a home for another beloved demographic -- Jewish retirees.
Throughout the 1980s the elderly inhabitants occupied the affordable Miami hotels, living in a mini paradise filled with their own beachside gatherings and bold fashions choices. This more tranquil aspect of Miami's past is the subject of a new photography exhibit at New York's Howard Greenberg Gallery, featuring the work of Houston-born artist, Gay Block. The show, titled "LOVE: South Beach in the 80s," features 20 archival prints of South Beach's brightly clothed residents.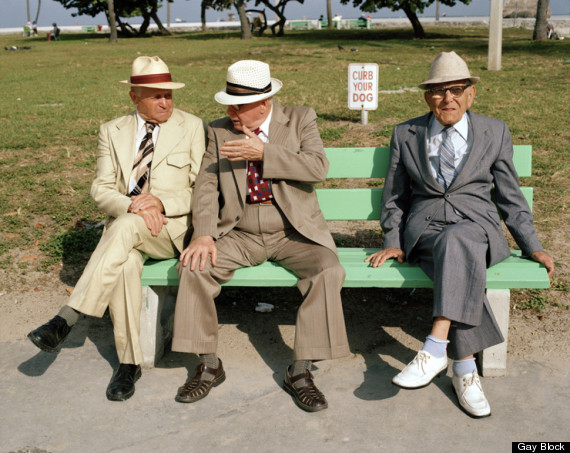 "When I first went Miami's South Beach in 1982 it was love at first sight. I was awed by the beauty of the small Deco hotels, but even more by the old people sitting on the porches. The first night, when I stopped at one of those porches after dinner, I knew right away that I would return again and again to talk with and photograph them. Here were the bubbes and zaydes (grandmothers and grandfathers) I wished I'd had."
Scroll through the slideshow below for a peek at Block's South Beach series. Could you think of a better time and place to retire?
The exhibit will be on view at Howard Greenberg Gallery from March 29-April 27, 2013.
Gay Block
Related
Popular in the Community