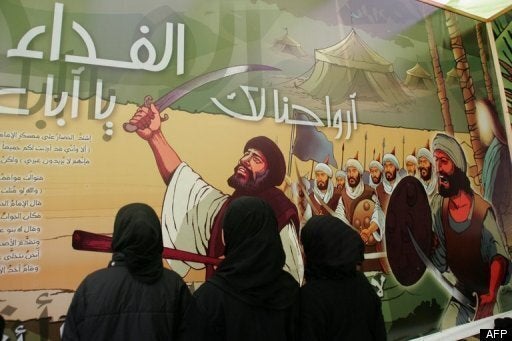 BEIRUT: Two Hamas members were killed in a bomb blast in the Hizbullah-stronghold of south Beirut Saturday coinciding with the eve of the first anniversary of the Gaza war.
Hamas leader to Lebanon Osama Hamdan named the two operatives killed as senior bodyguards Bassil Juma, 26, and Hassan Haddad, 21, and officials from the Palestinian Islamist group suggested Monday that Israel was behind the explosion.
"We must not rule out the possibility that the Zionist enemy is responsible for this act of cowardice," Army Radio quoted a spokesman as saying during the funeral of the men.
Hamas - which runs the Gaza Strip - has offices in Beirut's southern suburbs, an area under the total control of the Shiite movement Hizbullah.
Lebanese authorities say they are investigating whether the bomb, which was planted in the basement of a Hamas office in the Haret Hreik neighborhood, was meant for the movement's representative to Lebanon Osama Hamdan.
Several Palestinian militants and Hizbullah members have been killed in Lebanon in recent years in attacks their organizations have blamed on Israel, however, the Jewish State denies any responsibility for the latest incident.
Lebanese President Michel Sleiman called the attack an attempt to destabilize the country following an easing of tensions between the Western-backed government and Hizbullah, which is supported by Iran and Syria.
The explosion occurred just meters away from a community center where hundreds were gathered to watch Hizbullah leader Sheikh Sayyed Hassan Nasrallah's televised speech for Ashura- the holiest holiday for Shiite Muslims, commemorating the death of Imam Hussein, grandson of the Muslim Prophet Mohammed at the Battle of Karbala in 680 AD.
Security forces were on high alert in Haret Hreik Sunday for the annual Ashura march, with extra plain clothes officials deployed to the area in the wake of the attack.
A Hizbullah security official, who did not wish to be identified, said at the scene: "We are being very careful after the blast. There are lots of people here who could be targeted in an attack, especially today and especially here."
The Shiite group's leader spoke via satellite link to the hundreds of thousands-strong crowd on the first anniversary of the Israeli offensive in Gaza, saying that "there are no boundaries for Israeli terrorism, and let's remind the world today about its crimes in Gaza and in Lebanon, its continuous threats to Jerusalem and the Palestinian population," while calling for a withdrawal from the Gaza Strip.
Nasrallah then said on the occasion of Imam Hussein's death: "I tell Israel again that we will fight like Karbali and Husseini soldiers and we will only have victories," as the crowd chanted "Death to Israel."
There has been an intensifying of political rhetoric during the group's nightly speeches over the last week, with Nasrallah accusing Israel and the US of practicing "psychological warfare" against Lebanon and warning followers to defend themselves against the two states.
Calling all HuffPost superfans!
Sign up for membership to become a founding member and help shape HuffPost's next chapter