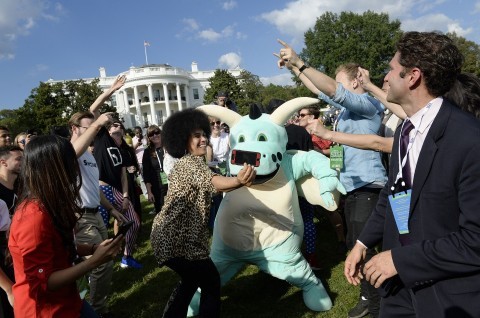 I'm fresh off an invigorating, inspiring day at the first ever South by South Lawn, which in words from the White House was "an event inspired by South by Southwest, [bringing] together creators, innovators, and organizers who work day in and day out to improve the lives of their fellow Americans and people around the world."
From amazing performances from The Lumineers to an inspiring conversation between President Obama and Leonardo DiCaprio, it was truly a day to remember. Yes, the fact that it was 73 and sunny outside on the White House South Lawn didn't hurt either!
Last week, I wrote about the thing I was excited about most for the event: hearing from my fellow attendees. And sure enough, my hopes became reality. Throughout the day, there was a range of panel discussions that tackled pressing issues impacting many of our communities including social injustice, women's rights, climate change, and LGBT advocacy. One of the things that was most satisfying about these discussions is that they shed light not only on passion but on people taking meaningful action. They focused on the role citizens have in bringing real, lasting change to our country.
With an engaged audience comprised of many who have committed their lives to these causes, South by South Lawn provided a platform for a range of interesting, multifaceted conversations.
Take the impact of our rapidly growing tech sector in this country, which is present in many major urban areas including San Francisco and New York City. New jobs are forming; new talent is moving in; but who is inevitably being pushed out?
Stewart Butterfield, Co-founder and CEO of Slack, made one of the more astute comments of the day. He said that the amount of technological change we've experienced over the past decade is going to take several generations to truly unpack. Personally, I think Butterfield's observation couldn't be more true and is something that is generally not adequately considered in these types of discussions.
As someone who spends a fair amount of time in conferences, I would be remiss not to state how diverse the audience was. Unfortunately, it's rare to have this much diversity in the room for most tech-minded conferences. And it was a breath of fresh air.
As I made my way around the festival, I met a range of amazing people and organizations of all sizes doing remarkable things. NBCUniversal is making significant investments through its massive media platforms to stimulate activism. DoSomething is nurturing and building an army of over five million young people ready to take on an array of challenges impacting society. Nextdoor is connecting local communities through the power of social technologies. The Near West Theatre is operating programs that serve the youth of the Cleveland Ohio region through the magic of theatre. Enabling the Future is building an open-source platform for a global network of passionate volunteers to use 3D printing to create hands and arms for those in need of an upper limb assistive device. The All In Campus Democracy Challenge is working directly with universities across the country to engage students and increase their voter participation rates. I spent time with the First Lady's amazing team at the Partnership for a Healthier America and heard about programs they are supporting including their FNV program partnering with companies, celebrities, and athletes to raise awareness of fruits and veggies to America's youth.
I can only hope that this is the first of many more South By South Lawns. I hope this is the beginning of a platform that can be rolled out locally in the spirit of the TEDx format, which inspires local change. I know there are many people who wanted to come or couldn't afford to arrange last minute travel to D.C. who are doing amazing things. Developing a platform that allows these voices to be heard would be an amazing evolution and would only further action in local communities.
Kudos to President Barack Obama, his administration (especially Jason Goldman, Chief Digital Officer), the sponsors, the incredible White House staff, the impressive and kind secret service presence, and the countless volunteers for making the event a reality. As an event marketer, I know it's no easy task. And it was truly an honor to be there.
Calling all HuffPost superfans!
Sign up for membership to become a founding member and help shape HuffPost's next chapter