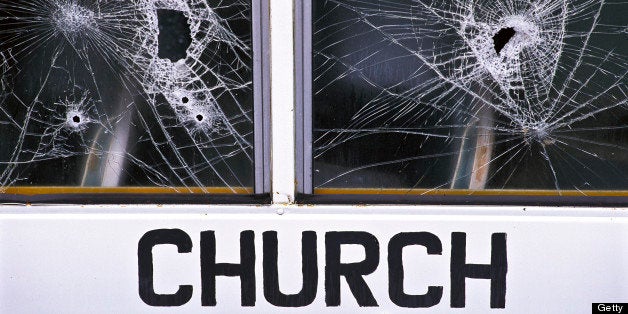 CHARLESTON, S.C., July 12 (Reuters) - A South Carolina man said he was "mad at God" when he took out his frustration on 17 churches in dozens of acts of vandalism over the past five years, according to a local newspaper.
Blake Hiscox, 56, was released from jail on Friday on a$20,000 bond. He faces 43 charges of malicious injury on a place of worship, charges that carry a sentence of six months to 10 years in prison for each offense, as well as possible fines.
In a hearing on Wednesday, Hiscox said he was depressed and "mad at God" when he vandalized the churches in Orangeburg, the Times and Democrat newspaper reported.
Orangeburg is a town of about 14,000 people some 75 miles northwest of Charleston.
The vandalism included feces smeared on church doors and a rock thrown through a stained glass window, police said.
"I recognize that I need some treatment," Hiscox said in a Thursday bond hearing.
The churches represented a broad range of denomination and ethnicity.
Vandals have hit several churches in South Carolina in recent years, including the historic Strawberry Chapel, an almost 300-year-old church in Berkeley County near Charleston that dates back to some of the earliest settlers of the state. (Editing by Karen Brooks; Editing by Leslie Adler)

Popular in the Community