UPDATE: Sept. 11 ― South Carolina Gov. Henry McMaster (R) has reduced the number of counties ordered to evacuate ahead of Hurricane Florence's expected arrival on Thursday.
People in Beaufort, Colleton and Jasper counties will no longer have to evacuate, McMaster announced Tuesday. Residents there, and in five other counties in the eastern part of the state, had been ordered to evacuate beginning no later than noon on Tuesday.
People in Charleston, Dorchester, Berkeley, Georgetown and Horry counties, as well as on Edisto Island, must still leave.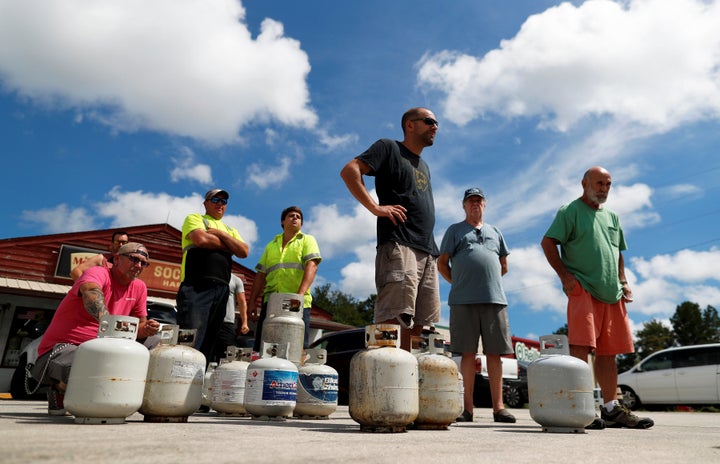 Schools and state offices in Aiken, Allendale, Bamberg, Beaufort, Barnwell, Colleton, Hampton and Jasper counties will be open on Wednesday, the governor said.
"This is still a very dangerous storm. We must take it very seriously," McMaster said at a press conference Tuesday. "We are in a very deadly and important game of chess, and what we are doing, [what] team South Carolina is doing, is staying one step ahead."
State Adjutant General Robert Livingston warned that the region may experience winds and flooding similar to that seen in 1989 with Hurricane Hugo, which was a Category 4 storm when it made landfall north of Charleston.
"Even if the hurricane goes slightly north, we'll see effects like we saw in Charleston in Hugo, so this is a very serious storm and team South Carolina continues to reposition," Livingston said.
As of Tuesday afternoon, 28 shelters had opened in the region or were expected to open shortly. Additional shelters will open over the next few days, state officials said.
Service animals are allowed at shelters, but McMaster recommended that family pets be boarded with veterinarians, kennels or other facilities in non-vulnerable areas. Pets are not allowed inside Red Cross evacuation shelters, he said via Twitter.
People going to an evacuation shelter are advised to bring their own blankets, pillows and cots, and any special food items they may need if they are on restricted diets.
Seven counties in North Carolina, as well as the state's barrier islands, are also under mandatory and voluntary evacuations. Those counties and their schedules can be found here.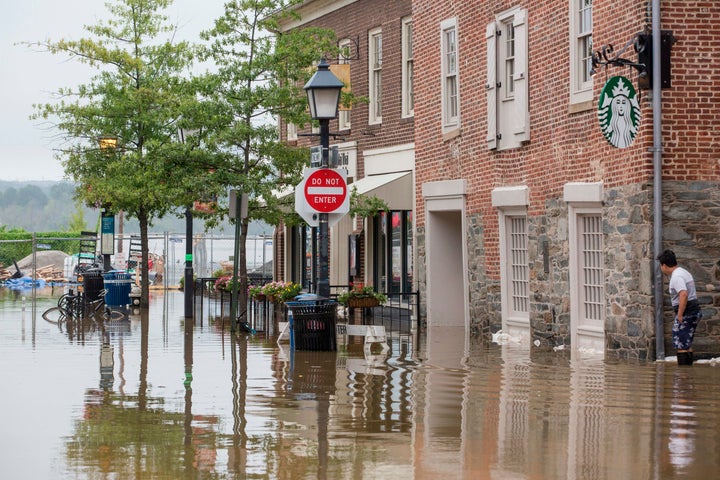 "This storm surge will be significant so we need people to evacuate now to get to where they need to be," North Carolina Gov. Roy Cooper (D) said Tuesday afternoon at a press conference.
"It is one of those storms that is historic and maybe once in a lifetime and I know that we North Carolinians are a hearty bunch, we've seen Nor'easters and we've seen hurricane before, but this one is different and we want to make sure that people know that because they're risking their lives when they stay," he said. "They're also risking the lives of first responders, although in many instances on these barrier islands there may be no way to get to them for some time."
People in eastern Virginia have also been ordered to evacuate. Those residents are in an area deemed Zone A, which is the lowest-lying area of Hampton Roads, the Eastern Shore and Coastal Virginia.
D.C. Mayor Muriel Bowser declared a state of emergency on Tuesday ahead of potential flooding, heavy winds and power outages. The declaration will last for 15 days.
President Donald Trump on Tuesday approved a disaster declaration for the state of Virginia. The approval, which directs federal resources to the state, follows him approving similar declarations on Monday for South Carolina and North Carolina.
Trump urged residents in evacuation areas to heed local law enforcement's orders, saying it's "very risky" to stay.
"We've never seen anything like this, on the East Coast at least," he told reporters at the White House on Tuesday. "So I would say everyone should get out. You have to listen to your local authorities."
Brock Long, the administrator of the Federal Emergency Management Agency, said the storm's effects will be felt "statewide."
"This has the opportunity of being a very devastating storm. The power's going to be out for weeks, you're going to be displaced from your home in the coastal areas, and there will be flooding in the inland areas as well," he said. "So these are going to be statewide events. The hazards will be statewide."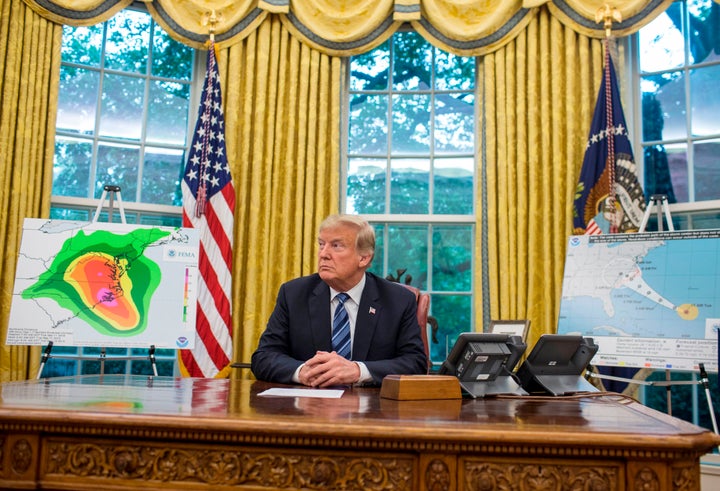 South Carolina Gov. Henry McMaster (R) on Monday ordered a mandatory evacuation of the state's coastline ahead of Hurricane Florence's expected arrival on Thursday.
Approximately 1 million people in eight counties must evacuate beginning no later than noon on Tuesday, the governor said. Four major roads will reverse their traffic lanes to help facilitate the mass exodus.
"We're in for a real episode here," McMaster said at a press conference. "This may be inconvenient. This is a very dangerous hurricane. But we are not going to gamble with the lives of the people of South Carolina."
The eight counties under evacuation are Jasper, Beaufort, Colleton, Charleston, Dorchester, Berkeley, Georgetown and Horry. The roads where traffic is being reversed are I-26 from Charleston to Columbia, Highway 501 in Myrtle Beach, and Highways 278 and 21 in Beaufort County.
The hurricane, which strengthened to a Category 4 on Monday, is expected to intensify as it approaches the Carolinas, said John Quagliariello with the National Weather Service. He described the storm as "extremely large and dangerous."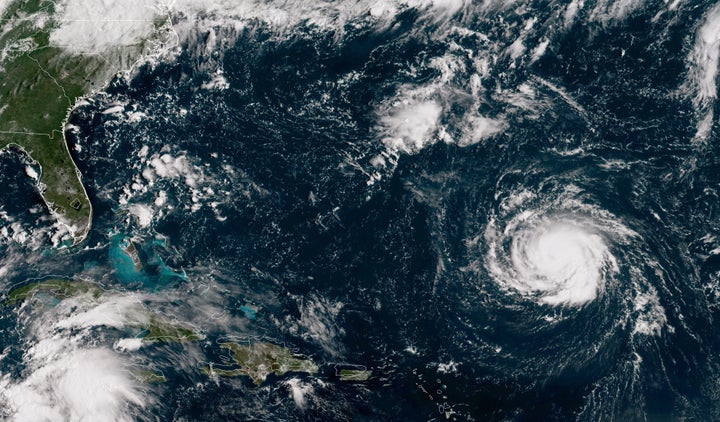 President Donald Trump on Monday evening approved emergency declarations in South Carolina and North Carolina.
Earlier on Monday, Trump took to Twitter to urge "the incredible citizens of North Carolina, South Carolina and the entire East Coast" to "take all necessary precautions" as the storm approaches.
"We have already began mobilizing our assets to respond accordingly, and we are here for you!" he tweeted.
Tropical storm winds are forecast to hit the region sometime Thursday morning, with landfall occurring late Thursday night. Once the storm makes landfall, McMaster said, it's expected to move slowly, dumping extreme amounts of rain likely to cause flooding.
"This could be the first Category 4 hurricane to make landfall in the Carolinas since Hugo," Quagliariello said, referring to the Category 5 hurricane that caused widespread damage in the Caribbean and Southeast U.S. in 1989.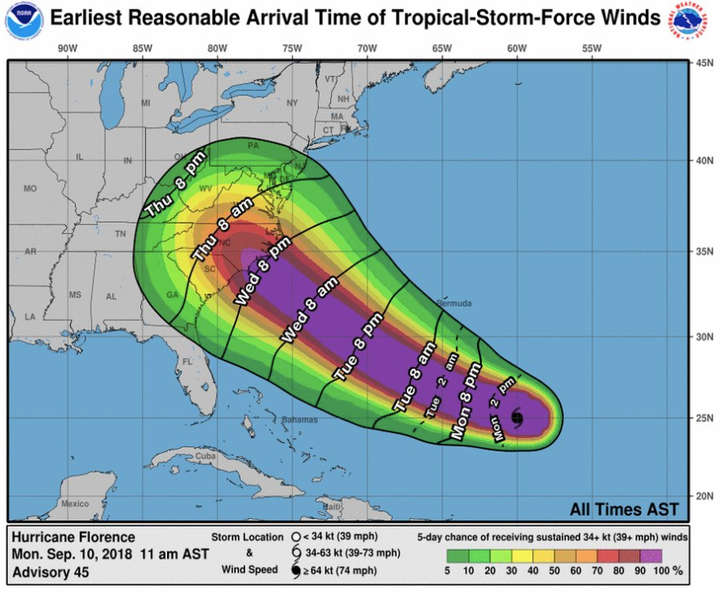 Quagliariello advised the public to consider the path's "cone of uncertainty," which shows where the hurricane is likely to go two-thirds of the time. Effects from the hurricane will occur outside that cone, he said, predicting some effects will be felt more than 100 miles from the storm's center.
Evacuation shelters will open on Tuesday and be available to individuals based on need, said Kim Stenson, director of the South Carolina Emergency Management Division.
McMaster declared a state of emergency on Saturday, a day after North Carolina Gov. Roy Cooper (D) made a similar declaration for his state.
At a press conference on Monday, Cooper called his state the "bull's-eye" for Hurricane Florence, saying they are "bracing for a hard hit."
This story has been updated with news that Trump approved emergency declarations in North and South Carolina.
CORRECTION: A previous version of this story said residents had until noon on Tuesday to evacuate. Residents must begin evacuating no later than noon on Tuesday.
Before You Go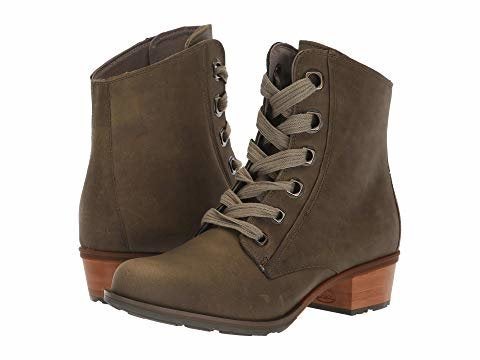 Waterproof Boots That Aren't Rain Boots
Popular in the Community