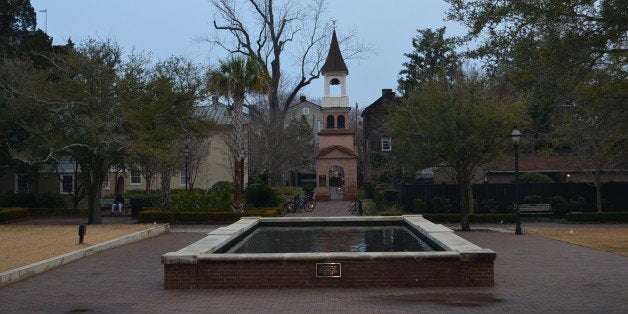 Ten groups that care about free speech sent a letter Tuesday to South Carolina state senators warning that a bill to cut public college funding based on legislators' objections to certain books could bring on First Amendment lawsuits.
The South Carolina House approved a budget last week penalizing two public colleges for selecting LGBT-themed books in campus-wide reading programs. Pushed by state Rep. Garry Smith (R-Simpsonville), legislators are considering $52,000 in cuts for the College of Charleston and $17,142 in cuts for the University of South Carolina Upstate to offset the costs of those programs.
"The proposed budget cuts undermine the fundamental mission of higher educational institutions, which is critical analysis and free and unfettered debate," the protest letter said. It added, "Legislative efforts to control discussion and debate in a university setting are ill-advised, both legally and educationally."
The 10 groups behind the letter were the ACLU of South Carolina, American Association of University Professors, American Booksellers Foundation for Free Expression, American Library Association, Association of American Publishers, Association of College and Research Librarians, Comic Book Legal Defense Fund, Modern Language Association, National Coalition Against Censorship and National Council of Teachers of English.
"The Supreme Court has sent a clear message over decades: lawmakers may not prohibit the expression of ideas simply because they find them to be offensive," Joan Bertin, executive director of the National Coalition Against Censorship, said in a statement.
Rep. Smith did not respond to a request for comment from HuffPost. He told Fox News last week that he never attempted to ban the books themselves and that "all freedom comes with a responsibility."
"I appreciate the issue of freedom and academic freedom and very much support that, but in this case it was very irresponsibly exercised," Smith told Fox News.
Following the yes vote in the South Carolina House, the state budget is now being debated in the state Senate Finance Committee. Gov. Nikki Haley (R) has not indicated whether she supports or opposes the financial penalty over the LGBT-themed books.
The College of Charleston drew the lawmakers' ire by choosing Fun Home by Alison Bechdel for its campus-wide College Reads program. The award-winning graphic memoir details the lesbian author's relationship with her father, who she learned was also gay. Lawmakers also objected to the assignment of Out Loud: The Best of Rainbow Radio, a collection of stories from South Carolina's first gay and lesbian radio show, in a required course for all freshmen at the University of South Carolina Upstate.
"Academic freedom is more important than any individual reading assignment or College Reads program," George Benson, president of the College of Charleston, told HuffPost in a statement. "I will not and we must not permit the legislature or outside groups to tell college faculty what to teach or how to teach it."
Benson added that the college will not refuse to assign books just "because someone, somewhere is uncomfortable with the existence of LGBTQ students, faculty, or staff."
UPDATE, March 19: The Foundation for Individual Rights in Education, a civil liberties watchdog group, is also raising significant concern about the proposed budget cuts in South Carolina. The group issued a letter last week to Gov. Nikki Haley pushing her to urge lawmakers not to include those financial penalties in the final budget.
Read the protest letter below:
REAL LIFE. REAL NEWS. REAL VOICES.
Help us tell more of the stories that matter from voices that too often remain unheard.