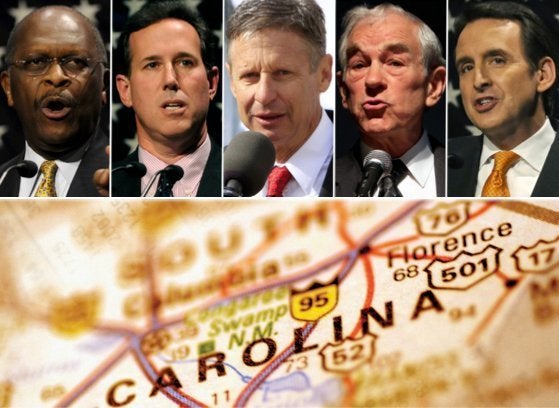 GREENVILLE, S.C. -- The 2012 election season begins Thursday in earnest with the Republican Party's first presidential primary debate here at 9 p.m. ET.

But only five GOP hopefuls are taking part, as some hang back and wait to fully engage (like former Massachusetts Gov. Mitt Romney and former Utah Gov. Jon Huntsman) while others have yet to commit to a bid for the Oval Office (see former Arkansas Gov. Mike Huckabee and current Indiana Gov. Mitch Daniels).

Former Minnesota Gov. Tim Pawlenty is the biggest name taking part at Peace Center for the Performing Arts, though Rep. Ron Paul (Texas) certainly has the most enthusiastic fanbase. Others hitting the stage include former Sen. Rick Santorum (Pa.), former New Mexico Gov. Gary Johnson, and former Godfather's Pizza CEO Herman Cain.

Prior to the debate, the South Carolina Greenville Tea Party held a lengthy rally a few blocks away. South Carolina Gov. Nikki Haley (R) spoke at the event. She said Republican candidates not participating in tonights debate have "some extra work to do" with voters in her state.
Popular in the Community