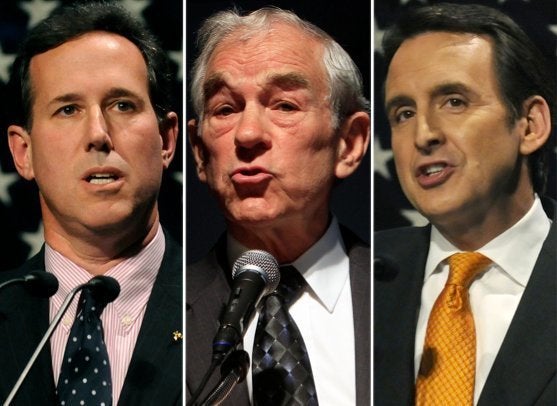 WASHINGTON -- The final field for the first debate of the Republican presidential primary election is set, but there are twice as many hopefuls who are not attending as there are who will participate.
The South Carolina Republican Party confirmed the final roster of debate participants on Wednesday, announcing that five candidates will be on the stage Thursday night in Greenville. The fivesome consists of former Minnesota Gov. Tim Pawlenty, former Pennsylvania Sen. Rick Santorum, former New Mexico Gov. Gary Johnson, Rep. Ron Paul (Texas), and former Godfather's Pizza CEO Herman Cain.
The state party and Fox News, who is hosting the event, will not allow former Louisiana Gov. Buddy Roemer, who has formed an exploratory committee but is little known, to participate because he has not averaged at least one percent in national polling.
The presence of both Paul and Johnson -- who each have strong libertarian leanings -- on such a small stage guarantees that much of the rhetoric on foreign policy will be more isolationist than is normal for a Republican forum. The killing of al Qaeda leader Osama bin Laden on Sunday in Pakistan by U.S. Navy SEALS is likely to make the war in Afghanistan a focus of the debate.
The stakes of the debate will be highest for Pawlenty, who will have to try not to let the fact that he is appearing on a stage with relative longshots -- even if Paul in particular has an enthusiastic and substantial following -- make him look smaller than other frontrunners.
Many consider Pawlenty to be one of the top three candidates in the entire primary field, which consists of roughly 15 names at the moment. On Tuesday, he called for other potential candidates to "get off the sideline," revealing that he is tiring of being the only frontrunner bearing the brunt of the brighter media spotlight that comes with a fully geared up campaign.
Like Pawlenty, former Massachusetts Gov. Mitt Romney has formed an exploratory committee, but he has kept a lower profile. So has former House Speaker Newt Gingrich (Ga.). Former Ambassador to China and Utah Gov. Jon Huntsman has formed a political action committee. Former Arkansas Gov. Mike Huckabee looks increasingly likely to run but has done nothing formal so far. Rep. Michele Bachmann (Minn.) has said she will likely form an exploratory committee in June.
Indiana Gov. Mitch Daniels is also debating whether to run. And outliers such as former Alaska Gov. Sarah Palin, former New York City Mayor Rudy Giuliani, and businessman Donald Trump could also throw their hats in the ring.
"You know, it's May and I can understand if people didn't want to start in December or January. I mean, in the past they've said, 'That's too early,'" Pawlenty said during an interview with Radio Iowa. "Well, you know, it's time."
The primary campaign "needs to start now," Pawlenty said.
The first debate was originally supposed to have taken place on Monday but was rescheduled due to the lack of declared GOP candidates.
UPDATE: 3:23 p.m. - Roemer issued a statement saying he was disappointed with Fox's decision to bar him from the debate.
My campaign pledge is to carry out politics in a new way - one that doesn't allow PAC money or large donations from multinational corporations. As such, we haven't spent time traveling across the nation introducing myself to voters. Rather, I've taken an approach of driving through South Carolina and New Hampshire to shake hands and start listening.

In order to be free to lead, our office holders should not be held hostage by the influence of money. That's why I've imposed a cap on contributions. I refuse to buy my way to one percent recognition - I have to earn it. But, it sure becomes a self-fulfilling prophesy when the media will only legitimize my candidacy because of some arbitrary threshold of public recognition.

Thursday night, I will record my answers to the debate questions in real time and post them on my web site at www.buddyroemer.com. I encourage those interested in the political process to follow my responses."
Popular in the Community