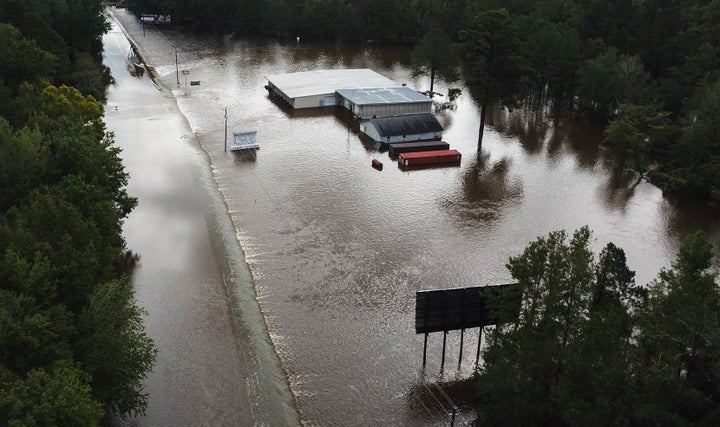 COLUMBIA, S.C. (AP) — Two female mental health patients detained for medical transport drowned Tuesday night when a sheriff's department van was swept away in rising South Carolina floodwaters, according to authorities.
Horry County Sheriff's Department spokeswoman Brooke Holden said that a sheriff's office van was carrying two "detainees" and two deputies to Darlington when it was overtaken by floodwaters. Officials said that the van was near the Little Pee Dee River, one of the bodies of water that state officials are watching following the heavy rains of Florence.
Marion County Coroner Jerry Richardson confirmed to The Associated Press early Wednesday the victims were Windy Wenton, 45, and Nicolette Green, 43.
"They're still under the water," he said. "It's come up 2 feet since just last night."
Richardson said the van came across rising water and was carried off the road.
"They were trying to negotiate through fast-running water, and it just didn't work out," he told AP.
Holden said that deputies tried to get the victims out but couldn't. Rescue teams plucked the deputies from the top of the van.
Horry County Deputy Tom Fox told WPDE-TV the victims were mental health patients being transported from one facility to another. Holden wouldn't give further details on the victims' status, citing an ongoing state police investigation. State police spokesman Thom Berry told the AP on Wednesday that agents were on the scene aiding in the recovery effort.
In a release, Horry County Sheriff Phillip Thompson said his office would cooperate with the probe.
"Tonight's incident is a tragedy," he said. "Just like you, we have questions we want answered."
Popular in the Community