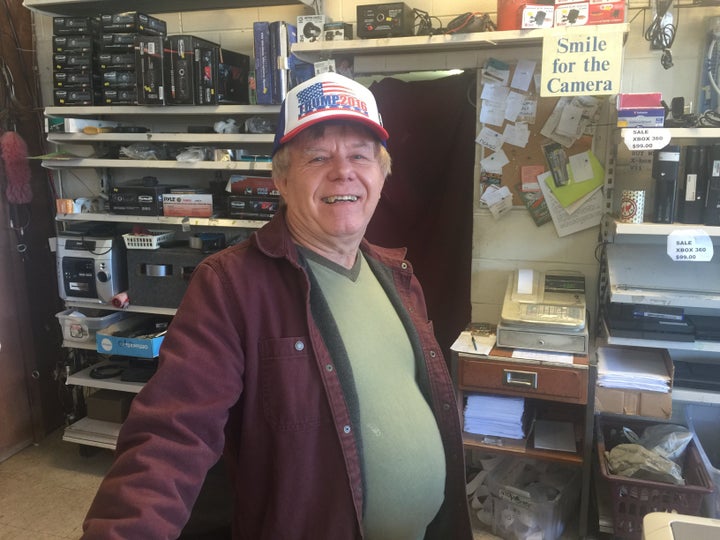 LAURENS, S.C. -- "You want to buy a gun?"
That was the first question that Richard Weisner, owner of Rich's Pawn Shop, asked when I entered his store on Friday afternoon and introduced myself as a Huffington Post reporter.
There would've been no shortage of options. Weisner and I were surrounded by firearms of all kinds -- as well as an array of DVDs, jewelry, power tools and TV sets.
But I was more interested in a baseball cap—specifically, the red, white and blue "Donald Trump 2016" one that Weisner was sporting.
"I take it you're a Trump supporter," I said.
"Hell, yes," he replied with a self-aware chuckle. "Everybody else can go to hell."
Weisner was kidding -- sort of.
During an afternoon of wandering the church-lined streets of this old mill town about 35 miles outside Greenville, most people I talked to about the presidential campaign were either active Trump supporters or leaning in his direction -- especially the men.
Trump's advantage in South Carolina heading into Saturday's GOP primary has narrowed somewhat in a few recent surveys. But he still leads in every poll in a state that appears poised to springboard him into a commanding position heading into the March 1 Super Tuesday contests.
And if anyone is still skeptical about the possibility that Trump's march to the Republican nomination may already be dangerously close to irreversible, the mood among the people of Laurens should make them reconsider.
It is in small towns like this one, after all, where the Republican presidential nomination will be won or lost in states around the country.
Laurens sits somewhere near the Bible Belt's Bible Belt in terms of political geography. But none of the people I spoke to mentioned candidates' faith as being an important factor in how they will decide.
They said they want a fighter -- someone with swagger who vows to upend a system that has failed them. And Trump fits the bill.
Weisner, for one, said he'd never been much involved in politics before this cycle. He can't stand politicians, for the most part.
It's not that he believes everything Trump says. Weisner said he knows full-well the former reality TV star isn't really going to build a big wall spanning the entire U.S.-Mexican border.
But Weisner doesn't care. Trump's his guy because he has the guts to say he'll do it, even if he won't.
"Every country needs a strong leader," Weisner said. "And we need a strong president."
"Trump tells it like it is," Weisner said. "The rest of them beat it around the bush. And Jeb Bush is a joke. I mean, he's got his mama down here. That's not gonna help him none."
Trump, Weisner said firmly, is just the kind of tough guy who's required for tough times. And in that conviction, he's far from alone in this town.
As Weisner's equally plain-spoken son Jay put it, "It's a gun store, man. If you're not with Trump, you're in the wrong damn spot."
Most of the textile and glass factories that once defined the region closed down over the last couple of decades.
The numbers paint a bleak picture. This town of less than 10,000 people has seen its population drop by more than 7 percent since 2000 and its median household income decline from $28,756 to $23,283, according to government statistics.
A two-minute drive down Highway 221 past no fewer than four churches and countless shuttered homes stands Childress Cash & Carry. Inside, Seneca Menthol cigarettes go for $3.59 a pack, and the in-shell Hampton Farms peanuts that are "best for boiling" come in 50-pound sacks.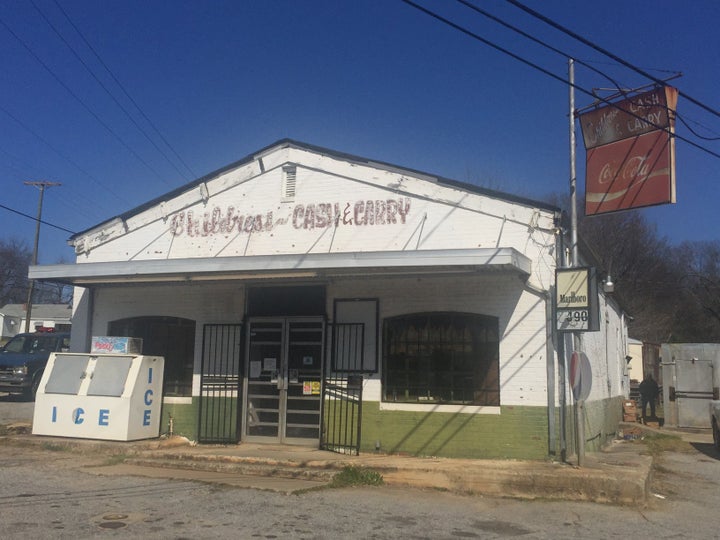 Joey Childress was working the cash register next to two homemade signs that read, "No credit. Don't ask" and "Returned checks: $35.00."
Childress is a Trump supporter, too.
"I like the way he talks," Childress said. "He's a regular person."
A regular person? But Donald Trump is a billionaire.
"What's being a billionaire got to do with it?" Childress shot back. "He talks just like everybody. He's just plain. He ain't talking above you. He's talking with you."
Childress said that he believes all politicians are liars, and Trump doesn't seem much like a politician to him.
Didn't he find any of Trump's salty language and caustic demeanor off-putting?
What'd he make of what the pope said about how people who build walls to keep others out aren't Christian?
"Pope's wrong," Childress said. "He oughta stay where he's at. All countries in the old days had walls around 'em."
Did he think Trump was going to win the primary on Saturday?
I drove to the Magnolia Inn. The billboard promoting the place reads, "May God Bless America." The signs outside the lobby were less uplifting: "No parties, no refunds, no visitors, no pets, no loitering, no soliciting."
Inside, Jack Elders said he probably wouldn't decide for sure who he'd vote for until later in the evening.
"I'm leaning to Trump," said Elders, who was visiting someone at the inn. "Honestly, I can maybe only tell you two or three that's running."
When I asked him to name his most important issue, the words had barely escaped my lips before Elders answered: "The economy."
"It is terrible here," he said.
Elders said that he counted himself lucky for having a decent job at a Michelin Tires facility down the street. But he noted that Laurens has suffered tremendously over the decade since he first entered the workforce.
"Most of your good-paying jobs, they're in Greenville or Spartanburg," he said. "We lost a lot of big businesses to overseas … We're just stuck."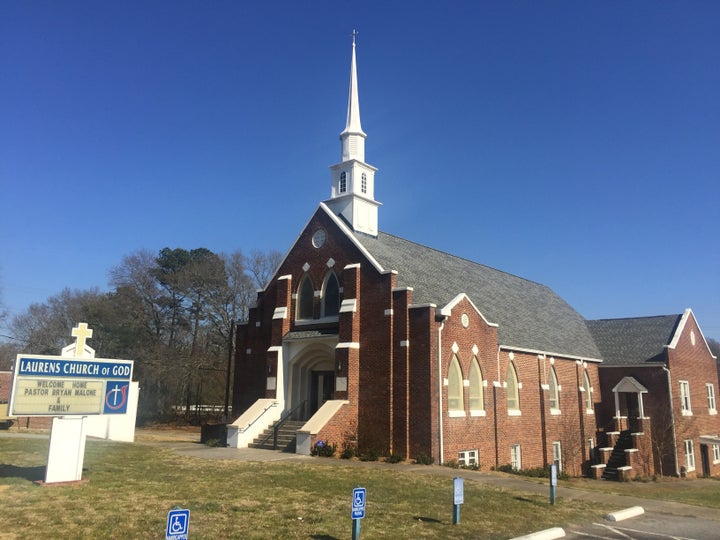 Elders said he was put off by some of Trump's incendiary rhetoric, but was unconcerned about whether the candidate is a genuine Christian believer.
"I got a big Christian background, and my mama, my daddy, my grandpa, and all of them are in the church," Elders said. "You can look at his Christian views, or you can ask: Can this man actually get the job done?"
Unlike the pope, Elders said he didn't see it as his place to judge Trump's religious sincerity. He just liked that Trump wanted to take the country back -- back to another time, that is.
"I think he's doing so well because he's trying to restructure America the way it was years ago," Elders said.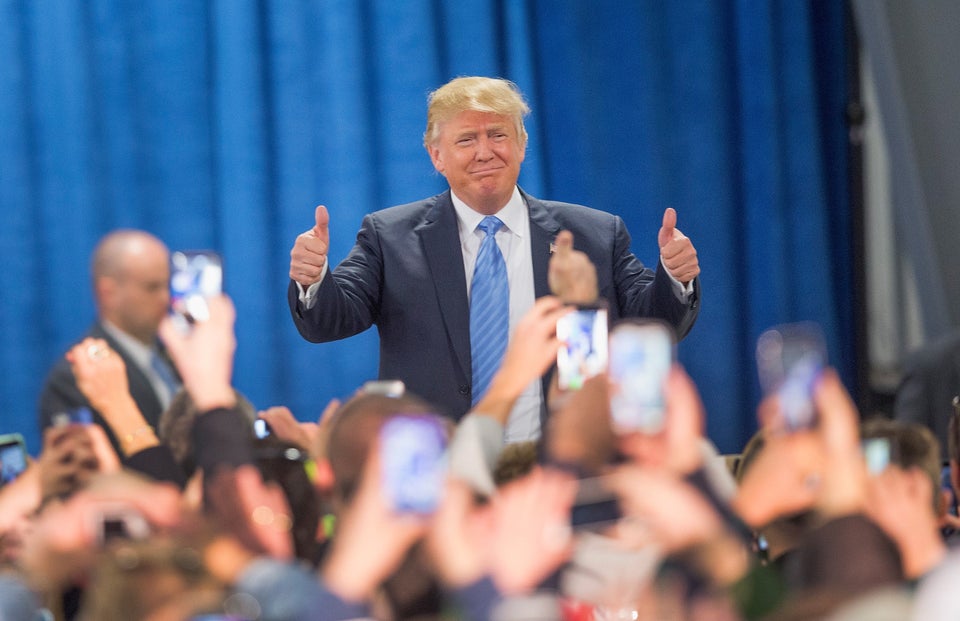 Donald Trump On The Campaign Trail
Popular in the Community