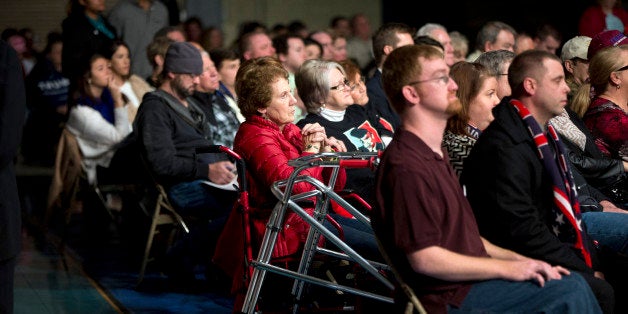 Here's another case of voters outpacing timid lawmakers, especially this year's crop of White House aspirants. According to a new poll released by the Drug Policy Alliance, a large majority of South Carolina's notably conservative primary voters supports ending mass incarceration, even across party lines. A substantial majority, furthermore, supports decriminalizing drug possession outright - a position that none of the current presidential candidates have yet taken.
We've heard movingly from candidates in both major parties about their personal connections to drug abuse and calls for people struggling with addiction to receive compassion and alternatives to incarceration. (Many commentators have reasonably suggested the recent shift from knee-jerk punitive responses reflects the fact that the current spike in addiction and overdose deaths has a white face.) Drug policy reform advocates welcome the gentler rhetoric but would prefer to see candidates echo the much further-reaching positions already held by majorities of voters.
Three quarters of Americans believe the war on drugs has failed. But their desire for an exit strategy doesn't nearly end at legalizing recreational marijuana. While both Hilary Clinton and Sen. Bernie Sanders (I-Vt.), and even some Republicans, have emphasized their support for a health-centered approach to drugs and drug use, candidates should take note that voters also want to significantly reduce the role of criminalization in drug policy.
In this week's survey of voters in the upcoming South Carolina primary, 70 percent consider substantially reducing the number of Americans in prison an important issue, including majorities of Democrats, Republicans and Independents. In fact, more than a third of primary voters (37 percent) would be more inclined to support a presidential candidate who promised to prioritize downsizing prison populations.
Moreover, 59 percent of South Carolina primary voters support decriminalizing drug possession, asserting that someone caught with a small amount of any illegal drug for personal use should be offered treatment but not be arrested, let alone face jail time. That result, mirroring a survey of New Hampshire voters last month, reflects a profound advance in attitudes about dealing with drugs in the United States.
This is no mere hypothetical debate. Reducing, even eliminating, criminal drug possession penalties is gaining momentum in cities and states across the country.
Pioneered in Seattle, Law Enforcement Assisted Diversion, or LEAD, allows police to divert individuals who commit low-level drug offenses to harm reduction-based case management services instead of jail. An independent evaluation found LEAD reduces the chance of reoffending by nearly 60 percent compared to a control group. The program has already been replicated in Santa Fe and Albany and is under consideration in Atlanta, Buffalo, Houston, Ithaca (NY), Los Angeles, New York City, Philadelphia, Portland (ME) and San Francisco.
California's Proposition 47, adopted by 60 percent of voters in 2014, made the Golden State the first to reduce simple drug possession (and five other petty offenses) from a felony to a misdemeanor. Prop 47 has reduced the number of people behind bars by at least 13,000 people, while more than 600,000 are eligible for resentencing of their past felony convictions.
Just two weeks ago, veteran Maryland lawmaker and practicing physician Dan Morhaim introduced a groundbreaking package of bills that represents a health-centered approach to drug policy. The bills would decriminalize simple drug possession entirely and require hospitals and emergency rooms to provide addiction treatment on demand, among other reforms.
Even Congress is getting into the act. The long-aborning Sentencing Reform and Corrections Act has bipartisan support to reduce lengthy mandatory minimum sentences for some drug offenses and allow judges to use their discretion to sentence people below the minimum in certain cases.
The Republican candidates are for the most part in deep denial. With the notable exception of libertarian-leaning Rand Paul, the GOP White House hopefuls have ignored the issue or been hostile to reforming our ineffective drug laws. Former candidate Sen. Lindsey Graham (S.C.) is among the Senate Republican supporters of the Sentencing Reform and Corrections Act, but Sen. Ted Cruz (R-Texas) has actually chosen to attack it. Drug war zealotry is slow to fade during Republican primary season, despite clear support among Republican voters for a new approach.
Now is the time for policymakers to show leadership by laying out plans to move our country from a failed criminal justice approach to a health-based approach to drugs. Voters want action - decriminalization, reform of mandatory minimums, an end to mass incarceration - and candidates would be wise to pay attention.
Gutwillig is deputy executive director of Drug Policy Action.
REAL LIFE. REAL NEWS. REAL VOICES.
Help us tell more of the stories that matter from voices that too often remain unheard.