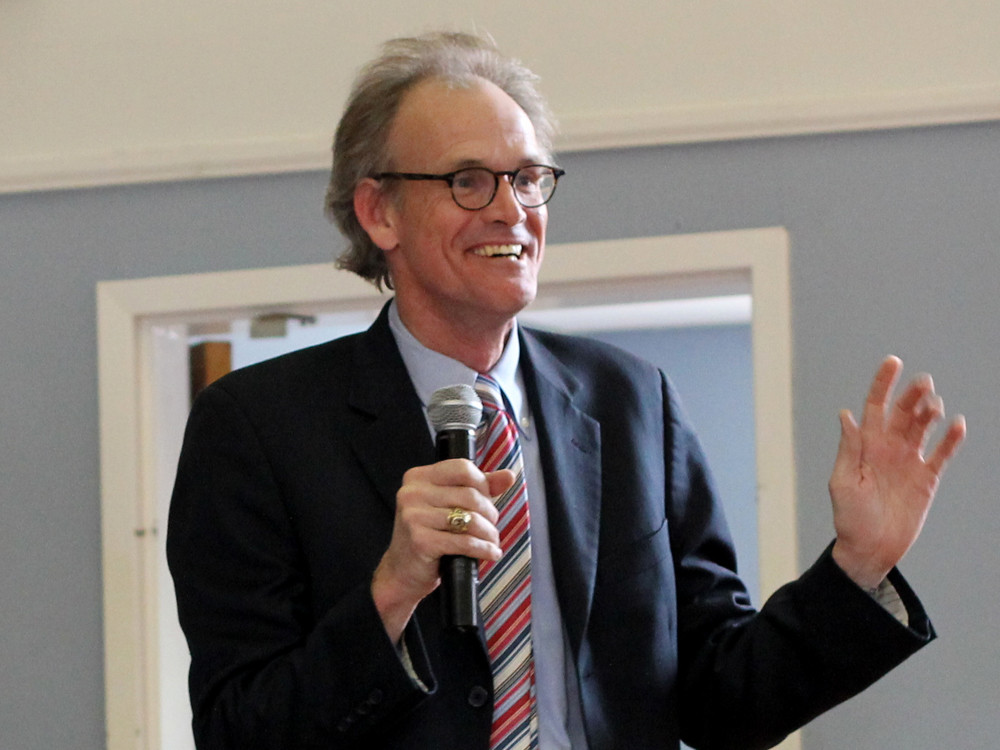 In the video, Joey Lee Pyatt Jr. is standing shirtless in a dingy kitchen, a blue bandana tied around his neck. The door and floor are covered with sheets of clear plastic, and two young women, one in a white string bikini, the other in black lingerie, measure white powder on a digital scale and sort it into plastic baggies.
"Baggin' up a thousand grams," Pyatt raps into the camera, playing the role of proud drug lord.
In another scene, the aspiring rapper shows off the proceeds of his illicit business, standing in front of the Huckabee Heights housing project in Conway, S.C., as a man next to him nonchalantly tosses dollar bills in the air.
"Welcome to Conway," a sign along the highway reads in another shot.
According to law enforcement officials, Pyatt's artistic persona closely matched his life off screen. His blue bandana signaled allegiance with the Crips. He was arrested in 2012 for carrying a concealed gun in a bar. The projects where he rapped have indeed been hot spots for drug and gang activity.
Just a few blocks southeast of the projects is where Detective Tyres Nesmith of the Conway Police Department found Pyatt, shot and bleeding, just after 1 p.m. on Jan. 6 this year. He was sprawled on the ground in a cement driveway behind a blue one-story house.
"He was just laying there, right where that car is," Nesmith told me a few weeks after the shooting, sitting in her unmarked squad car and pointing to the spot where Pyatt had lain. "I was like, 'Hang on, hang on for me.'" Pyatt died at the hospital. He was 23.
At his funeral, mourners were decked out in blue bandanas, his mother had her hair dyed blue, and dozens of police officers were on hand to maintain order. Photo tributes popped up on Facebook referring to Pyatt as "C.I.P." -- Crip In Peace -- and a "fallen soldier."
Conway is a small city, with a population of about 16,000. Many residents work in tourism-related jobs in nearby Myrtle Beach. The drugs and gangs have made them feel unsafe at home. Dianne Davis, 56, said she tries "not to let the dark catch me" and described other Conway residents as barricading their doors with two-by-fours.
"I want to be able to stand on my porch," Davis said. "I have a beautiful garden."
"There are a lot of gangsters running around in that area," Jimmy Richardson said of the neighborhood where Huckabee Heights is located. Richardson is the chief state prosecutor for Horry County, which includes Conway, and a resident of the city himself.
To South Carolina's top federal prosecutor, however, the troubles in Conway present an opportunity. U.S. Attorney Bill Nettles is testing out a novel approach to dealing with drug-related crime, one that aims to clean up the streets by looking beyond mass arrests and incarceration. Conway is the third city in South Carolina to implement a version of the plan, and federal prosecutors in other states and the Justice Department are watching closely. If the program's success continues in South Carolina, it could become a model for law enforcement across the country.
"What I want to do is to make the people's lives who are law-abiding citizens in this community better," Nettles said on the two-and-a-half-hour drive to Conway from his office in Columbia last month. "Incarceration is no longer the goal, but is one of many tools available to allow you to effect your goal of improving their lives. It represents a fundamental shift, a seismic shift in terms of how you're viewing what you're doing."
"When you declare a 'war on drugs,' the community sees the cops as the occupiers, and the cops see the people in the community as enemy combatants," Nettles said. "Well, that's not the way it's supposed to be."
Nettles' plan is surprisingly straightforward. First, federal and local prosecutors identify local drug dealers with the help of the police, probation officers and community members. Next, they build criminal cases against them by reviewing records for outstanding warrants and conducting undercover drug buys. In most cases, arresting all the dealers would be the next order of business, but Nettles has a different idea.
While high-level dealers are still arrested and prosecuted, some low-level offenders are given another option. For them, Nettles stages something of an intervention. Together with the police, family members, religious leaders and other members of the community, prosecutors present the dealers with the evidence against them and give them a choice: Face the prospect of prison or participate in the pilot project.
The program, officially known as the Drug Market Intervention Initiative, helps the dealers find legitimate jobs and offers them help with drug treatment, education and transportation. The hope is that it provides them with the support and the motivation they need to turn their lives around.
The ones who are chosen know that not everybody gets this chance. The initiative in each city does not have endless resources. So only certain low-level offenders, those with limited criminal histories and no violent crimes in their past, are given the opportunity to avoid prison.
For a period of time, typically more than a year, they are monitored to make sure they remain law-abiding citizens. If they do, they will remain free of the criminal justice system. Until they complete the program, however, the threat of arrest based on the evidence already collected continues to hang over their heads. If officials receive complaints about anyone involved in the program, a judge can sign off on an already prepared arrest warrant.
"Basically we go and tell them, 'Go and sin no more.' If this community calls and says you're back at it, you're gonna be arrested," said Richardson, the Horry County prosecutor.
"These people are being regularly drug tested, they are in a stringent program, and if they fail out or don't show up or quit doing their stuff for work, I'm going to arrest them," Nettles explained. "That is what some people call a motivated employee."
Part of their motivation also comes from the fact that a steady paycheck can actually be more lucrative than the drug business. Contrary to the popular image of drug lords rolling in cash, many street-level dealers are barely getting by.
"Long-term, you very seldom see any drug dealers living in mansions," Richardson said. "Either they don't live to see that, or the money isn't there. There's no Scarface-type situations out there now in our local areas. Nobody is sitting up fat-cat rich, so that either means they're dying or they're in prison before they get the full benefit of what they're setting out to do."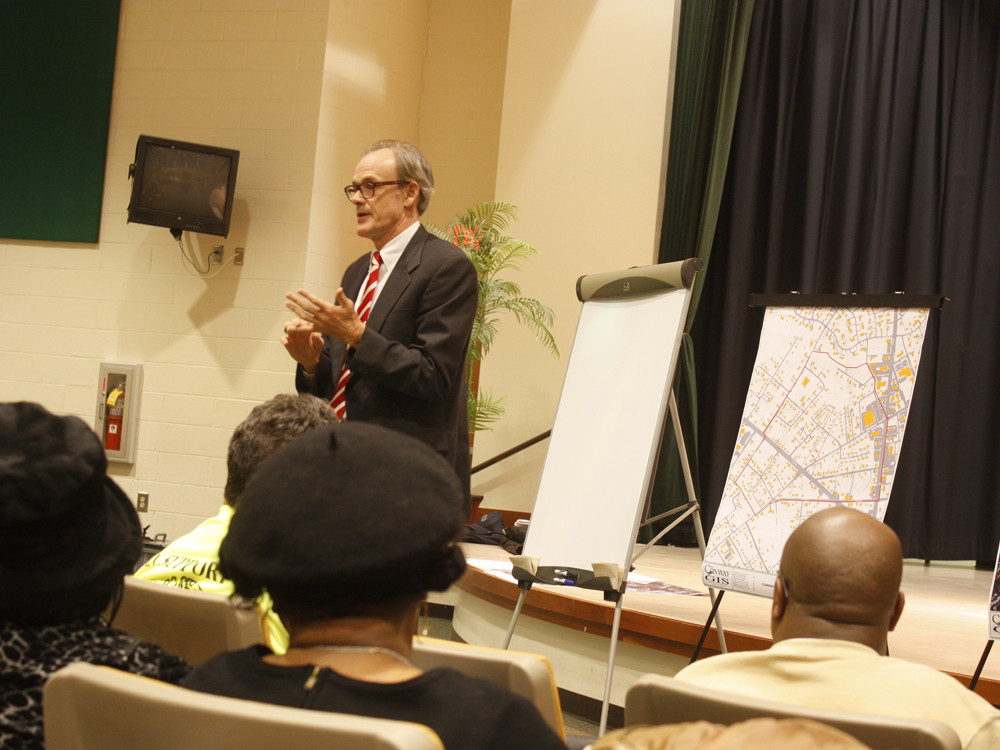 Nettles began developing his plan in early 2010, after President Barack Obama nominated him to serve as one of the country's 93 U.S. attorneys. He was somewhat of a surprising choice for the Justice Department post. Most U.S. attorneys have worked for the government or in the corporate realm -- Attorney General Eric Holder himself has spent nearly his entire career at the Justice Department, save for one stint as a D.C. judge and another with a white-collar law firm -- but Nettles had spent his career as a public defender and criminal defense attorney, often facing off against the very same federal prosecutors he now oversees.
Politically, too, Nettles sticks out in the conservative state, where the Confederate flag still flies on the grounds of the statehouse just blocks from his office. His friend Rep. Trey Gowdy (R-S.C.) once described Nettles' political beliefs as "to the left of Chairman Mao" on C-SPAN, leading Nettles to send the tea party favorite a copy of the Little Red Book of quotations from the former Chinese Communist leader.
Despite his background, Holder has called for "sweeping, systemic changes" to a "broken" judicial system and has spotlighted initiatives that help offenders to re-enter society and to enroll in drug or mental health treatment programs as an alternative to incarceration. Given his background as a defense attorney -- when his clients ranged from Olympic gold medalist Michael Phelps, who was the subject of a criminal probe after he was photographed with a bong, to accused murderers facing death sentences -- Nettles has also been interested in innovative approaches to criminal justice.
He was particularly drawn to a now-decade-old program that local law enforcement officials had launched in High Point, N.C.
The High Point plan is even more progressive than many of the programs that Holder has highlighted. Recognizing that the "war on drugs" was feeding the divide between minority communities and law enforcement, the High Point Police Department sought an approach that went beyond buy-busts and police raids. By pooling law enforcement, social service and community resources -- and getting drug dealers' family members involved -- officials were able to virtually eliminate open-air drug markets in High Point. In its West End neighborhood, violent crime was still down 57 percent five years after the program was implemented.
By late 2010, Nettles was ready to try the High Point model in his own state. He saw the city of North Charleston as a perfect place to initiate the experiment: The area had a high crime rate, and local law enforcement leaders were supportive of his plan.
"At the time it was the seventh-deadliest city in America, so I was thinking there was no way I could screw this up," Nettles said.
In North Charleston, federal and local law enforcement officials identified a total of 31 narcotics dealers. Most were arrested in January 2011 and charged on either the state or federal level, but eight were kept out of handcuffs. Four of those eight eventually fell back into their old habits and were arrested, but the other four stayed away from drug dealing. None of those four have re-offended, one is up for promotion as a sanitation worker, and another recently earned his GED.
Initially, the plan faced skepticism from narcotics officers on the ground, who referred to it as "hug-a-thug." Ultimately, they too were convinced it was a better strategy.
"We were inundated with telephone calls for the whole entire deployment, from the time we did the first call-in, from others interested in the program," said Assistant Police Chief Reggie Burgess, who oversaw the program in North Charleston. "We had corner boys from other surrounding cities outside of our jurisdiction come in and say, 'Hey, man, what can I do to get in this program?' ... They were telling us, basically, 'I'm a drug dealer and I want to get off the streets.'"
The program helped not only the drug dealers but also their families. If a job came with health care benefits, Burgess said, the former drug dealer could take his kids to the pediatrician, rather than rely on hospital emergency rooms.
"If we can affect one life, that's a ripple effect to that family," North Charleston Sgt. Charity Prosser, who initially resisted helping to run the program, told NBC's "Dateline" last year. "Their daddy's not in jail, they have someone there constant, someone to teach them right from wrong, to teach them responsibility. That, in itself -- if we could just save one, if we could just help one. The ripple effect? You're talking countless people. Countless."
The program was also a hit with residents of the Charleston Farms area of North Charleston and led to a significant drop in crime in that area.
After his success in North Charleston, Nettles helped roll out a similar initiative in the city of Aiken in 2013. When one of the offenders in the Aiken program re-offended, state prosecutors expedited an old burglary case, which led to a 12-year sentence. Others stuck with it.
One of the most positive impacts of the program has been on how the police related to their local communities.
"It was 'shock and awe' to our law enforcement system," Burgess said at a presentation about the program with Nettles and Assistant U.S. Attorney Lance Crick in July 2013. "We wanted them to help individuals that did not look at us very positively. We were the people standing in between them and their livelihood, dealing drugs. We had to change how we looked at these drug dealers. If we were going to give them the opportunity to do good in their lives, we had to put that attitude behind us."
It was that presentation that led Conway Mayor Alys C. Lawson to approach Nettles about implementing the program in her city.
"We were so enthusiastic. We really have a community that deserves this program," she said.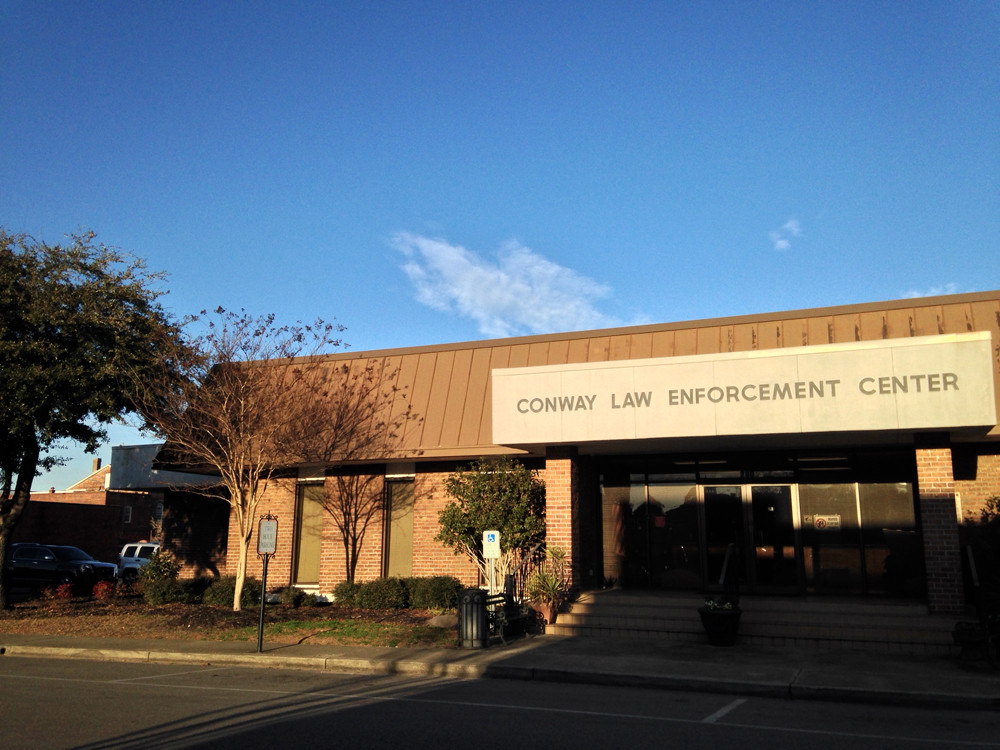 In Conway, Nettles and his local partners are doing things a bit differently from the initiatives in North Charleston and Aiken. Instead of quietly investigating the Conway drug market though undercover buys first, they're deliberately making their presence known to see if they can cut down on the drug trade before they even start.
"We're being upfront about it. We're going to flood this area with federal [confidential informants]," Richardson said. "We've already mapped it out. We know for the most part who the big players are, the first, second and third tier. A lot of the people in those areas, there's already evidence produced on those guys. Now, they don't know it, but I don't mind them knowing it."
"Press is free," said Conway Police Chief Reginald E. Gosnell, who credited the attention the program has received so far with helping the police make an arrest in Pyatt's death. At a community meeting in late January, Nettles asked residents to tell any of their friends or family members involved in the drug trade that "if they keep it up, we're gonna get them."
Local officials in several cities across the country have implemented versions of the High Point initiative. But the Justice Department's level of involvement in South Carolina stands out, especially since the federal government is notorious for its heavy-handed approach to drug enforcement. U.S. attorneys in West Virginia, Alabama and Virginia have participated in versions of the program as well, but Nettles has been its most enthusiastic promoter, earning the North Charleston program a mention in a speech by Deputy Attorney General James Cole, the "Dateline" special and notice from prosecutors nationwide.
Still, there are a number of obstacles to implementing the program on a larger scale. Helping drug dealers turn their lives around is a lot more complicated than locking them away. The program hasn't cost the U.S. Attorney's Office in South Carolina any money directly, but the model can require more overtime hours from local police. And long-term enthusiasm must be sustained among prosecutors and police officers, many of whom tend to measure success in terms of number of arrests made or years sentenced.
"It's harder work. The easy way to do these cases is to let law enforcement go in there, make a bunch of cases, they bring them to your office, they're in little folders, you send people to prison for a long time. That's the easy way. It's harder to go out here," Nettles said. "But it's rewarding. I find it immensely rewarding."
Supporters say the potential benefits of the program far outweigh the costs: Keeping another body out of state or federal prison and turning him or her into a contributing member of society is good for the bottom line.
Nettles will soon be rolling out the Drug Market Intervention Initiative in the state capital of Columbia, and other cities may follow.
"I'm just vain enough that I would like for the things that I've done to stay in place after I leave," Nettles said during the community meeting in Conway. "That's why I come to these communities here, so after I leave, someone will say, 'I don't know, that tall, skinny guy who looked like Jim Carrey, he had some little idea over here, and I want to do it again.'"
Popular in the Community