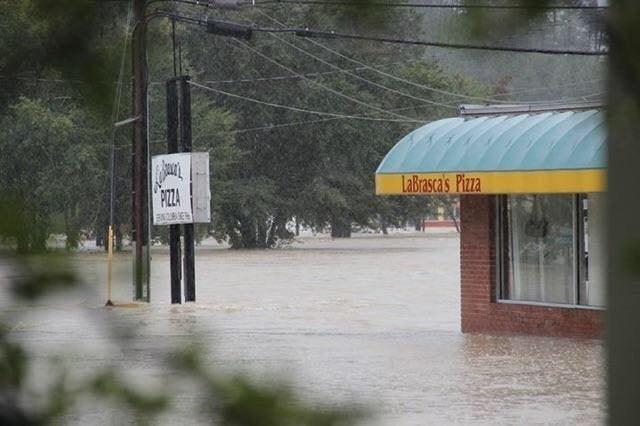 Last week, LaBrasca's Pizza in Columbia, South Carolina, was gearing up to throw its 50th anniversary party. Today, it's facing the possibility of a going-out-of-business party. 
The restaurant is one of many local establishments ravaged by the deadly flooding that has ripped through the state since Sunday after record amounts of rainfall pummeled the region. Like most other small businesses and homeowners, the owners didn't have flood insurance.
"This restaurant has been here for 50 years and nothing has ever happened where we'd ever consider needing flood insurance," said Milly Knuckley, who runs LaBrasca's Pizza in Columbia with her fiancé and restaurant owner Brett Wilson. "We knew there was going to be rain and flash floods, but we didn't know that [the dam at Fort Jackson] was going to burst and come wash our restaurant away. How do you prepare for that? How does anybody prepare for that? You can't."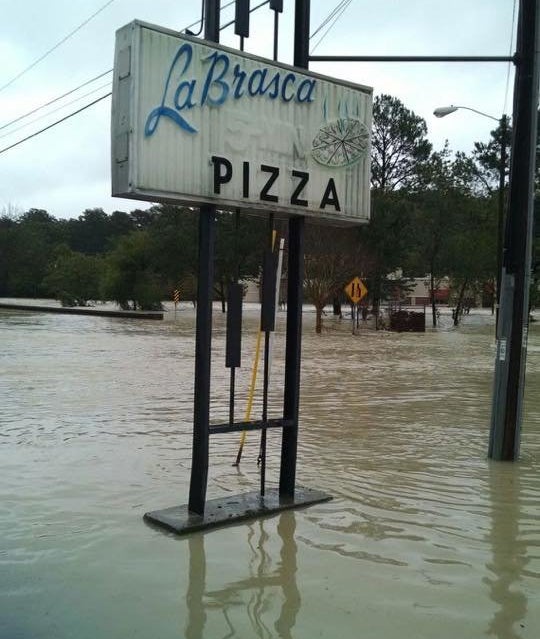 The disaster, characterized by Gov. Nikki Haley (R) as a once-in-1,000-year disaster, is something few small-business owners in the state were insured against, said Frank Knapp Jr., president and CEO of the South Carolina Small Business Chamber of Commerce. Flood damage is usually only covered by a separate policy that businesses and homeowners must purchase through the National Flood Insurance Program, which reports fewer than 200,000 policies exist in South Carolina. 
Knuckley said she'd be surprised if any of the other businesses in her shopping center were insured. Like her, she said, they didn't think flooding this destructive was possible in that location.
"It was like a nightmare. First you're hit with denial, and you're like, 'Well, it can't be that bad,'" she said, describing when she first realized the flooding would hit the restaurant. The reality didn't hit until her fiancé made his way there on Sunday. "He's 6 foot, 3 inches and he was in waist-deep water trying to get into our restaurant."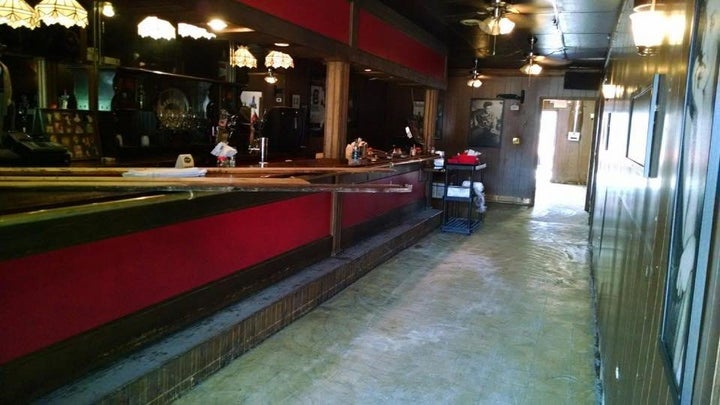 On the first day of sunshine on Tuesday, Knuckley, Wilson and friends were trying to save anything they could. 
"Right now we're just trying to clean up the mud," she said. "We had to rip everything up; our carpet's all laid out in the back of the restaurant right now ... We have booths and tables that were under water. We have them out in the sun right now hoping we can salvage them. We had to throw out food. All our paper goods, boxes, all had to be thrown away because it was contaminated. We've lost some equipment ... Our ceiling tiles are starting to fall in right now."
She's grateful that the water didn't reach high enough to destroy their gas pizza oven and that several staffers and customers have showed up to help. 
"I even had an employee's 8-year-old daughter here bleaching booths and stuff for me out back in the sun trying to stop mold from forming on everything so that we could try to save it," she said, adding that many patrons have stopped by to help with cleanup efforts. "I've had so many in here that I've had to turn customers away and told them that I would call them when I could."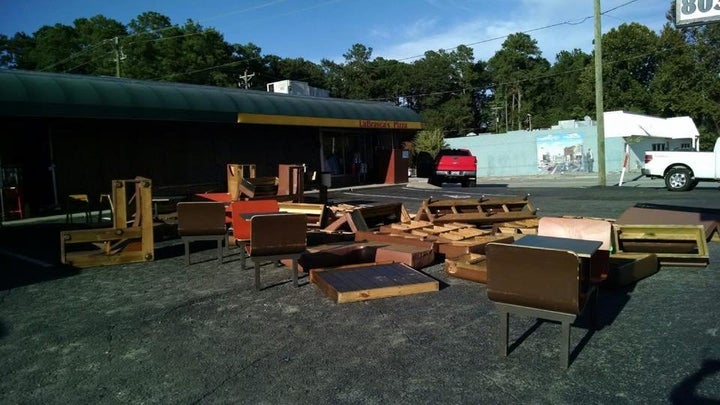 Knuckley said she has no idea what will happen next, but they're exploring different options. 
"One of our customers said she was going to start a fund for us," she said. "That's pretty much what it's come to. We're depending on the generosity of others because we're not a big franchise."
It wouldn't be an easy goodbye; the restaurant has been part of the family for a long time. Her fiancé worked for the original owner at LaBrasca's when he was in high school and bought the restaurant from him 20 years ago. 
"We're just a small mom-and-pop shop that's praying this doesn't put us out of business," she said. 
Cynthia McHale, the director of insurance at the sustainability nonprofit Ceres, emphasized that experts are warning that climate change will exacerbate the frequency and intensity of these types of storms, so businesses need to start preparing for a changing reality. 
"It's really gargantuan, it really is," McHale told The Huffington Post earlier this week of climate risks. "I understand that businesses confront a lot of challenges and have a wide range of risks, but this is large and it is growing. It's just one you can't ignore."  
Calling all HuffPost superfans!
Sign up for membership to become a founding member and help shape HuffPost's next chapter