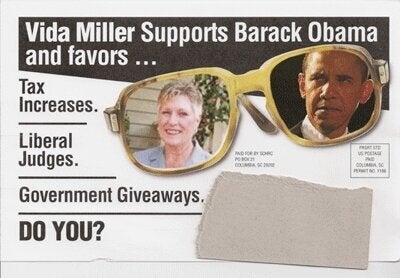 Several local Democratic candidates in South Carolina have been targeted by the state's GOP caucus, which is aiming to gain ground here by tying the Democrats directly to Barack Obama. A mailer sent out this past week in different districts features collage-photos, where each of the candidates appear with Obama. The photo of Obama is dark, his expression uncharacteristically menacing -- eyes narrowed and lips pinched in a grimace. It's a not very subtle appeal designed to play on typical right-wing hobgoblins and racist sentiment across the state. In the mailer featuring House candidate Vida Miller, the GOP strategists warn against an Obama reign of taxes, liberal judges and "government giveaways."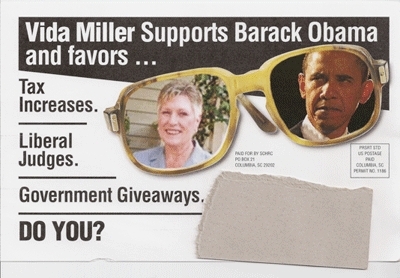 Governor Mark Sanford, a Republican and big McCain backer, was asked by Marilyn Hemingway, the Georgetown County Democratic Party's Executive Committeewoman, to denounce the mailer at a press conference in Georgetown on Monday where Sanford endorsed Jill Kelso, Vida Miller's GOP opponent. Sanford refused. He said that it was Constitutionally protected freedom of speech.
Is this happening in other states across the country? Send the direct mail you're receiving to the Huffington Post's OffTheBus (email to specialops AT huffingtonpost.com).
Related
Popular in the Community