The South Carolina GOP is sending out a mailer urging people to request an absentee ballot, using President Donald Trump's own words to assure voters that the practice is reliable.
"...Absentee Ballots are fine because you have to go through a precise process to get your voting privilege..." reads the Trump tweet quoted on the mailer, which was shared with HuffPost by a South Carolina resident.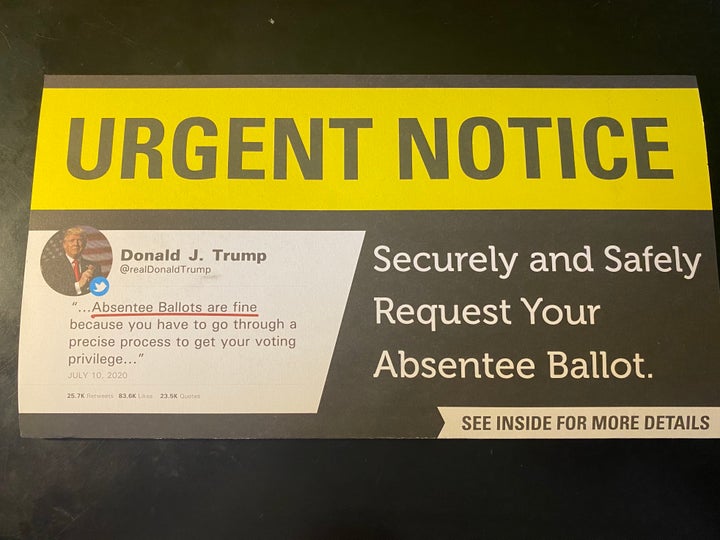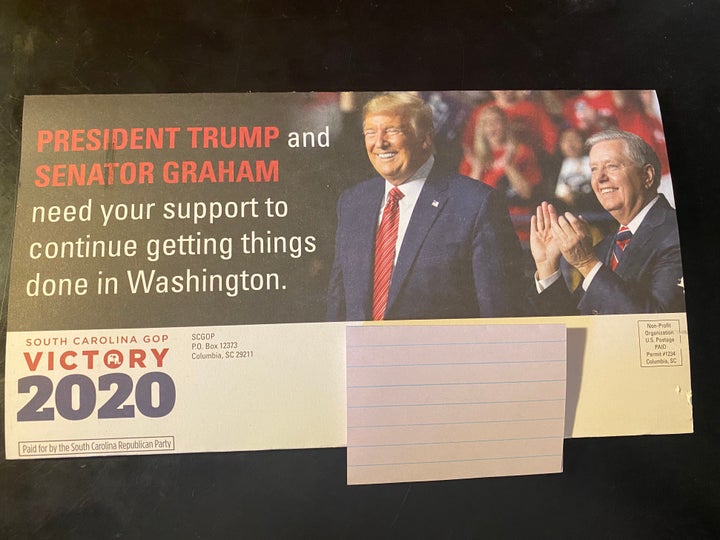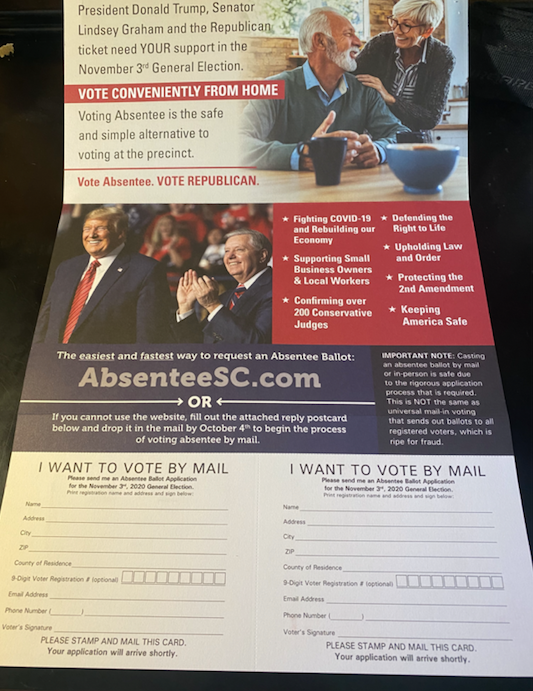 But the state Republican Party conveniently manipulated that July 10 tweet to leave out what else the president said ― the part where he talked about how awful "mail-in" voting is.
The mailer also didn't note Trump's prior tweet in that email thread: "Mail-In Ballot fraud found in many elections. People are just now seeing how bad, dishonest and slow it is. Election results could be delayed for months. No more big election night answers? 1% not even counted in 2016. Ridiculous! Just a formula for RIGGING an Election...."
The South Carolina GOP did not immediately return a request for comment.
For months, Trump has railed against mail-in voting, outright acknowledging that he's afraid it will lead to greater turnout and thus help Democrats in November.
But in many areas, Republicans have traditionally had strong vote-by-mail operations, and they know that cutting off that method during a pandemic would be foolish. So state and local officials have tried to clean up the mess.
Florida GOP officials settled on a similar solution to South Carolina's, doctoring one of Trump's tweets on a mailer to highlight this part: "Absentee Ballots are fine. A person has to go through a process to get and use them."
The rest of his June 28 tweet was blurred out: "Mail-In Voting, on the other hand, will lead to the most corrupt Election is USA history. Bad things happen with Mail-Ins. Just look at Special Election in Patterson, N.J. 19% of Ballots a FRAUD!"
Trump and his allies have tried to argue that it's fine when a voter has to request an absentee ballot. The problem, they claim, comes when all voters are just automatically mailed absentee ballots to fill out and return.
But voting rights experts say Trump is trying to create a distinction that's inaccurate. There are a handful of states where voting predominantly takes place by mail ― Oregon, Colorado, Hawaii, Utah and Washington. Many of those systems have been in place for years, and they do not have problems with voter fraud. (Voter fraud, in any form, is also exceedingly rare in the U.S.) Only registered voters are sent ballots.
There's also no real difference between "absentee voting" and "mail-in ballots" or "vote by mail." Different states use different terms and there's no consistency, despite what Trump has tried to claim. And some states require voters to provide an excuse for voting absentee, while others don't.
Voters in several states ― including Florida, Michigan, New Mexico, North Carolina, Pennsylvania and Wisconsin ― have been getting robocalls from Lara Trump, wife of Eric Trump, and Donald Trump Jr., on behalf of the Republican National Committee, trying to clear up the vote-by-mail issue and encourage Republicans to cast ballots that way.
Since Trump and other members of his administration have voted by mail, Republicans have also had to deal with charges of hypocrisy.
We want to know what you're hearing on the ground from the candidates. If you get any interesting ― or suspicious! ― campaign mailers, robocalls or hear anything else you think we should know about, email us at scoops@huffpost.com.
Popular in the Community