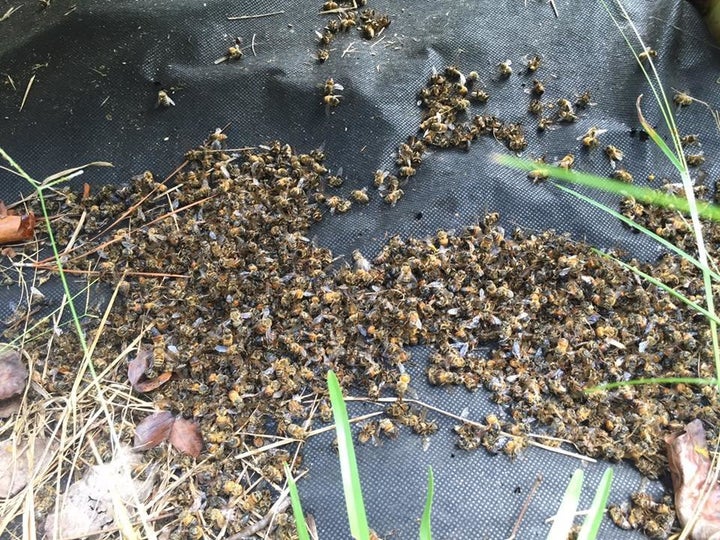 It was quieter than usual in parts of Dorchester County, South Carolina on Monday. Silence had replaced the familiar buzz as millions of the usual noisemakers lay silent on the ground — dead.
It was an unanticipated massacre, collateral damage in the war against the Zika virus.
County officials had been targeting mosquitos when they blanketed a 15-square mile area with pesticide on Sunday. But they ended up killing at least 2.5 million honeybees as well.
"It was like visiting a cemetery, pure sadness," wrote one woman who walked through an affected apiary on Monday.
More than 40 travel-related cases of Zika have been reported in South Carolina, including four cases in Dorchester County. Concerned about the potential spread of the disease, county officials launched aerial mosquito spraying operations over the weekend, a first for the county, which typically sprays pesticides from the ground using trucks.
Officials used the insecticide naled. Though commonly employed for mosquito control, naled is known to be toxic to honeybees and, according to the Environmental Protection Agency, can pose some risk to aquatic and terrestrial wildlife.
To protect honeybees, the EPA suggests spraying naled between dusk and dawn "while bees are not typically foraging." But in Dorchester County, the spraying was conducted between 6:30 a.m. and 8:30 a.m. County officials said they followed manufacturer instructions, which had recommended application "no more than two hours after sunrise" to minimize hazard to bees.
The morning after the spraying, beekeepers in the area were stunned to discover the deadly impacts of the chemical.
"There was no need for a bee suit Monday morning to go down there because there was no activity. It was silent," Juanita Stanley, whose apiary Flowertown Bee Farm was the worst hit in the spraying, told The New York Times. "Honestly, I just fell to the ground. I was crying, and I couldn't quit crying, and I was throwing up."
Stanley estimated that the pesticide killed 2.5 million of her bees.
"Nobody called me about the aerial spraying; nobody told me at all," she told CNN through tears. "[I] would have been screaming and pleading on their doorstep if they had … 'Do it at night when bees are done foraging,' I would have told them. But they sprayed at 8 a.m. Sunday, and all of my bees were out, doing their work by then."
County officials apologized for the unintentional massacre.
County administrator Jason Ward said he was "not pleased that so many bees were killed." He explained that the county had attempted to inform the public about the spraying through social media and the local press; officials had also reached out to most local beekeepers to alert them about the plans.
Stanley's apiary, however, had been overlooked after a county employee "failed to call" her business, Ward said.
"We've learned that the beekeeping community in Dorchester County, and in that area in particular, is larger than we were aware of," he added.
Many local beekeeping hobbyists said they were also caught unawares by the spraying.
"My wife called a short time after the flyover and said, 'We have a mass killing,'" Andrew Macke, who had two hives, told The Post and Courier. "We have thousands and thousands of bees dead all around our pool deck and our driveway, just everywhere."
Ward said the county would try to reimburse Stanley's business for its loss and would ramp up efforts to collect the contact information of all beekeepers in the area, professional and otherwise.
"I can assure you that having a better relationship with the beekeeping community is paramount in avoiding this type of situation," he told The Post and Courier.
In the wake of the bee deaths in South Carolina, experts stressed the importance of safeguarding pollinators even while trying to control mosquito populations, something that may become increasingly critical as Zika cases across the country, and worldwide, rise. Some pesticides are less toxic to bees, for example, and spraying at the right time of day is important.
"I think this shows how easy it is to forget best practices when faced with emerging issues — and killing bees is probably not the biggest impact," Dennis vanEngelsdorp, a bee researcher at the University of Maryland, told the Times. "If you're killing honeybees, you're killing a lot of other non-honeybee pollinators, too, and those populations could take a long time to recover."
Related
Popular in the Community