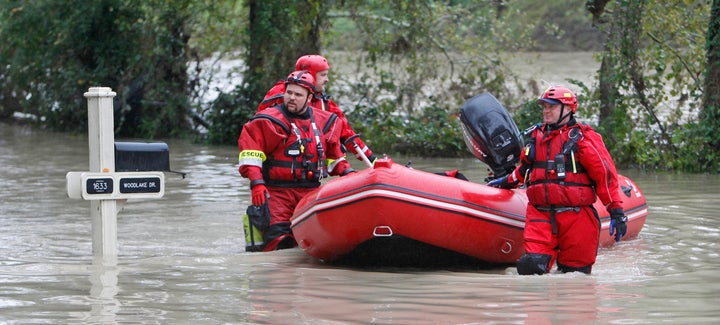 After the storm comes the sun.
The chief executive of the South Carolina Small Business Chamber of Commerce on Tuesday urged workers to return to their jobs in hopes of kickstarting the region's economy after combined storm systems deluged 11 counties around the state capital.
"It's a sunny day here," Frank Knapp Jr. told The Huffington Post in a phone interview. "It's the first time I've seen sun in many days."
Floodwaters inundated homes and businesses around the state on Sunday after rains from Hurricane Joaquin combined with other weather systems. On Tuesday morning, the death toll from the storm rose to at least 11. The cost of damages is soaring beyond $1 billion. Some businesses in the inundated counties reported looting, according to local newspaper The State.
But commerce can carry humankind through its bleakest hours.
In Zaartari, the largest camp housing Syrian refugees in Jordan, residents have set up businesses along a road called Market Street, which is also known fondly as the Champs-Élysées. In New Orleans, a decade after the destruction caused by Hurricane Katrina, restaurants like the Crazy Lobster Bar and Grill emerged stronger than before, knitting themselves into the fabric of the rebuilt city. In Berlin, where a razor wire company turned down a hefty contract that would have delivered a dangerous fencing product to Hungary to keep out refugees, even the refusal to engage in commerce can become an act of hope and human resilience.
Now, it's time for South Carolina's business community to rebuild.
"People need to get to work," Knapp said. "We need to get the economy back up and moving again."
Sadly, this the devastation in South Carolina could become a new normal. Though Gov. Nikki Haley said the area around Columbia hadn't seen such severe flooding "in a thousand years," extreme weather is expected to become more common as climate change, resulting largely from human air pollutants, intensifies.
"One thing we must not allow to influence our future behavior is the characterization of this storm as a 1 in a 1,000-year event," Knapp, who also co-chairs the nonprofit American Sustainable Business Council, wrote in a blog post on Monday evening. "Governor Haley has prominently used that statistic and many people will believe that this was simply a freak, almost Biblical act of nature that we will probably never see again. This is simply not the case and we do a disservice to the public by giving them false hope."
Popular in the Community