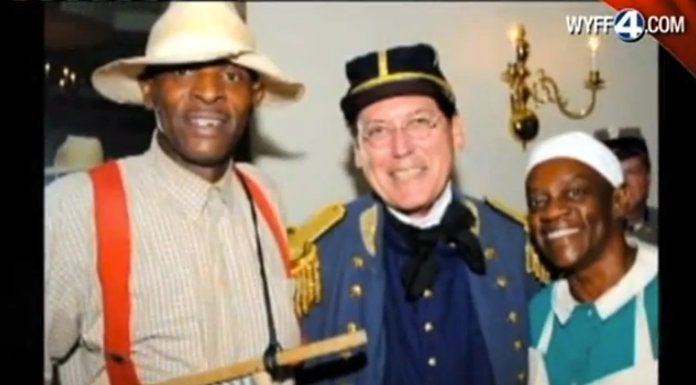 When South Carolina Lt. Gov. Ken Ard resigned on Friday, the same day a grand jury indicted him for seven ethics violations, longtime state Sen. Glen McConnell agreed to fill the vacant post. The state's Republicans hoped he would bring a wealth of experience to the job, but didn't count on the 30-year veteran bringing his Confederate general's coat as well.
The appointment resurrected a controversy from 2010 in which McConnell, an avid Civil War re-enactor, was caught in an awkward picture at an event for the National Federation of Republican Women. McConnell, wearing a Confederate general's costume, was flanked by two black partygoers who appeared to be dressed as slaves. The event was called "A Southern Experience."
At the time, McConnell defended the pictures, telling the Charleston Post and Courier that the gathering was proof that segregation was firmly in the state's past. "Tell me what is offensive about having the differing parts of the culture there? What are we going to try and do in America, sanitize history?" he said. The woman in the picture, Sharon Murray, told the Post and Courier "she and her husband were neither portraying freedmen nor slaves."
McConnell has been a longtime advocate of Confederate history causes. He was a leading advocate for keeping the Confederate flag flying over the South Carolina statehouse, a battle he eventually lost. Paul Wachter also reported in 2010 that "McConnell owns a store that sells Confederate memorabilia. Last time I saw him, his cell phone bore a Confederate flag, and its ring tone chimed Dixie."
The South Carolina Democratic Party quickly turned McConnell's Confederate hobby into a new ad. Displaying pictures of McConnell in Confederate uniforms to the tune of "Dixie," the video slammed him him as a "kook" and sarcastically claimed, "we hope Nikki Haley stays healthy."
"The Republican Party has lost its collective mind and we ain't just whistlin' Dixie," the party said in a press release.
However, McConnell's stint in his new post may not last long. The Charleston Post and Courier reported on Monday that McConnell, the president pro tempore of the South Carolina Senate, has not committed to the full 2 1/2 years remaining in Ard's term.
Popular in the Community