 WASHINGTON -- A new survey of likely Republican presidential primary voters in South Carolina released on Wednesday shows the same overall result as nine other surveys conducted in that state since the New Hampshire primary. Mitt Romney is leading Newt Gingrich and the rest of the field.
But does this latest poll reveal a tightening race, or is Romney in a stronger position now than he was two weeks ago? The answer is not what some reports would have you believe.
The new poll conducted by CNN, Time and ORC International from Friday, Jan. 13, to Tuesday, Jan. 17, finds Romney with a 10 percentage point lead (33 to 23 percent) over Gingrich, followed by Rick Santorum at 16 percent, Ron Paul at 13 percent and Rick Perry at 6 percent.
According to a CNN report, the result shows the South Carolina race "tightening" with Romney's lead over Gingrich "rapidly shrinking."
CNN comes to that conclusion by comparing the latest result to the last CNN/Time poll conducted two weeks earlier. That survey showed Romney leading Gingrich by nearly 20 points (37 to 18 percent).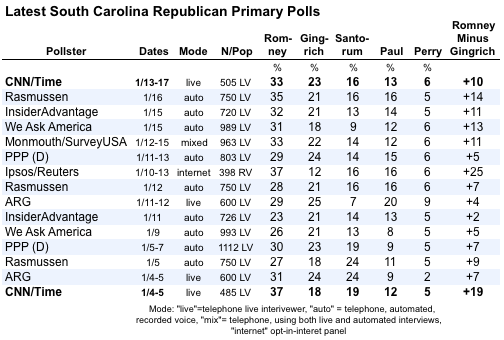 Unfortunately, that analysis overlooks a half-dozen other surveys conducted at about the same time in the first week in January, all of which showed Romney leading by smaller, single-digit margins. It also overlooks another half-dozen polls conducted more recently that all find Romney leading by roughly the same margin as the latest CNN/Time poll. The rub is that, collectively, the newer surveys show Romney's margin growing over the last two weeks.
The following chart of the HuffPost Pollster trend lines illustrates the pattern based on all public polls in South Carolina. The chart shows a six-point jump in Romney's support over the last 10 days, from a low of 28.2 percent on Jan. 10 to 34.4 percent as of this writing. Meanwhile, the chart's trend lines give Gingrich 21.2 percent, Santorum 15.6 percent, Paul 13.0 percent and Perry 5.5 percent.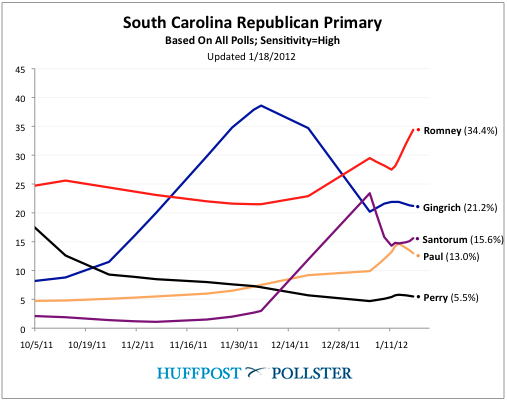 Unlike the CNN/Time poll, which used live interviewers calling over several days, many of the other recent South Carolina polls used automated, recorded-voice methodologies, and some also completed their interviews in just one day (allowing little or no opportunity to reach those not available on the first call). Both methods have their critics.
That being said, the results for each candidate from the latest CNN/Time poll are within a percentage point or two of the average from all the recent South Carolina polls. For whatever reason, the previous CNN/Time poll found Romney with a much wider lead than did almost every poll that followed (with the exception being an opt-in Internet panel survey).
So Gingrich may have made progress over the last two days that these polls have not yet captured. However, the consensus of the public polls finds that Romney, not Gingrich, grew his South Carolina support the most over the last 10 days.

REAL LIFE. REAL NEWS. REAL VOICES.
Help us tell more of the stories that matter from voices that too often remain unheard.