WASHINGTON -- Six new polls released on Thursday reveal a stunning surge of support for Newt Gingrich in South Carolina's Republican primary, following pundit accolades of his Monday night debate performance and a near-endorsement on Tuesday from former Alaska Gov. Sarah Palin.
The current polling snapshot now shows Gingrich and former Massachusetts Gov. Mitt Romney running essentially even among likely Republican primary voters, although polls differed on which candidate might be ahead. With events continuing to swirl, the ultimate outcome of Saturday's primary is now impossible to predict.
Some of the new data releases might be questionable if examined alone, but the consistency of the trend across all polls is undeniable. Since Monday, former House Speaker Gingrich has surged and eliminated what had been a double-digit Romney lead almost overnight. The six new polls -- all conducted since Monday -- all showed Romney and Gingrich leading the field and running within single digits of each other. The margins varied from a six-percentage-point Gingrich lead reported by Democrat-affiliated Public Policy Polling (PPP), to a two-point Romney edge found by the Politico poll conducted by The Tarrance Group, a Republican polling firm.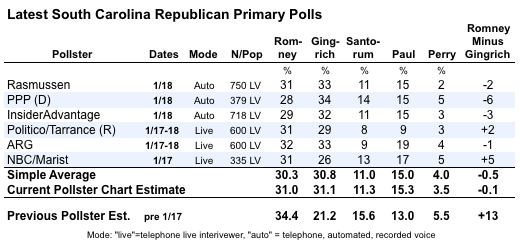 Previously, eight telephone telephone polls conducted all or in part between the New Hampshire primary and Monday night had shown Romney leading by margins ranging from 2 to 14 percentage points, with the lead appearing to increase as the week went on. The HuffPost Pollster chart estimate, based on all of these surveys, gave Romney a thirteen percentage point lead (34.4 percent to 21.2 percent).
Now, however, the new polls show the trend lines have converged. They show a virtual tie, 31.1 percent for Gingrich and 31.0 percent for Romney, with Rep. Ron Paul (R-Texas) running a distant third at 15.3 percent.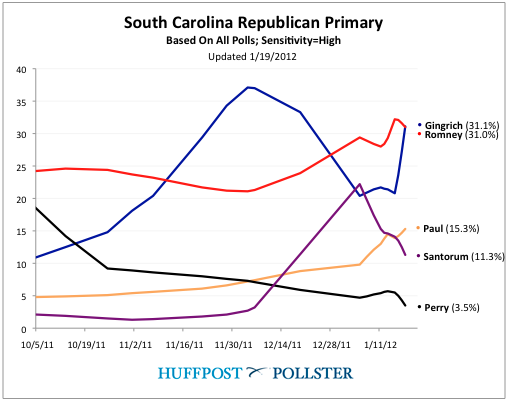 The trends would appear to favor Gingrich, given that support for conservative alternatives to Romney -- former Pennsylvania Sen. Rick Santorum (11.3 percent) and Texas Gov. Rick Perry (3.5 percent) -- was already fading.
Of course, these new polls do not yet reflect reactions to two big stories that broke on Thursday morning: Perry dropped out of the presidential race and endorsed Gingrich, and ABC News broadcast a "bombshell" interview with Marianne Gingrich, in which the ex-wife of the former speaker discusses details of their divorce. And Friday's political news will likely be dominated by yet another nationally televised debate among the remaining four candidates on Thursday night on CNN.
Polls conducted before primary elections are far more prone to error, even under ordinary circumstances, but the events now playing out in South Carolina are extraordinary. The combination of the recent volatility in voter preferences and the swirl of ongoing events means the current snapshot in time is likely to be just that. Voter preferences in South Carolina are still very much subject to change.
CORRECTION: An earlier version of this story incorrectly called the Politico poll the "Politico/GWU Battleground poll." The poll was conducted not with GWU, but by The Tarrance Group.
Popular in the Community