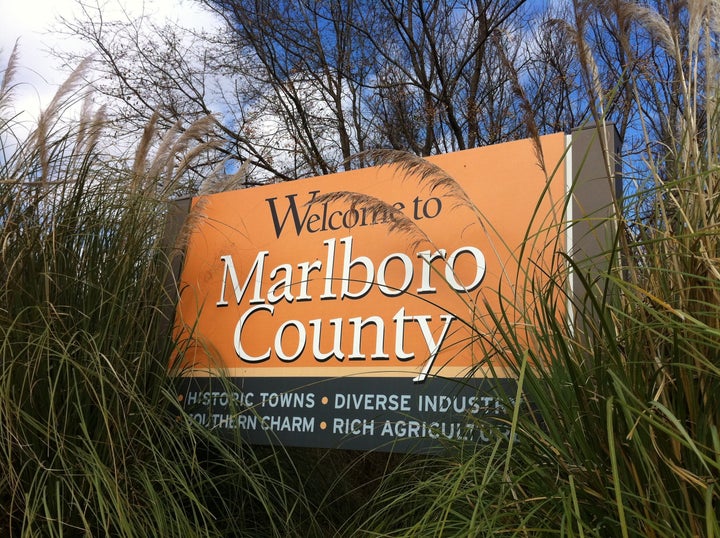 BENNETTSVILLE, S.C. -- It's been more than two years since Frederick Parker had a decent full-time job.
Standing outside the state workforce office as he waits for a ride, the 40-year-old South Carolina native opens up a backpack filled with evidence of his long struggle with unemployment: a stack of updated r&eacutesum&eacutes, some fruitless job leads and certificates from continuing-education courses he's completed at the local tech college. A construction worker by trade, Parker has racked up certificates to run a backhoe, a bulldozer, a front-end loader and an excavator.
Even so, all he managed to land was a part-time stint at a local McDonald's.
"I have everything I should need, and I'm still applying," says Parker, who's wearing a pressed burgundy button-down shirt, his chest-length dreadlocks pulled back neatly in a ponytail, so any potential employer would "know I mean business."
"I work hard," he goes on. "My paperwork's clean. I have a high school diploma, a r&eacutesum&eacute. I've got no criminal record."
Parker may be a victim of geography more than anything else. He lives in South Carolina's Marlboro County, a mostly rural region surrounding the town of Bennettsville and hugging the North Carolina border. The county is battling a wince-inducing unemployment rate of roughly 16 percent, or nearly double the national rate. During the worst days of the Great Recession, it climbed to an eye-popping 21 percent.
In short, this part of South Carolina isn't anything like Iowa or New Hampshire, the two previous presidential nomination stops, both of which have been far more insulated from the jobs crisis. Globalization has not been kind to the I-95 corridor in South Carolina, and jobs can be hard to find even in a healthy economy. Although few of the candidates are likely to do more than drive through or fly over Democratic-leaning, mostly African-American Marlboro County, it is in many ways an actualized vision of the GOP platform, a free-market fever dream of low taxes, cheap and abundant labor, little union presence and even less regulatory burden.
There were plenty of jobs in Marlboro County's textile industry 25 years ago, but most of those companies closed their factories and headed overseas or south of the border in search of even cheaper labor, following a path beaten by the North American Free Trade Agreement. The region has clung, somewhat improbably, to a small handful of plants. Mohawk Industries, for instance, still produces carpet out of a local mill. But the lingering textile-and-manufacturing base has few complements. There's little in the way of a services industry, and retailers are loath to set up shop knowing that 31 percent of county residents fall below the federal poverty level.
"We're not facing these challenges because of our own doing. We were victims of NAFTA," says Ron Munnerlyn, chairman of the county council. "We have everything in place. We just need a good look" from businesses.
Two of the top employers in the county now are prisons -- one state, one federal. Residents speak in hopeful tones about the long-awaited Walmart likely to open later this year, bringing some much-needed jobs to Bennettsville, the county seat. Rich Gehm, 65, a radio engineer who was laid off in October when the local A.M. radio station went under, says he's considering going to work at a Walmart in another community, just to boost his chances of a transfer into Bennettsville once the store opens.
"There's not much else around here," says Gehm, who worked at the radio station for 30 years. "I've always said that Marlboro County has built into it an unemployment rate of 7 percent, even in good times."
South Carolina leaders love to pitch their business-friendly atmosphere to corporations. The regulatory touch is light, the corporate taxes are favorable, and the state's right-to-work law means a weak union presence. Still, it isn't easy bringing new employers to Marlboro County. Despite the many charms of downtown Bennettsville, the area can be a little too sleepy for some. And as in much of South Carolina, the public schools don't exactly have the best reputation. The area finds itself in a catch-22: Its small tax base makes it hard to improve the local schools, which, in turn, makes it hard to attract new residents and businesses, reinforcing that small tax base.
Ron King, who heads up the county's economic development partnership, likes to think of Bennettsville as "Mayberry R.F.D. -- you know your neighbors, your doctor, your postmaster and your druggist." Trying to build on the area's manufacturing base, King is constantly pitching businesses on Marlboro County and its eager labor pool, having settled here himself 20 years ago and raised four children. The arrival or departure of even a small employer is now a very big deal.
"Once companies are here, they've grown and prospered," King says.
Prosperity has been slower to come to the area's unskilled workers. The wages can be very low, partly due to that right-to-work law meant to lure businesses. The per capita income in Marlboro County is around $13,000, or 56 percent of the state average. Frederick Parker, for example, worked at a food-packing plant back in 2008, and even though he ran a forklift -- a skilled job, by some standards -- he says he earned the minimum wage without benefits. And he was laid off once the work slowed down.
Although the cost of living is also low, the wage problem is as serious as the unemployment problem, says the Rev. Charles Malloy, head of the Community Development Corporation of Marlboro County, a housing and economic development nonprofit.
"Based on the normal wages in this community, most people can't afford to rent a one-bedroom apartment," says Malloy, noting the prevalence of payday lenders in town. "Wages drive the economy. You've got folks with low wages, then you've got folks who don't give you a tax base. ... We have people who can do anything, if they're trained."
The limited opportunities can make it tough to retain Marlboro County's younger residents, further hurting businesses like Williams Tire & Service Center, run by Willie Williams since 1981. Williams used to keep three or four people on staff whom he trained; now he's down to just one. Williams says sales have fallen so much that he was recently dropped from the list of dealers allowed to partake in Michelin tire promotions, the first time he's been ineligible in three decades. He attributes the flagging business partly to his aging clientele, who aren't being replaced with younger drivers. Older customers simply don't drive as much, and they're willing to "run 'em long" when money's tight, according to Williams.
"We've rocked on for 31 years," the 68-year-old says proudly, but lately "it's been tough to make our numbers."
Williams grew up in the area, served in the Vietnam War, returned home and borrowed money to start his own business. Although it pains him to acknowledge it, Williams says if he were a younger man, he'd consider heading to a place like North Charleston, where Boeing is manufacturing sections of its 787 Dreamliner -- "somewhere you can spend 20, 25 years" and build a career, he says.
Like a lot of other locals, Frederick Parker hasn't given much thought to leaving. Marlboro County is his home, so he's making due with what it has to offer. At the moment, that means squeaking by on food stamps and the occasional odd job as he looks for full-time employment. In the summer he mowed lawns; in the fall he raked leaves; last week he cleaned an old man's house.
Parker's most recent job interview happened to be a mock one. He's been taking a course at the local employment office to improve his interpersonal skills and learn what employers look for in a job candidate. On the day of the mock interview, he wore a shirt and tie and had the interview recorded so he could break down his performance. Afterward, he watched video of himself talking about his strengths and weaknesses. Even though there was no job on the line, Parker was pretty sure he nailed it.
"I took it for real," he says.

REAL LIFE. REAL NEWS. REAL VOICES.
Help us tell more of the stories that matter from voices that too often remain unheard.