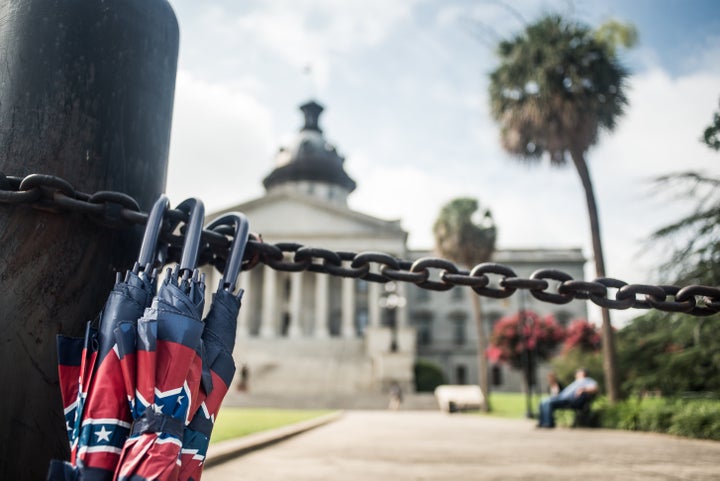 South Carolina lawmakers are contemplating a step that would be drastic even amid the string of extreme responses to Syrian refugee resettlement: a bill that would create a public online registry of all refugees and require police to track them.
A state Senate committee approved a bill to do so on Wednesday, although a Democratic lawmaker's objection has blocked it from going to the floor for now.
An online registry that contains refugees' addresses would be a dangerous proposition, critics say. Lawmakers have repeatedly told the public that admitting refugees would put communities at risk, and some South Carolina residents have joked about shooting them. 
Even one Republican senator who supports the bill said creating a registry went too far, although she still believes Syrian refugee resettlement should be stopped. The bill applies to refugees from all countries, not just Syrians.
"I do not think that that would be good information to release because we don't want the general public -- especially people that would be out looking for refugees to even harm them or something" to be able to access it, state Sen. Katrina Shealy said. "I don't think that would be a good idea."
If the bill goes to the floor, Shealy said she will push for an amendment to remove that provision in favor of one that restricts access to the registry to the Department of Social Services or those who need it for legal reasons.
Even without a public registry of refugees, resettlement advocates said the bill would be damaging. It would require police to track refugees and make anyone who helps resettlement efforts in the state liable for damages if a refugee they assisted went on to commit an act of terrorism.
Resettlement agencies often work with churches and volunteers, and many pastors strongly oppose the legislation, said Jenny Yang of World Relief, a group that facilitates resettlement in South Carolina and elsewhere.
She called it "some of the worst legislation we've ever seen coming out of a state legislature" on refugees.
"A lot of refugees have gone through really horrific experiences overseas and are basically being re-traumatized when they're here because they feel like they're living in communities where they're not being welcomed, although they've done everything they can to prove they're not a security threat," Yang said.
South Carolina state Sen. Kevin Johnson, the Democrat who put the bill on hold, has called for a minority report on the bill. He said he isn't opposed to listening to ways to improve the refugee vetting process, but does not think this bill is the right way to go about it. It might not even be constitutional, Johnson noted, since the federal government sets immigration and refugee policy, not the states.
Johnson said a lot of the debate surrounding refugee resettlement reminded him of the rhetoric his ancestors and other black Americans have endured: "'We don't want you in our neighborhood' or 'We don't want you in our state, you're going to come over here and rape and steal and take all of our jobs.'"
"I think that we can deal with that issue without being hateful," Johnson said.
Republicans and some Democrats at the federal level have tried to make it harder for the government to admit Syrian and Iraqi refugees. The House passed a bill last year aimed at slowing the admission process for people from those countries and pressuring officials not to accept them. Democrats blocked that legislation from moving forward in the Senate last week.
U.S. Reps. Mick Mulvaney and Jeff Duncan, both South Carolina Republicans, got involved in the state's refugee bill, and testified about the process before the committee.
"If you let in the wrong Irishman, the downside is really not that serious. You let in the wrong Syrian refugee -- one -- and people could die," Mulvaney said, according to The Associated Press. A spokeswoman for Mulvaney did not respond to a request for comment on exactly what he meant by "the wrong Irishman."
Shealy, the Republican state senator who supports the bill, said it "doesn't stop the people of South Carolina from helping refugees, because not all refugees are coming from terrorist countries."
"It's not that we're trying to keep refugees out of South Carolina," Shealy said. "We just want to make sure that those that do come to South Carolina that we know who they are, we know that they've been fully vetted and that we can know where they are until we know that it's a safe situation."
PHOTO GALLERY
Images Show How Syrian Refugees Live And Why They Left
Calling all HuffPost superfans!
Sign up for membership to become a founding member and help shape HuffPost's next chapter