Norman, a 63-year-old real estate developer and former state lawmaker, replaces fellow Republican Mick Mulvaney, who left Congress to become President Donald Trump's budget director.
Parnell, a 66-year-old tax attorney, mounted an unusually ambitious challenge in the district where the conservative Mulvaney cruised to re-election in 2016. His scrappy campaign, and the support it received from the national Democratic Party, excited local activists accustomed to being written off by party leaders.
Michele Horne, 42, a Rock Hill-based supporter of Sen. Bernie Sanders (I-Vt.) who volunteered for Parnell, blamed the outcome on her fellow constituents' strong identification with the Republican Party.
"South Carolinians still have not gotten to the point where they can look at issues versus keeping it strictly partisan politics," said Horne, a co-founder of the progressive #DemEnter group. "On the issues, Archie is clearly a better choice for anybody who lives in the state other than very wealthy people."
Norman is likely to add to the strength of the House's contingent of fiscal hard-liners. He has said he would consider joining the House Freedom Caucus, a group Mulvaney helped found and which is comprised of the chamber's most conservative Republicans.
Norman campaigned heavily on his commitment to helping Trump enact his agenda, including the repeal of Obamacare. He has also embraced raising the Social Security retirement age and, following last week's shooting of House Majority Whip Steve Scalise and others at a baseball field, said he believes more members of Congress should carry guns.
In addition, Norman touted the endorsements of high-profile national conservatives, including Sen. Ted Cruz (R-Texas) and Fox News host Sean Hannity.
Trump recorded a robocall for Norman over the weekend and tweeted his support for the GOP candidate on Monday:
The district, a largely rural swath of the state that stretches from Sumter in the south to the suburbs of Charlotte, North Carolina, was always going to be difficult territory for a Democrat.
But in a year when Democrats have been champing at the bit to humble Trump with upset victories in special election races, including Georgia's 6th Congressional District, which they also lost late Tuesday, Parnell ran his party's most formidable campaign in the district since 2010. That was when Mulvaney unseated veteran Rep. John Spratt, ending the Democrats' more-than-century-long hold on the seat.
Parnell raised $763,000 for his bid, including $305,000 that he either lent or donated to the campaign. Norman raised $1.3 million, much of which also came from his own pocket.
The national attention and resources showered on what polls showed to be a neck-and-neck special election Tuesday in Georgia's 6th congressional district overshadowed the race in South Carolina.
But Democrats in Washington did not ignore Parnell entirely.
Shortly after Parnell released an internal poll at the end of May showing that he had narrowed Norman's lead to 10 percentage points, the Democratic Congressional Campaign Committee contributed $275,000 to his bid.
Democratic National Committee Chairman Tom Perez, DNC Associate Chairman Jaime Harrison and American Federation of Teachers President Randi Weingarten canvassed for Parnell as part of the kickoff of the DNC's "Resistance Summer." Former Maryland Gov. Martin O'Malley and Ohio Rep. Tim Ryan also campaigned for Parnell in person, while former Vice President Joe Biden taped a robocall for him.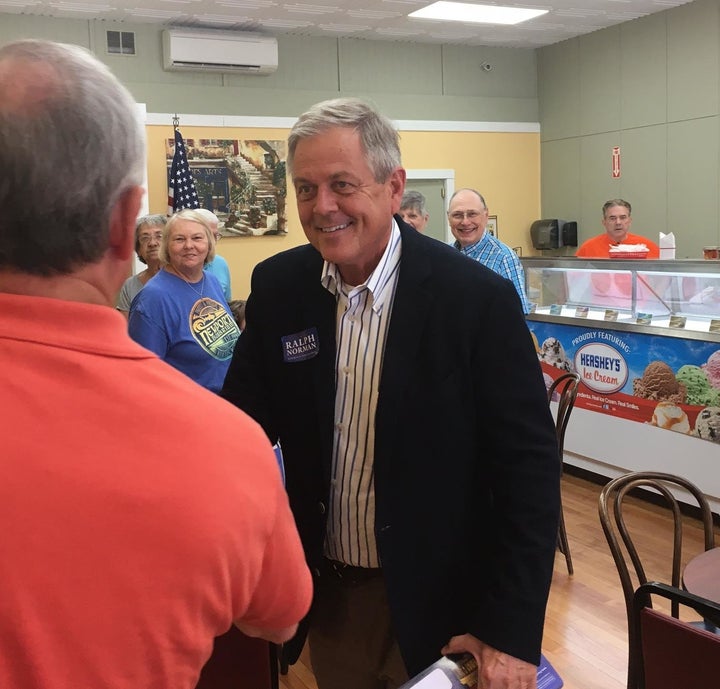 Parnell was previously a tax adviser for Wall Street giant Goldman Sachs. Before entering the private sector, he served as a tax attorney for the Department of Justice and staff director of the House Ways and Means Committee.
Rather than shy away from his lucrative Hong Kong-based stint at Goldman Sachs, Parnell claimed that experience gave him the expertise needed to cut middle-class families' taxes and close corporate tax loopholes. He even laughed about it on more than one occasion.
"I know enough about our crazy tax code to absolutely bore you to tears," Parnell said in "Know-How," one of two ads he aired on television.
"You have no idea," Parnell's wife Sara deadpanned.
Seeking the support of Republicans and independents, Parnell emphasized his commitment to compromising with lawmakers on the other side of the aisle and rejected a push for single-payer health insurance in favor of fixing Obamacare.
At the same time, he didn't back away from more progressive Democratic positions, such as calling for importation of safe prescription drugs and opposing all cuts to Social Security benefits. He also went on record supporting the Dodd-Frank Wall Street reform law, abortion rights and closing the "default to proceed" loophole that allows guns sales without background checks if the FBI fails to complete the screening within three days.
With positions like those, Parnell managed to attract the enthusiastic backing of the local Sanders supporters.
"I like the idea that he understands how business works," said Susan Maxson, a 54-year-old Sanders enthusiast and campaign volunteer. "I'm not gonna hold his previous employer against him by any means."