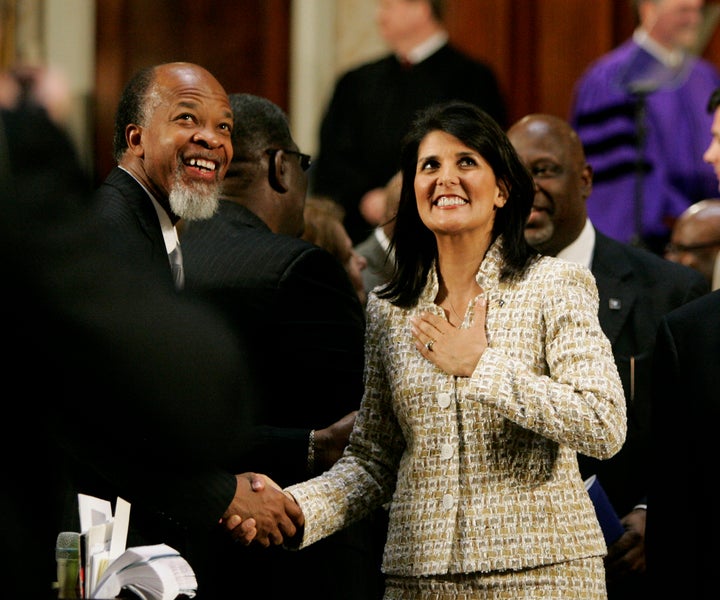 In the lawsuit, Attorney General Alan Wilson asked a judge to overturn the federal government's decision, saying that enforcement of the new law "will not disenfranchise any potential South Carolina voter," according to reports. "The changes have neither the purpose nor will they have the effect of denying or abridging the right to vote on account of race, color, or membership in a language minority."
But Democrats and minority rights groups have said the laws are part of a concerted effort by Republicans to chip away at the voting rights of minorities -- who are key constituencies for the Democrats -- ahead of the 2012 presidential election.
"South Carolina's decision to fight for the right to resurrect their Jim Crow-like voter suppression tactics is deeply disturbing. Sadly, Gov. [Nikki] Haley's unwavering adherence to the myth of voter fraud is just another display of the partisan politics that move our country backward rather than forward," Ben Jealous, president of the National Association for the Advancement of Colored People, said in a statement sent to HuffPost. "Laws like these are modern-day poll tax, a stain on our democracy, and have no place in this nation."
The state has hired high-powered Washington attorneys at a rate of $520-an-hour, according to a report by the Post and Courier. Other contracted associates and paralegals will earn between $180 and $200 an hour on the case, the newspaper reported.
"With states like South Carolina facing budgetary restrictions, it's interesting they can make funds available for this type of activity," J. Michael Bitzer, a professor of political science at Catawba College in Salisbury, N.C., told the newspaper. "People will question, 'Why isn't this going to education or other principle public services?' It plays well with (Haley's) base though."
Rob Godfrey, a spokesman for Gov. Nikki Haley, said in a statement, "It wouldn't cost anything if (U.S. Attorney General) Eric Holder and the Department of Justice would get out of the way and let us protect our citizens and enforce our laws."
The Justice Department in December rejected South Carolina's law under Section 5 of the 1965 Voting Rights Act, which mandates the federal government approve any changes to voting laws in a handful of states that have a history of voter suppression and racial discrimination. The last time the DOJ blocked such a law was in 1994, after Louisiana passed a law that required voters to present a photo ID at the polls.
Republicans have said the new voting laws, passed in more than a dozen states, are needed to protect against voter fraud, although little evidence of mass voter fraud exists.
"The data speaks for itself, there have been no prosecutable cases of voter fraud in South Carolina that would be prevented by this law," Jealous said in a statement. "However there is credible evidence that thousands of minority, elderly, student, and disabled voters would be disproportionately disenfranchised if South Carolina enacted this law."
About a quarter of all African Americans and 18 percent of Latinos across the country lack government-issued photo IDs as required by these new laws. Also, opponents of the laws say that many older Americans, particularly in rural or poor areas, were born to midwives or in areas that did not keep adequate records, such as birth certificates. To get a photo ID often requires documented proof of birth and/or citizenship.
In a statement released shortly after the suit was filed, Wilson said, "The Department of Justice has denied citizens in South Carolina protection of a law that the U.S. Supreme Court upheld in Indiana, and the DOJ itself pre-cleared for Georgia."
Analysts and voting rights groups have said the Indiana law has served as a template for other state's voter ID laws.
"That was taken as a signal," Bob Kengle, co-director of the Lawyers' Committee For Civil Rights, told HuffPost in a recent interview. "I think that was the take-away from the Indiana decision. You had test cases Georgia and Indiana, the states where politicians were trying this to see if they could get away with it. The message they took away from the Indiana case was, 'Yes, we can.'"
Support HuffPost
Every Voice Matters
Popular in the Community