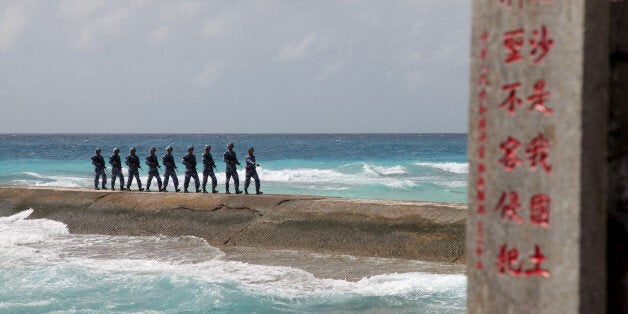 The United Nations Permanent Court of Arbitration delivered its final ruling Tuesday in a case between the Philippines and China over disputed maritime claims in the South China Sea. Closely watched around the world, the three-year-old landmark case was seen as a litmus test of China's intentions as a rising power.
As expected, the panel ruled in favor of the Philippines and determined that China has no legal basis to claim rights to the majority of the South China Sea. But there is no mechanism to enforce the ruling. And China quickly rejected the decision, with some in the Chinese establishment hinting at possible retaliation.
While all eyes are focused on the tribunal's decision and its fallout, we can actually learn far more from this case by focusing on what's missing. The real puzzle is why there aren't more cases like it.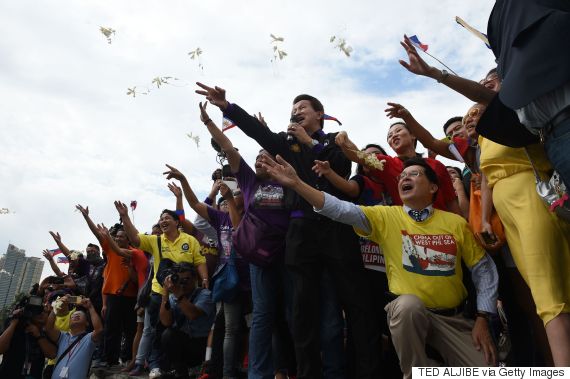 Filipino activists and Vietnamese nationals release flowers in Manila on July 12 as they anticipate a favorable decision from the UN tribunal ruling. (TED ALJIBE/AFP/Getty)
Beijing has staked its claims in several territorial disputes in the South and East China Seas. Broadly speaking, China's "nine dash line" (the shorthand reference to China's self-drawn maritime map) envelops the bulk of these waters and overlaps the claims of Brunei, Malaysia, Vietnam, the Philippines, Indonesia and Taiwan. There are further disputes in the East China Sea with Japan, Taiwan and South Korea. So why is the Philippines the only one to assert its claims under international law?
The answer is simple: China is quite literally raising the costs of challenging Beijing. Following Manila's early attempts to defend its claims in the Scarborough Shoal, Beijing vented its displeasure by allowing Filipino agricultural exports to rot on the dock and by initiating a finishing ban around waters claimed by the Philippines. Chinese leaders also depressed Chinese tourism to the Philippines. It worked. Within weeks, the Filipino government relented, pulling its ships from the Scarborough Shoal.
If the U.S. wants to curb Beijing's expansionist impulses, it will need to find ways of raising the economic costs to China.
Tokyo came in for similar treatment in 2010, when China halted exports of rare earth minerals to Japan amid tensions over competing claims in the East China Sea. In addition to this direct economic bullying, China has also sought to make an example out of the Philippines and Japan, making clear that any country considering a more assertive stance in these disputes can expect similar costs.
China's use of economic muscle in these territorial disputes goes well beyond coercion. Beijing regularly conscripts China's state-owned enterprises to help enforce these claims. China's leading oil company is fond of parking one of its deepwater rigs within Vietnam's exclusive economic zone, in "one of the most sensitive spots possible." The company's chairman once described the rigs as "mobile national territory and a strategic weapon."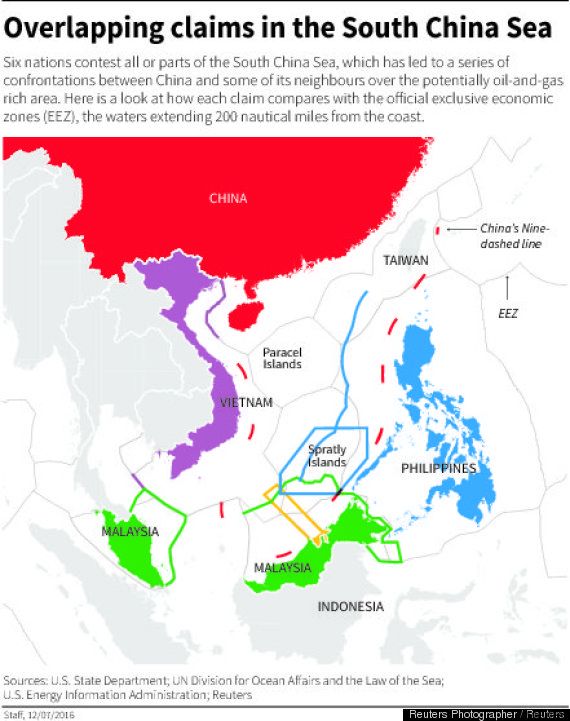 Map showing the overlapping claims by country on the South China Sea. (Reuters/RM)
China has also been busy building artificial islands -- creating or expanding at least seven in the South China Sea in the past few years, apparently unbothered by the lack of economic or commercial rationale for these projects.
Always quick to mix carrots with sticks, Beijing is also sweetening the rewards for cooperation. From the new Chinese-led Asian Infrastructure Investment Bank to the "One Belt, One Road" regional investment campaign, China is undertaking a flurry of state-led outbound investment -- drawing nearby countries into its economic orbit while sharpening its diplomatic leverage and creating commercial opportunities for Chinese firms in the process. The scale is difficult to overstate: the China Development Bank -- one of the primary financing entities for both the AIIB and China's OBOR -- holds more than $1 trillion in assets, far outstripping the World Bank's lending capacity.
China's entire strategy is predicated on the belief that exercising a military option in the next decade would simply prove too costly.
For all of the military bluster encircling the South and East China Seas, this is an economic contest. China's entire strategy is predicated on the belief that exercising a military option in the next decade would simply prove too costly for the U.S. and Japan, and for that matter, for China itself.
If the U.S. wants to curb Beijing's expansionist impulses going forward, it will need to find ways of raising the costs to China of its growing bellicosity, of reducing asymmetrical economic dependence on China and of building adequate defenses against Chinese economic bullying.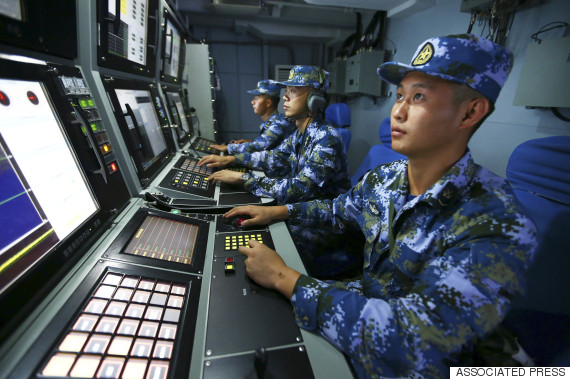 Chinese navy sailors search for targets onboard the missile destroyer Hefei during a July 8 military exercise near Hainan Island and Paracel Islands. (Zha Chunming/Xinhua News Agency via AP)
Thus far, there is little to suggest that U.S. leaders appreciate the need to reach for something other than military might. Washington remains much too fixated on the military dimensions of these disputes: How many U.S. Marines to station in Darwin, Australia? How soon to begin arms sales to Vietnam? How best to position the U.S. Seventh Fleet so as to respond to China's provocations?
The military buildup in Asia is real. But its bark is too loud and risks obscuring the larger struggle for leadership in the region, which is being waged in chiefly economic terms. Until America and its Pacific allies forge an economic counterpart to the U.S. military alliance, Beijing will likely continue changing facts on the water -- unfazed by U.N. arbitration panels or U.S. naval exercises.
Jennifer Harris is a Senior Fellow at the Council on Foreign Relations in New York and co-author of "War by Other Means: Geoeconomics & Statecraft" (Harvard University Press, 2016).
PHOTO GALLERY
China Sea Fort
Calling all HuffPost superfans!
Sign up for membership to become a founding member and help shape HuffPost's next chapter