State Sen. Phil Jensen (R-S.D.) doesn't believe governments should interfere in the private sector's ability to engage in race-based discrimination, according to an interview published in the Rapid City Journal on Sunday.
"If someone was a member of the Ku Klux Klan, and they were running a little bakery for instance, the majority of us would find it detestable that they refuse to serve blacks, and guess what? In a matter of weeks or so that business would shut down because no one is going to patronize them," Jensen told the Journal, advocating for the free market's role in promoting civil rights.
His comments come after a recently failed attempt to advance controversial anti-LGBT legislation, which he introduced in January. Under the auspices of freedom of speech, the bill, SB 128, sought to permit South Dakota businesses and residents to refuse services to customers based on their sexual orientation.
Three weeks later, the state Senate Judiciary committee voted 5-2 to kill Jensen's proposal, which state Sen. Mark Kirkeby (R) called a "mean, nasty, hateful, vindictive bill."
Jensen defended his efforts during his interview with the Journal, positioning the failed proposal as "a bill that protects the constitutional right to free association, the right to free speech and private property rights."
President of the Black Hills Center for Equality David Patton, a vocal opponent of SB 128, rejected Jensen's reasoning, citing the necessity of civil rights legislation to protect minority groups.
In 2011, Jensen, a staunch pro-life advocate, sponsored a bill to amend the state's definition of justifiable homicide in a way that potentially would have legalized the killing of doctors who perform abortions. Although the Rapid City lawmaker denied such an interpretation, state lawmakers shelved the proposal after bipartisan concern over the legislation's phrasing.
Jensen also discussed another recently failed measure during his interview with the Journal -- a bill proposed by state Sen. Mark Kirkeby (R) in January that sought to establish mandatory drug testing for welfare recipients.
Although Jensen told the Journal he supported the legislation, he was unsure whether recipients of other forms of government assistance, like farmers who receive subsidies, should be subjected to similar testing.
"You got me there," Jensen said, laughing.
Before You Go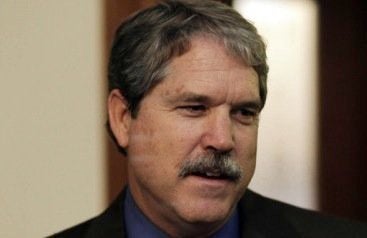 Racist Remarks Made By Politicians
Popular in the Community