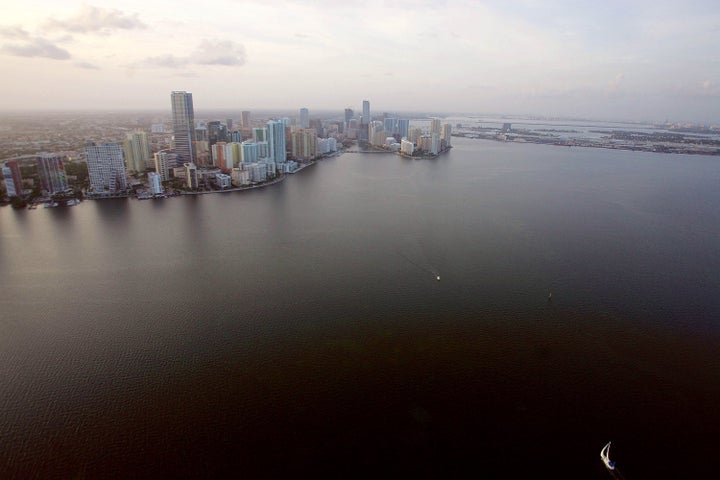 In April the tourists depart, and the air pollution arrives.
Although South Florida's air quality is generally good, the window between winter's cool weather and summer's thunderstorms creates ideal conditions for the formation of ground-level ozone, better known as smog.
Recognizable by the milky white sky it creates, smog forms when emissions from cars, power plants and other sources react with sunlight, creating a form of pollution particularly harmful to children, the elderly and people with respiratory problems. It usually spikes to unhealthy levels just once or twice a year in South Florida, but it edges close to the line a few times more. And this generally begins with the hot, dry weather of April.
"April through June is our ozone season," said Monica Pognon, supervisor of air quality monitoring for Broward County. "It's when we're getting a lot of sunlight, and there's low humidity."
South Florida residents woke up Tuesday to fog and news that a huge wildfire in the western Everglades was spreading, causing sporadic closures of Alligator Alley. But impact of this fire on air quality is unclear. Monitoring stations in Broward showed no spikes in pollution from the fire, Pognan said. Air quality indexes in Broward and Palm Beach County read "good," while Miami-Dade County was a notch lower, at "moderate."
While wildfires break out year-round, the ground-level ozone problem tends to stick to the months leading into summer. For most of the year, the ozone is dispersed by winds. In the months of April, May and June, however, there are days when breezes die down, the air stagnates and the ozone builds up.
"It's almost like someone puts a bubble over us and the pollutants can't escape," said Jim Stormer, environmental administrator for the Palm Beach County Health Department.
On a bad ozone day, the ozone level begins to climb in late morning and peaks in late afternoon, Pognon said. Although ozone in the upper atmosphere provides essential protection against ultraviolet radiation from the sun, at the ground level it is a pollutant that can cause chest pains, coughing, wheezing and shortened life spans, according to studies cited by the American Lung Association.
On those days, people in high-risk groups are advised to limit outdoor activities. You can check air quality in your area at airnow.gov, or at the Sun-Sentinel's weather page at SunSentinel.com/weather.
South Florida's flat landscape, absence of heavy industry and ocean breezes have always kept the region's air much cleaner than other heavily populated areas such as Los Angeles, Houston or Atlanta.
And the region's air quality has improved dramatically over the last 40 years, despite the arrival of millions of people with their cars and their demand for electricity.
Cars run more than 90 percent cleaner than those rolling off assembly lines in the early 1970s, thanks to tougher federal environmental standards for manufacturers and gasoline producers. The region's power plants use cleaner fuels, too, and the two most heavily polluting ones in Broward and Palm Beach counties have both been shut down to be reconstructed to switch from a reliance on oil to the use of cleaner natural gas.
"We're not as prone to getting high ozone days as we were in the '70s and '80s," Stormer said. "The two big driving forces, the power plants and the cars, are both a lot cleaner now."
Andrew Cuddihy, program director for the American Lung Association in Florida, said we shouldn't take good air quality for granted.
"We're lucky in South Florida in that for the most part our air is pretty good," he said. "Our air quality is one of the amenities of South Florida."
dfleshler@tribune.com, 954-356-4535 ___
(c)2013 the Sun Sentinel (Fort Lauderdale, Fla.)
Distributed by MCT Information Services
Popular in the Community