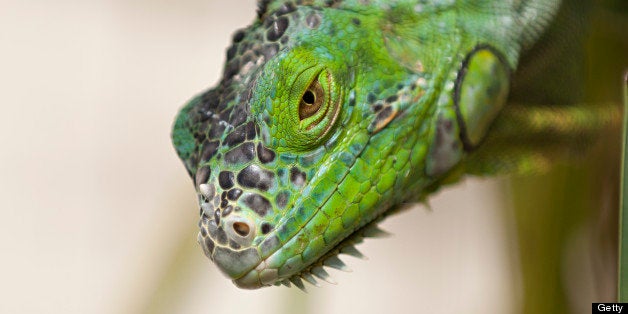 Here's a wildlife success story that not everyone's thrilled about. Green iguanas, which dropped dead in huge numbers in the frigid winter of 2010, have rebounded, repopulating South Florida neighborhoods and resuming their consumption of expensive landscaping.
These arrivals from southern Mexico, Central America and the Amazon basin can again be seen darting around bridges on the Intracoastal Waterway and skittering along patios. Capable of reaching a length of six feet, from whip-like tail to spiky head, they are regarded by some as charmingly eccentric additions to the region's urban wildlife and by others as physically repulsive machines for transforming orchids and hibiscus blooms into iguana droppings.
"I planted hibiscus and all these other plants and they are eating them," said Adam Kirschner, who lives on a canal in Sunrise where the big iguanas killed by the cold have been replaced. "I see flowers and then I come back and they're gone, and there's a green lizard I have to chase away with a hockey stick. I don't want to kill them. I just want them to stay away from my plants."
In December 2010, when South Florida temperatures plunged into the low 30s, neighborhoods resounded with the thud of iguanas dropping from trees onto patios and pool decks, reptilian Popsicles that suggested the species may not be able to retain its claw-hold on South Florida. But despite the high mortality, enough survived to repopulate their adopted habitat.
"There were a lot of dead and dying iguanas right after the cold snap happened," said Jennifer Eckles, non-native wildlife biologist for the Florida Fish and Wildlife Conservation Commission. "Certainly they disappeared from a lot of canals. But it appears they are rebounding. People are seeing a lot of iguanas in the canals and a lot of hatchling iguanas. We're getting a lot more calls. I think we are reaching back to the levels pre-2010."
Like several other non-native species, iguanas arrived via the exotic pet trade, escaping or being set free by their owners. Adapted to rough habitats like the Amazon rainforest, where their neighbors included green anacondas, piranhas and electric eels, iguanas found paradise in urban and suburban South Florida. They populated Miami-Dade County in 1966, spread to the Keys in 1995, reached Broward in 2001 and established themselves in Palm Beach in 2003.
Although iguana sightings have come from as far north as Brevard County, the upper limit of their range appears to be the northern rim of Lake Okeechobee, Eckles said. Although they have rebounded in much of their old range, they haven't restored their old numbers yet in the canals around West Palm Beach, she said.
Although non-native species such as Burmese pythons, lionfish and Australian pines constitute significant threats to South Florida's ecological integrity, green iguanas aren't considered in their league. Despite their foreboding appearance, they're vegetarians. And they stick to developed areas.
"Unless they were to get into an area with endangered plants, they're not a huge ecological threat compared to some of the other things we have out there," Eckles said. "They mostly cause annoyance to people."
Not everyone hates them. Cathy Valentine Curry, of Margate, was sad to see the 2010 freeze claim the big iguanas that sunned themselves on her seawall and dock. Now the iguanas are back, if not yet full grown, and she's delighted to see them.
"I feed them collard greens and bananas," she said. "I try to keep them happy. They've never done any damage to our yard or anything. I know some of our neighbors hate them and don't like that we feed or pay attention to them. But I like them. They're cute."
John Pipoly, urban horticulture agent for University of Florida-Broward County Cooperative Extension, Parks & Recreation Division, said the emphasis today is on deterring, rather than killing, iguanas. Among the recommended methods are avoiding plants that iguanas like to eat, such as hibiscus, hanging shiny compact disks around your garden so the reflections scare off the lizards, and placing a bucket with a hole around tree trunks to prevent them from climbing up.
Patrick Barry, owner of a pest removal service in Boca Raton, said the iguana end of his business has recovered. "They are making a comeback, especially along the waterways," he said in an email.
At the Adios Golf Club in Coconut Creek, the 2010 freeze wiped out the iguanas. Now up to 20 at a time can be seen basking along the main road and slithering around the trees, said Erik Brinkmann, who lives near the club.
"It looks like the Amazon," he said. "They were all totally gone. Not one left. Now they've all come back."
dfleshler@tribune.com, 954-356-4535
Ken Kaye contributed to this report.
(c)2013 the Sun Sentinel (Fort Lauderdale, Fla.)
Distributed by MCT Information Services
Related
Before You Go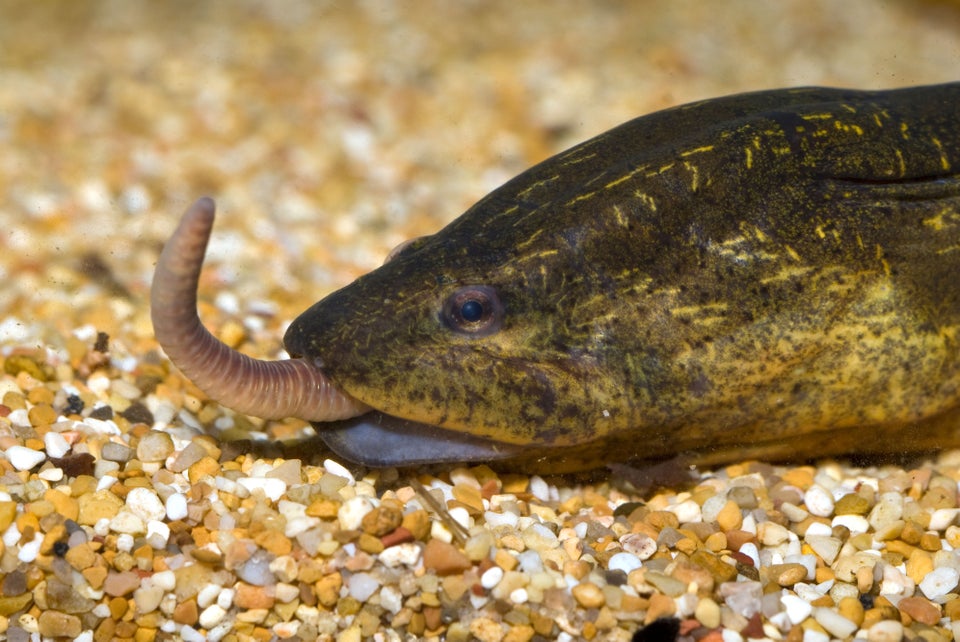 Pythons Aside: Florida Invasive and Nonnative Species
Popular in the Community