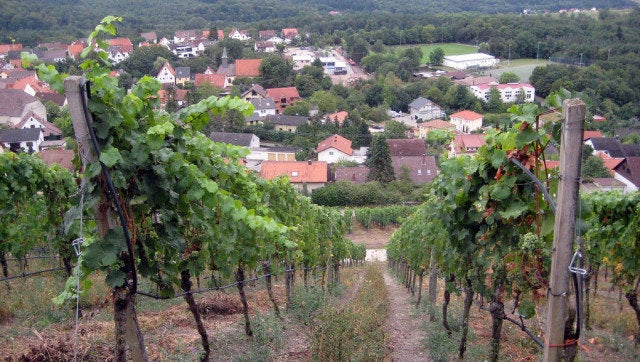 I visited two German wine regions in the southern part of the country last year with a group of food and wine writers from around the world. The trip--which took in the Pfalz and Baden regions--was organized by the German Wine Institute.
I wrote here about the marathon tasting of top German dry Rieslings from the 2011 vintage that kicked off this short visit. The remaining few days of our trip were literally an immersion in Germany's current wine and food culture.
Contrary to the traditional picture of German food and wine in America as revolving around heavy, meat and starch laden dishes accompanied by off-dry and sweet wines, what we experienced on this trip was truly gourmet food with a light touch, featuring seasonal and locally grown meats, vegetables and fruits. When it came to wine, most of what we tasted were exactly the kinds of wines that best compliment this kind of food--dry and minerally, both whites and reds.
The German consumer wants dry wines--often labeled "Trocken" for dry. That's what they buy from abroad--about half of the wine consumed in Germany is imported, and that's increasingly what they're producing as well. In 1985, only 16% of German wines were dry, close to 20% were semi-dry and 64% were sweet. As of 2011, a plurality of 41% is now dry, with sweet wines having declined to 36% of production.
The Pfalz has Germany's warmest climate and its lowest annual rainfall. Like Alsace just across the border in France, it is full of orchards growing cherries, apricots, peaches, figs and almonds. It is also blessed with forests that are the refuge of wild game and streams rich with trout. Nearby Baden is Germany's southernmost wine region, stretching from Heidelberg to the Swiss border. Here, 40 percent of the vineyards are planted with red wine grapes, especially Pinot Noir, which is known in Germany as Spätburgunder.
The 2013 edition of Michelin's Red Guide lists 58 starred restaurants in southwest Germany, a quarter of Germany's total, and Germany is second only to France when it comes to restaurants recognized by the Red Guide. Our most outstanding meals on this trip were at winery restaurants, such as Hofgut Ruppertsberg at Weingut Dr. Bürklin-Wolf and Restaurant Leopold at Weingut von Winning.
At Hofgut Ruppertsberg, for example, one unforgettable dish prepared for us by Chef Jean Philippe Aiguies was young Bresse Gauloise chicken with lemon thyme risotto--a delicately flavorful dish that went beautifully with Bürklin-Wolf's dry "grand cru" Forster Ungeheuer Riesling. Similarly a delicious beef tartare salad with horseradish crème fraiche at Restaurant Leopold was complimented by the savory and herbal flavors of two Dr. Deinhard dry whites, a Chardonnay and a Pinot Gris (Grauer Burgunder in Germany).
A visit to the famous Butcher Hambel in Wachenheim allowed us to sample his lowfat, gourmet version of saumagen--a traditional kind of pork sausage that Hambel makes with lean meat from pig thighs, fresh potatoes and freshly ground herbs and spices. It was surprisingly light and savory, and went fabulously with dry Riesling. I can see why it is reputed to be former Chancellor Helmut Kohl's favorite dish. We also had a delightful luncheon cooked by Marietta Klumpp, mother of winemaker Marcus Klumpp, who made sure we didn't leave the Black Forest region without a slice of homemade Black Forest chocolate cake.
There are vineyards in the middle Pfalz, like Idig, which we visited that have long been renowned for their minerally, complex Rieslings. A. Christmann is one of the Pfalz's top producers, and its seventh generation winemaker/proprietor, Stefan Christmann, is also in his second term as President of Germany's elite producers association, the VDP.
Vineyards elsewhere in the Pfalz, and in Baden, however, used to have low reputations as the source only of light, simple wines. That is rapidly changing as yields have been dramatically decreased and many producers, like Bürklin-Wolf and Dr. Deinhard/Von Winning, have introduced organic farming.
In general, there's a palpable sense of excitement and innovation in Germany's southern wine regions. The current generation of young winemakers have often done internships abroad, like Markus Klumpp who worked at California's Rosenblum Cellars, or his wife Meike Näkel at Meyer-Näkel, who interned at Burgundy's Comtes Lafon. As a result, they're getting exposed to different techniques and bringing them back home. They also report that they collaborate and discuss winemaking with their fellow winemakers much more than was the case in prior generations.
Global warming is also playing a role in these formerly marginal, northernmost winegrowing regions. There are more ripe vintages, which facilitates making excellent dry wines, and it's easier to grow and ripen red grapes, like Pinot Noir and St. Laurent, than it used to be.
In 1980, only a little over 11% of Germany's vineyard area was planted to red wines. For the last several years the percentage of red plantings is up to around 36%.
My first night in Germany I tasted a very good sweet wine made from Cabernet Sauvignon, a Beerenauslese rosé by Weingut Frey, a specialist in sweet wines. The single biggest surprise, however, of the whole trip was a visit to a gourmet vinegar producer that makes delicious, drinkable vinegar from only the sweetest and most expensive kind of wine--beerenauslese and trockenbeerenauslese.
It's a lengthy process at Weinessiggut Doktorenhof to produce these voluptuous, sour and complex nectars. It takes years for the vinegar mother to change all the alcohol in the wine to vinegar. Vinegar maker Georg Wiedemann then infuses the vinegars with an assortment of herbs, flowers and fruits, aging these blends in barriques for yet another one or two years. He makes about 40 different vinegars annually. We tasted seven of them, all of which were delicious and incredibly unusual.
His Giacomo Casanova vinegar, for example, smells of lavender, thyme, coriander, cedar closet and dried oranges, and the unctuous, silky palate tastes of tart orange, dried lemon, light lavender, thyme, and coriander with a very long finish. This vinegar starts as a Gewurztraminer TBA but is slow aged into vinegar in oak cask for seven years before being blended with a mixture of wild orange, lavender, cinnamon, salvia, thyme, cardamom and elderberry flowers and further aged as a blend for one year.
For my tasting notes on these incredible vinegars as well as the wine highlights from the trip, see the complete report on my website here.