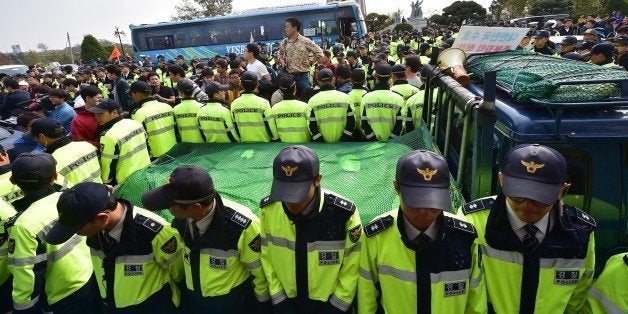 PAJU, South Korea, Oct 25 (Reuters) - South Korean activists launched balloons on Saturday to send leaflets to North Korea with messages critical of its leader, ignoring threats of military action from Pyongyang and a plea by Seoul not to jeopardize efforts to improve ties with the North.
Anti-North activists clashed with residents of the border area and leftist group members advocating engagement with North Korea. Local people tried to block the balloon launch, saying it threatened peace.
But a small group of mostly North Korean defectors broke away and launched balloons carrying about 20,000 leaflets from the nearby city of Gimpo after nightfall.
Speaking to Reuters by telephone, the leader of the group, Pak Sang-hak, confirmed the launch, but it was not clear if the balloons flew to North Korea.
Pyongyang had threatened unspecified "military action" if the launch were to be allowed by South Korean authorities and said it could scuttle planned inter-Korean talks aimed at easing tensions and improving ties.
The two Koreas remain technically at war because a truce was signed at the end of their 1950-53 conflict not a peace treaty. More than 1.8 million troops are deployed on the peninsula, making it one of the world's most heavily armed regions.
Earlier, residents of the border area of Paju were joined by leftist activists and confronted conservative group members, demanding they turn back. Some of the group members were hit by eggs as they emerged from a bus.
"Things like this will trigger artillery firing at us," said Kwon Soon-wan, 63, who said he was born and raised in Munsan, the northern-most area of Paju, and runs a snack-bar there.
"Safety is top priority because it's our lives that are hanging in the balance," he added.
Choi Woo-won, one of the activists pelted with an egg, said: "By the time our leaflets cover all of North Korea, murderer Kim Jong Un will perish and be destroyed."
Pro-engagement activists sabotaged many of the balloons and blocked roads. Several hundred police were sent to the normally quiet area visited by South Korean and some Chinese tourists.

Pyongyang has blamed the South Korean government for previous leaflet launches and has threatened military action.
Authorities in the South have urged activists to refrain from launching the leaflets, but say they can not legally stop them due to the constitutional freedom of expression.
On Saturday, the North's official Rodong Sinmun newspaper repeated a warning that inter-Korea ties will forever collapse if the South Korean government continued to allow the leaflet campaign, which it called "an act of war."
The propaganda printed on the leaflets infuriates Pyongyang and has threatened to derail talks agreed between the two Koreas after the North sent a high-level delegation earlier this month, which was seen as its biggest peace overture in years.
The messages often single out the North's young leader Kim Jong Un, questioning his legitimacy to rule a country where people struggle with poverty while his family lives in luxury and scarce resources are channeled to arms programs.
Earlier this month the North fired machine guns at a balloon, launched by a defector, when it flew low over the border because it was short of gas.
The string of incidents appear to have turned many in the South against the leaflet campaign with 58 percent of the people responding in a recent Gallup poll of 1,020 opposing it.
Cho Sung-ho, a 66-year-old farmer who grows beans in a special area near the border where usual civilian access is limited, said the leaflets harm the South's national interest.
"I want dialog to solve the issues (between the Koreas), not this," he said. (Writing by Jack Kim; Editing by Michael Perry and Rosalind Russell)

Before You Go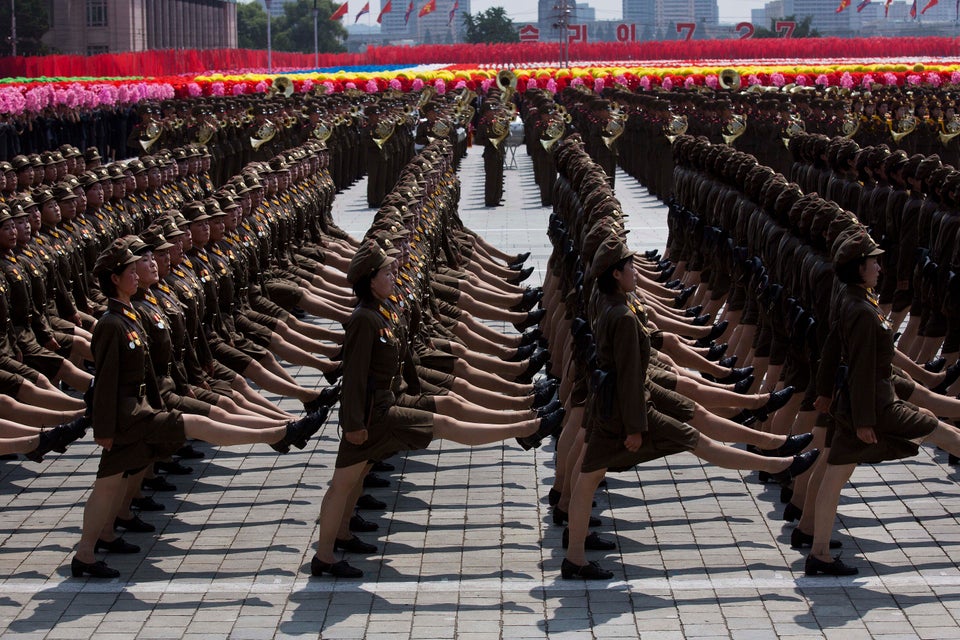 Pyongyang Celebrates 60th Anniversary Of Armistice
Popular in the Community