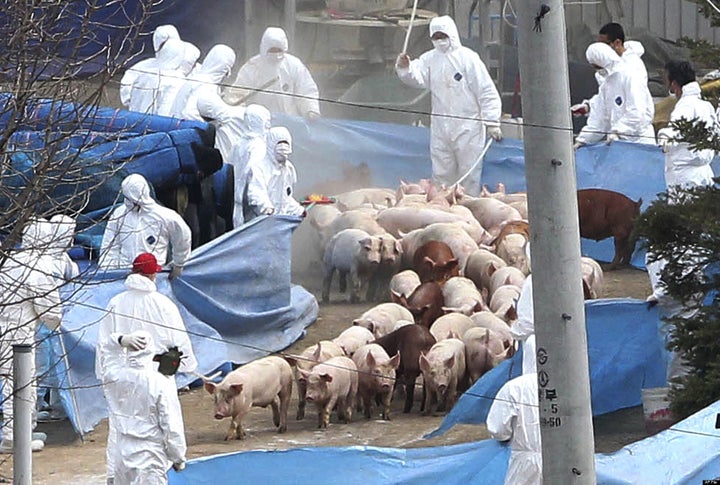 South Korea's decision to bury 1.4 million pigs alive in an effort to curb the spread of the highly contagious foot and mouth disease (FMD) has sparked the ire of international animal activists.
According to reports, the first case of FMD -- which affects all cloven hoofed animals including pigs, goats and cattle -- was confirmed in November in Andong city of North Gyeongsang province, and has since spread quickly. Officials began embarking on a mass cull of roughly 12 percent of its swine population to combat the disease, primarily because it affects the nation's ability to export meat, Food Safety News is reporting.
As part of the process, officials are said to be piling the pigs on top of each other in large trucks, dumping thousands of them into mass graves, and burying them alive.
"The outbreak is the most serious in Korea's history," Kim Jae-hong, a veterinary science professor at Seoul National University, is quoted by The Wall Street Journal as saying. "It is hard to predict when we can contain the spread of the disease, but the most important thing right now is to control movement in and out of the farmhouses that are affected, and thoroughly disinfect the cars around the area."
Groups such as PETA have started online campaigns, arguing for the animals to be vaccinated rather than killed. Though Reuters reports that 1.2 million pigs have since been vaccinated, the U.S. Department of Agriculture says treatments must be matched to the specific type and subtype of the virus before it can be effective.
Support HuffPost
The Stakes Have Never Been Higher
Related
Popular in the Community