South Koreans voted for a new president on Tuesday. News outlets used a little pop culture inspiration ― and a lot of computer-generated imagery ― to count down the final, ahem, battle.
Remember that moment in season five of "Game of Thrones" when Drogon, one of the dragons, swoops into the arena and saves Daenerys Targaryen's life? Seoul Broadcasting System re-created that, replacing the mother of dragons with election winner Moon Jae-in.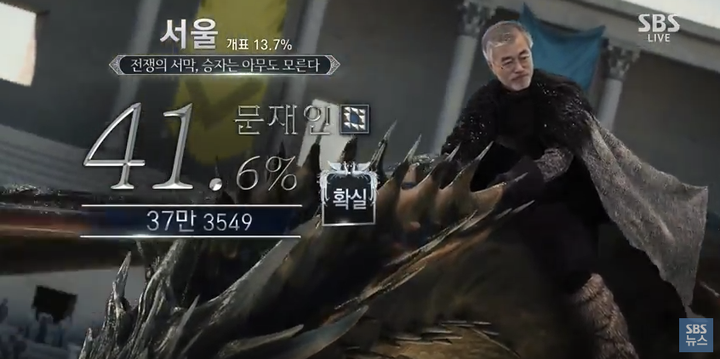 Moon and his opponent, Hong Joon-pyo, were also re-imagined as two warriors from that series riding into view in fur capes. A thorough analysis of the choice of capes and horses, plus the background landscape, failed to determine whether the candidates are meant to be Jon Snow and Robb Stark or Theon Greyjoy and Ramsay Bolton. You decide:
Broadcasters also spoofed some of South Korea's favorite video games ― familiar reference points in a country where, by many accounts, more than half of the citizens play such games. Munhwa Broadcasting Corporation did several renderings of the candidates competing in Mortal Kombat.
Moon himself released custom Starcraft maps that, when one zoomed out, spelled his name, Engadget reported. Starcraft has been popular worldwide since its release in 1998, but it's especially so in South Korea, where it has sold some 4.5 million copies and launched a professional e-sports league that lasted 14 years.
Seoul Broadcasting System also parodied the movies "Rocky" and "Terminator."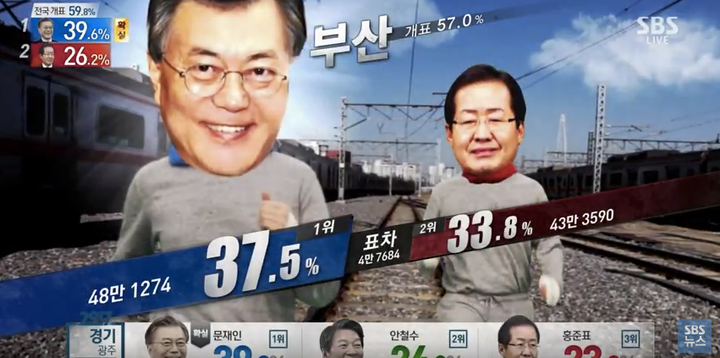 We would be remiss if we didn't include this artful dabbing from the candidates themselves.
With or without all the cornball pop-culture pandering, the final voter turnout was expected to hit record numbers at a time of high political tension in South Korea. Some forecasts suggested 80 percent of voters would go to the polls. As of this writing, the National Election Commission of South Korea has reported that early voter turnout was at 60 percent, according to the British newspaper The Independent.
Popular in the Community