In 2010, South Korean prosecutor Seo Ji-hyeon alleged to her superiors that she was groped by Ahn Tae-geun, South Korea's former Ministry of Justice prosecutor. No investigation into the allegation took place. Instead, she was criticized and essentially demoted by being transferred to an undesired regional posting in a remote fishing village.
Last week, Seo went public with her allegations, igniting a new stream of South Korean women to participate in the "Me Too" movement.
Female victims across the country united to say that they have not not able to raise their voices in the past because their male sexual harassers tend to be in higher positions than they are. They also note that the culture of Korean society at large suspects and condemns their intentions when they disclose sexual allegations.
However, Seo's confession has inspired other South Korean women from an array of professions to come forward about their experiences of sexual harassment and assault.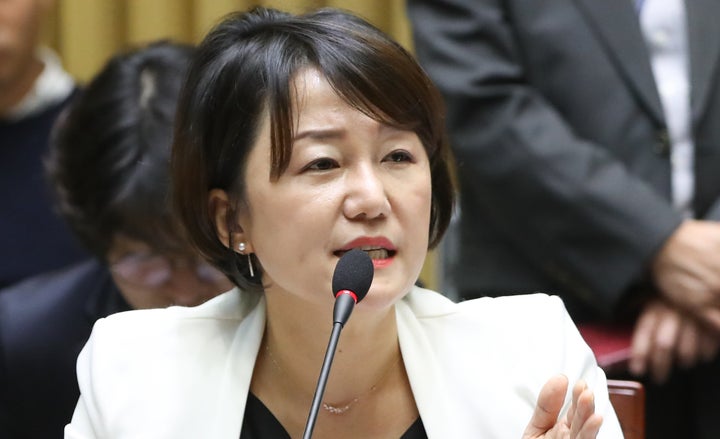 Seo prompted Lee Jae-jeong, assemblywoman for the Democratic Party in South Korea, to disclose for the first time that she was also sexually harassed as a lawyer 13 years ago, but felt unable to speak out.
Lee wrote on Jan. 30 on Facebook, "To stand by Prosecutor Seo Ji-hyeon, I wrote and deleted this post a couple of times, still showing my hesitation. This is what I wasn't able to do when I was a lawyer. This is what I hesitate to do even though I am an assemblywoman." She included the hashtags #MeToo and #WithYou.
Lee gave an interview on Feb. 2 to "Kim Hyeon-jeong's News Show" on CBS and discussed the details of her sexual assault. It happened after she passed the bar exam and before she was about to start working for a law firm.
On the show, Lee said, "[The sexual assaulter] was the president of the law firm that I was about to work for. After it happened, he kept calling me. My refusal was not accepted as refusal by him."
I was neither the first one nor the last one for him.

Even though other female victims clearly indicated their intention of refusal and avoided situations, they were not able to publicize the situation or raise it as an issue.

I was a lawyer who bravely stepped up for others' issues, but I was unable to step up for my own issues because I could vividly picture various disadvantages if I wanted to fight back and expose myself as a victim.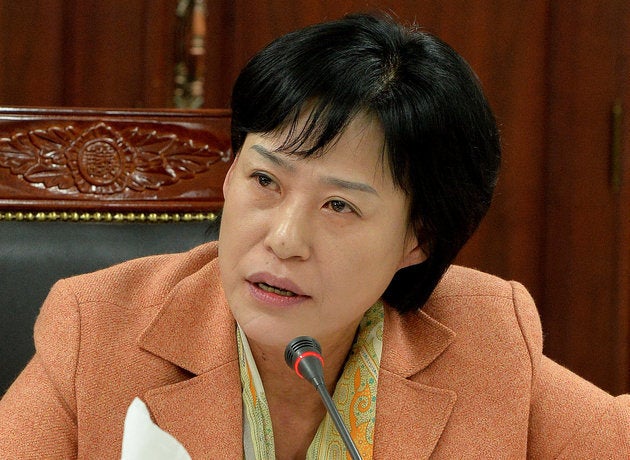 The movement has spurred others to come forward about harassment, including Lee Hyo-kyeong, the provincial assemblywoman for Gyeonggi-do Provincial Council, who posted on Facebook, ″Even I, a woman who is strong-minded, am very commonly sexually harassed. I was called to go to karaoke at 10 p.m., someone called me at 1 a.m. drunk and told me he loved me, I was asked why my hips are so big, and I heard that some guy mentioned my breasts."
"Six years ago, after a company workshop, I went for dinner and then karaoke with my colleague assemblymen," she continued, writing that a male colleague approached her while dancing and "suddenly took his pants off."
"I was embarrassed for a second. I got out of there and headed to my hotel room," she said. "Last year, I told my husband what happened six years ago."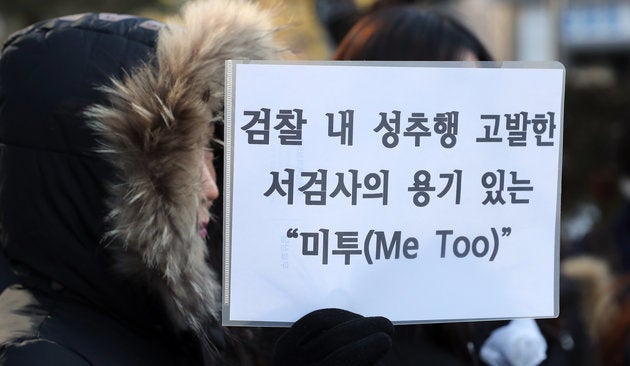 Women from other sectors are speaking out as well, including Lim Bo-young, a South Korean reporter, who disclosed her experience of sexual harassment by her immediate superior when she worked for the National Police Agency.
I read an article that 70% of sexual harassment victims leave their company. I do not regret leaving, but I envy and admire Prosecutor Seo Ji-hyeon's bravery and judgment.

From a desire that we will no longer stay silent, I brought up a disgraceful story that I had buried in my mind a long time ago.
The conversation about harassment and assault in professional settings has also resonated with students. Yeon Hak Kang, a graduate student at Hanyang University, disclosed on Facebook that she was determined to quit graduate school after she experienced persistent sexual harassment and molestation from a male lecturer, as well as sexual harassment from her male academic advisor.
She revealed that her academic advisor persistently contacted her, saying some things that crossed student/teacher boundaries, such as "I want to hear your voice" or "Consider me your brother." Even though she brought up the problem to others, she said she "experienced hair-raising silence and cowardly responses from people around me."
Yeon stated on Facebook that she changed her mind about leaving school after other women asked her, "Then what about us?"
South Korea's current conversation around harassment and assault also extends beyond individual stories. Asiana Airlines, for example, is in the spotlight for gender rights issues among flight attendants.
A person familiar with the situation told Korean newspaper Hankyoreh, "When Chairman Park met female flight attendants, he said without constraint, 'I came here to get some energy.' He called the female flight attendants, hugged them for 20-30 minutes, and went to the training center, where flight attendant trainees in their early 20s stay, and spent time there. Asiana Airlines' response to the newspaper was, 'Mr. Chairman just encouraged his employees out of his loving heart.'"
Seo Ji-hyeon's public disclosure has caused the Me Too movement to spread across numerous areas of Korean society. However, organized accusations of sexual assault became widespread in Korea in October 2016. Hashtags such as #sexual harassment_in_literary circles, for example, started popping up, mostly on Twitter. And last May, a crowdfunding campaign raised enough money to publish "No References," a book that contains stories of harassment and assault from victims throughout South Korea.
Calling all HuffPost superfans!
Sign up for membership to become a founding member and help shape HuffPost's next chapter
BEFORE YOU GO