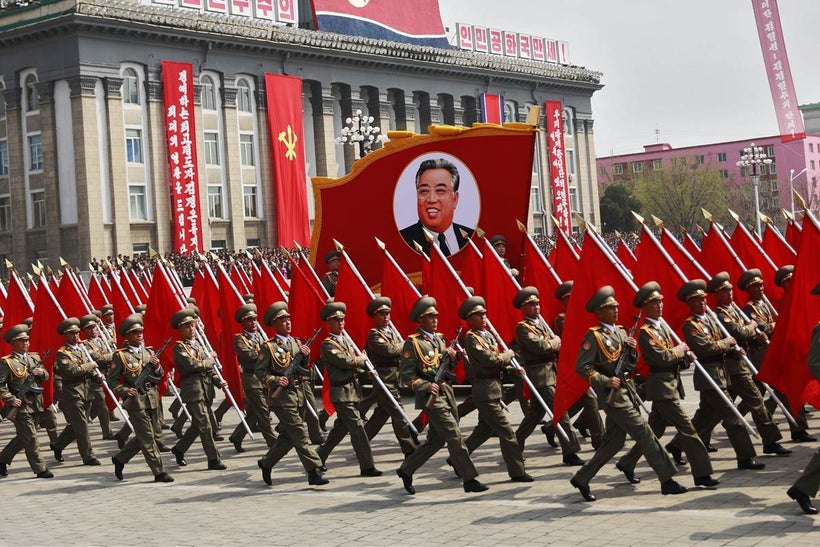 Expect a chilly reception this week when South Korean president Moon Jae-in will finally be undertaking his first trip to the United States to meet with Donald Trump in Washington. Once a cornerstone of America's "pivot to Asia", South Korea's newly minted president has come under fire from pundits and officials alike for its too lenient embrace of North Korea's "mad king".
Even with Pyongyang's hurtling ballistic misses into the sea at an ever-growing clip, Moon has so far refused to budge on his controversial policies – dubbed the Sunshine Policy 2.0 - towards the Hermit Kingdom. Unlike his predecessor, the left-leaning Moon has long been the advocate of a more conciliatory approach to North Korea, stating his intent to enter into negotiations with the regime over its missile program and threatening to shelve the deployment of the US-provided Terminal High Altitude Area Defense capability (THAAD). Adding insult to injury, there are also plans to reopen the Kaesong Industrial Complex, a joint North-South industrial park closed in February 2016 in protest over Pyongyang's provocations. The complex was a vital funding source for the cash strapped regime, earning North Korea upwards of $3 billion over its decade long history.
Moon's latest pro-North Korean message occurred last week, when he blithely proposed that South and North Korea form a unified team for the 2018 Winter Olympics. While the formation of such a team is unlikely, Moon's proposal, innocuous as it may seem, sends once again an entirely wrong signal at the wrong time - and is entirely at loggerheads with Trump's plan of "maximum pressure and engagement" to coerce Pyongyang into abandoning its nuclear ambitions.
Marking the occasion of the 67th anniversary of the outbreak of the Korean War on June 25, North Korea's official mouthpiece published an editorial in which it stated that its "nuclear deterrent is not any matter for negotiation," and demanding that the US and South Korea "must give up their foolish ambitions for the North's abandonment of nuclear capabilities." A similar view was espoused by Bruce Klingner and Sue Mi Terry, two US officials who took part in a recent meeting in Sweden with North Korean delegates seeking to resume the ill-fated six-party talks.
Such statements leave little hope that the Kim regime could be swayed to abandon its nuclear pursuits through carrots alone. This impression is only compounded by the fact that Moon is doing very little that would give North Korea any reason to change its belligerent stance in the first place. While a number of Moon's recently appointed cabinet ministers have been criticized for their pro-North Korea ideological leanings, the appointment of Cho Myoung-gyon, erstwhile aid to former president Roh, as the Minister of Unification, takes the cake. Cho was accused of destroying evidence at Roh's behest during a 2013 inquiry into whether the former president had offered Kim Jong-il a deal to renegotiate the disputed Western maritime border with the North.
Meanwhile, the Moon administration is actively slow-footing the full deployment of the THAAD system. The program is currently undergoing an environmental impact assessment that is delaying the activation of the four remaining THAAD missile launchers – a fact that prompted 18 US Senators to submit a joint statement urging Trump to remind Moon that the THAAD deployment "was an alliance decision" to protect "both US troops and millions of South Korean citizens".
Further exacerbating tensions with Washington is the latest string of reports that the South Korean government is reviewing details of a deal with the US on the seat of the Combined Forces Command (CFC), and rumors that the US had been "ordered" to leave its base near Seoul. Though these rumors were officially denied, they do shed doubt on ROK's unwavering commitment to the US alliance.
Making matters worse, bilateral relations are not the only sore point in Moon's political conduct. The tone between Seoul and Tokyo has soured considerably since Moon was elected, partially because of a promise to renegotiate the historic Comfort Women Agreement, a landmark treaty signed in 2015 to settle the issue of the "comfort women", Korean women forced to work in Japanese camps during WW2. Under the terms of the US-brokered agreement, Japan apologized and paid over 1 billion Yen to the victims. But that was not enough, as in mid-June, Moon reiterated that the South Korean public "frankly cannot accept" the terms of the agreement.
Worse, the fight over comfort women has been resurfacing in third countries recently. Not only is Moon refusing to remove a statute commemorating the comfort women that was installed in front of the Japanese Embassy in Seoul, but his administration is quietly encouraging the building of others. Indeed, rights groups have been erecting such monuments across the United States – including one in San Diego and another one in Brookhaven, a suburb of Atlanta, Georgia. The latter is especially contentious, as it will coincidentally be unveiled on June 30th, when Moon will be in Washington.
The looming unraveling of the comfort women agreement does not bode well for the effectiveness of the trilateral alliance between the US, Japan and South Korea. Internal squabbles, Trump's misguided withdrawal from the TPP and overall ineptitude, as well as trilateral disagreements have already reduced the alliance's ability to put pressure on Pyongyang at a crucial moment when North Korea is at its most aggressive.
Seoul's policy reversal from applying pressure on North Korea under Park, to rapprochement and engagement under Moon, leaves the South Korean administration as the weakest link in the alliance. At such a critical time, Seoul cannot afford to adhere to the naive Sunshine policy 2.0, as it is a dangerous strategic miscalculation that endangers the security of Asia and the world. In the end, it may very well be the Kim regime that emerges stronger than ever before.
Calling all HuffPost superfans!
Sign up for membership to become a founding member and help shape HuffPost's next chapter
This post was published on the now-closed HuffPost Contributor platform. Contributors control their own work and posted freely to our site. If you need to flag this entry as abusive,
send us an email
.