South Korea's national assembly voted on Friday to impeach President Park Geun-hye, escalating the country's enormous political scandal and potentially paving the way for early elections next year.  
234 out of 300 lawmakers cast their ballots for Park's impeachment, with 56 voting against it. The move needed a two-thirds majority in Parliament to pass. At least 60 members of Park's own party voted against her in a sign of how deeply unpopular the president has become.
Park's impeachment follows months of protests and opposition demands for her to step down for alleged abuse of power, corruption and influence-peddling. The president's approval ratings plummeted to lows of 4 percent as she desperately tried to maintain control of the government.
The impeachment vote, which marks the most significant moment in South Korea's ongoing political crisis since October, now puts added pressure on Park to resign, although she has said she will wait for the results of a constitutional court ruling in the case.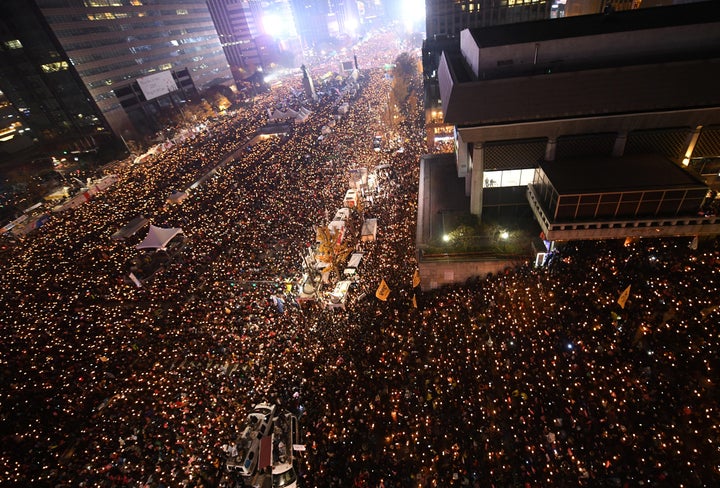 Park faces a wide range of accusations that range from colluding to extort businesses to hosting cult rituals in the presidential Blue House. Most of the allegations relate to Park's actions with her longtime friend Choi Soon-sil, who opponents say secretly controlled aspects of the government despite holding no official title.
The revelation set off a cascade of other accusations, including allegations that Choi was rewriting policy speeches and even telling Park what to wear.
A large part of the outrage stemmed from the fact that Choi is the daughter of Choi Tae-min, the founder of an obscure Catholic sect and a mentor to Park until his death in 1994. Opposition politicians allege that the younger Choi took on her father's role of advising Park, exerting a shadowy influence on the elected president. 
Choi, who now faces criminal charges, was arrested in late October and stands accused of colluding to use her personal influence and political connections to extort businesses into making financial donations. Dozens of companies, including major brands such as Samsung, donated a total of $65 million to two foundations Choi controls, investigators say.
The scandal cast a pall over Park's administration and infuriated South Koreans. A series of rallies, some numbering as many as 1.7 million demonstrators, have filled South Korea's streets. In late October, a man tried to drive a construction vehicle into the gate of the prosecutor's office, where Choi was being questioned, and later admitted he was on a mission to kill her.
Park initially denied any wrongdoing, but as more media reports about Choi's influence emerged, she issued a tearful apology and asked the nation to forgive what she called her "carelessness." She denied many of the more bizarre accusations against her, however, including hosting cult-like rituals in the presidential residence. 
The president attempted to further quell the scandal by firing a number of top aides in early November. She also tried to remove Prime Minister Hwang Kyo-ahn, but Parliament opposed the move ― Hwang will now become acting president following the impeachment. 
Meanwhile, the public and the political opposition were not pacified by Park's apologies or actions. Rolling protests and efforts to impeach her continued throughout the past month, culminating in the impeachment vote on Friday. 
Now, Park will be forced to hand over power to the prime minister as she waits for the nation's constitutional court to decide the validity of the impeachment vote. If the court rules that the impeachment is legitimate, South Korea will have 60 days to hold a presidential election. 
Calling all HuffPost superfans!
Sign up for membership to become a founding member and help shape HuffPost's next chapter
BEFORE YOU GO