 South Korean developers may be backing down from plans to erect two luxury apartment buildings that some say resemble the World Trade Center buildings exploding as they were hit by planes on 9/11.
"There is nothing finalized about the design," Seo Hee Seok, a spokesman for Yongsan Development Co., told Bloomberg Tuesday.
While arguing that the design was "widely published" across Asia without any objections or people noticing the resemblance, the company said the project began to receive negative publicity once it was publicized in the U.S.
(Scroll down for a full-size image of the project design.)
"Allegations that [the design] was inspired by the 9/11 attacks are groundless," White Paik, spokesman for South Korean Yongsan Development Corp, told the AFP.
But some say there's no mistaking the association.
"It looks just like the towers imploding," he told the New York Daily News. "I think they're trying to sensationalize it. It's a cheap way to get publicity."
A real media storm has started and we receive threatening emails and calls of angry people calling us Al Qaeda lovers or worse.

MVRDV regrets deeply any connotations The Cloud projects evokes regarding 9/11, it was not our intention.

The Cloud was designed based on parameters such as sunlight, outside spaces, living quality for inhabitants and the city. It is one of many projects in which MVRDV experiments with a raised city level to reinvent the often solitary typology of the skyscraper. It was not our intention to create an image resembling the attacks nor did we see the resemblance during the design process. We sincerely apologize to anyone whose feelings we have hurt, the design was not meant to provoke this.
The residential towers, after all, are supposed to be built at the entrance to the so-called Yongsan Dream Hub: a complex of business towers that has been designed by none other than Daniel Libeskind, the designer of the original "master plan" for the reconstruction of Ground Zero. ... Libeskind's Yongsan Dreamhub "master plan" closely resembles his original "master plan" for lower Manhattan.
HuffPost user LibertariansGhost writes: "It evokes images of Sept. 11 to those seeking to find images of Sept. 11. No different from finding the image of the 'Virgin Mary' or the face of Christ in a puddle of spilled milk."
The building's central cloud formation was designed to connect the two luxury towers with a pool, restaurants and sky lounges.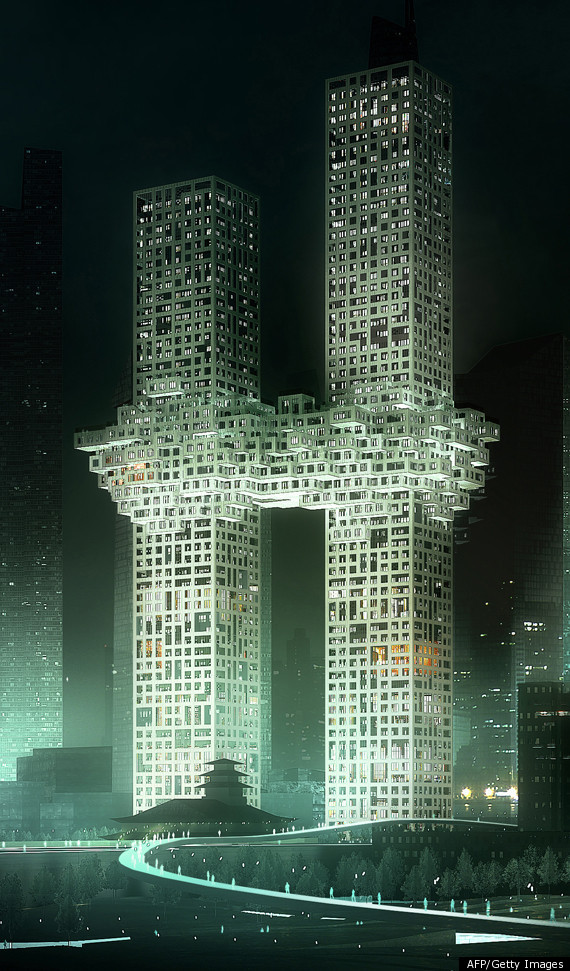 Related
Popular in the Community