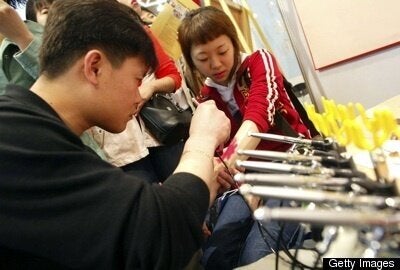 SEOUL -- Wandering Seoul's streets in hopes of finding a tattoo parlor, even in the hippest neighborhood known to shelter hundreds of tattoo artists, is mostly a waste of time. You need to know the "proper" steps: first you run a search on the web, then you hook up with a tattooist who will guide you to a nondescript space, and finally you sit down for the illegal procedure.
Sitting in an underground tattoo parlor with his arms folded across his chest, 37-year-old tattooist Kang Un explains why things are so. There are no laws specifically about tattooing in South Korea, but medical laws state that only doctors can practice the act of penetrating someone's skin with a needle.
In other words, to be a tattooist in Korea, you must hold a doctor's license.Tattoos have long been considered in the country a mark of violence, membership to a gang, or at the least, defiance of mainstream culture. There wasn't much demand for a long time and getting a tattoo at an illegal parlor somehow suited the rebellious nature of it.However, in recent years, many South Koreans have started to embrace tattoos as a work of art and a fashion statement. Tattooists are starting to call for regulation and legalization of the industry, but for now, most parlors remain illegal.
"There's this huge gap between the laws and reality," said Kang, a frontrunner in the field who started practicing tattooing as a profession eight years ago. He is known as a master of his craft and has almost 500 active artists whom he groomed in his underground parlors.Despite the dark tunnel-like entrance with graffiti covered walls, Kang's studio is fully equipped with worktables and tattoo stations. The artist, who boasts a long-sleeve David Beckham-inspired tattoo, says he is the only tattooist who has two parlors and a studio where staff teachers hold classes.
"When I first started learning, I hid it even from my family," Kang recalled. He said sentiments toward tattoos have changed drastically since then. Kang pinpoints 2002, when South Korea hosted the soccer World Cup, as one of the moments that brought about a wave of change. Seeing many famous soccer players with tattoos, he said, made people realize that there's nothing wrong with getting one.
The customers have diversified greatly over the years to now include doctors, business consultants, celebrities and even soldiers. Recently the Korean military started to allow men with tattoos to carry out their mandatory service, but the military's acceptance of the practice still has its boundaries.
Those with tattoos that cover two-thirds of their bodies are not allowed to serve as regular combatant troops and are sent to alternative services.
"People with that many (tattoos) tend to have high accident rates, and since they deal with weapons that have the capability of killing, we tend to exclude them, kind of like what we do with criminals," said Kwak Yu-suk, an official at the Military Manpower Administration.Sentiments like this are slowly dying out, but Kang knows he still has a lot to deal with. His shops and 400 others are located in the Hongdae district, considered the most culturally vibrant and dynamic in the country.
There are no official numbers on tattooists, but Kang and other artists put the estimate at about 20,000. This does not include permanent make-up artists whose numbers range anywhere from 100,000 to 200,000 also operating illegally.
If caught by law enforcement, which carries out regular inspections, owners can get slapped with a fine anywhere between $500 and $10,000.
What the 37-year-old wants to do is build a voice for his industry. He wants to see the day when South Korea creates a licensing system like the U.S. and lets all of the underground artists surface.
Kang said he is concerned that with increasing demand and untrained tattooists sprouting up, customers are exposed to more dangers.
One of the very few tattooists who has a doctor's license agrees with Kang. Kwon Yong-hyun is a dermatologist who came across tattooing while he was still in medical school. He now runs a nicely lit skin clinic on the outskirts of Seoul and offers regular services such as laser hair removal, anti-aging treatments and tattooing.
"I've seen people use Coke bottle caps, you know the little red ones, to pour tattoo ink into," Kwon said. The 28-year-old physician blames the lack of official education and training available in the field. "There are a lot of people who want to get tattoos, and they should be able to go to places that they trust."
Kwon says about 5 percent of his clients come to get tattoos and roughly four times that number come to get them removed. Through his clients Kwon sees the trends changing. The designs have become much more elaborate and artistic, and the reasons for getting tattoos more varied.
Kwon does not see why only doctors should have the right to legally practice tattooing. He believes as long as there are regulations on safety and sanitation there is no reason for the limitations.
Although he considers himself fortunate for having a medical degree, he knows the idea is not practical. "If they're telling just doctors to do it, it means no one can, really," he said.Kwon received his own training from an artist in the Hongdae area, but there's only so much people like him can do to professionally train tattoo artists given the rapid growth in numbers. "If things don't change, we're going to see a lot of victims," said Kang, the Hongdae artist.
Kang has numerous ideas on how to legalize the practice and has written up endless pages of research including tattooing laws from other countries.
"The tattoo culture I know is in a transitional stage," he said. "The problem is, I don't know how many years it's going to take."
To read more from GlobalPost click here.
Related
Popular in the Community