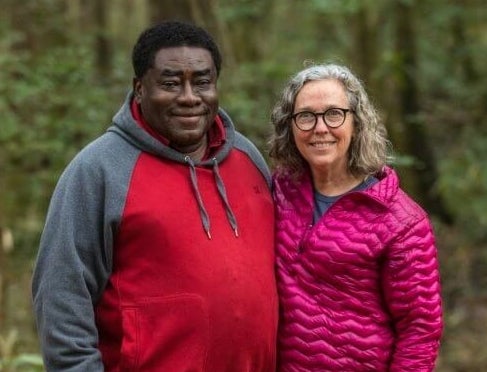 When Danna Smith spots an old, gnarled tree in the forest wetlands of the South, she sees a plant that gives life. But she says the wood pellet industry doesn't see it that way and that for them these twisted trees are "waste wood" and fair game to harvest.
Wood pellets are generally made with the scraps of industrial waste, like sawdust; utility companies burn this material to produce electricity. But environmentalists say the material that the wood pellet industry uses also comes directly from hardwood trees and not just waste.
Whether it's a tree cavity that provides squirrels a nest or a standing dead wood tree that offers a bald eagle a perch to hunt prey, the ecological value is clear to Smith, the executive director and founder of the Dogwood Alliance in Asheville, North Carolina.
Smith has worked to protect forests across the South for more than two decades, and in the last five years, she has spoken out forcefully against the rapidly expanding wood pellet industry. This work led the Dogwood Alliance to realize that it is marginalized communities who most often bear the brunt of the impacts of wood pellet mills, deforestation and the impact of climate change, yet their voices weren't being heard.
That's the same conclusion that longtime environmentalist and South Carolina faith leader Rev. Leo Woodberry had drawn. In a region where forest cover loss from industrial logging has been four times greater than the loss of South American rainforests, the lives of residents have been devalued in the name of profit.
Although they work in adjoining states, Woodberry and Smith operated in different spheres. She is a white woman whose work focuses on trees and climate justice; he is an African-American pastor, who has focused on environmental justice as the executive director of the New Alpha Community Development Corporation.
When Smith met Woodberry at a climate march last year, she was inspired to do more to address the connections between land exploitation, polluting industries, climate change, race and poverty.
Their friendship led to conversations about how to address these injustices, and Woodberry later invited the Dogwood Alliance to join a 10-state Justice First Tour of the South that launched in April. The tour moves to Virginia next week, with stops in Newport News on May 18 and Richmond and Hampton Roads on May 19. It will continue through August.
"We recognize that justice is at the root of a lot of problems that we face in the U.S. and that we've yet to realize our ideals of justice on many fronts," said Smith. "It's like an onion ― peeling back the layers; you start to realize just how deep-rooted inequity of power and resources are in our society and how that manifests in the form of injustice."
Industrial polluters tend to be concentrated in some of the poorest parts of the South, and this results in low air and water quality, which in turn leads to health issues, Woodberry said. Rather than tackle environmental justice and economic justice separately, Woodberry wants Southeastern communities to join forces under "a big tent."
"If we can attain justice for our constituents and our community in any of the issue areas, we have won," said Woodberry, who heads the Christian church, Kingdom Living Temple. "By having this big tent concept that unites us and that causes us to work together, it's historical."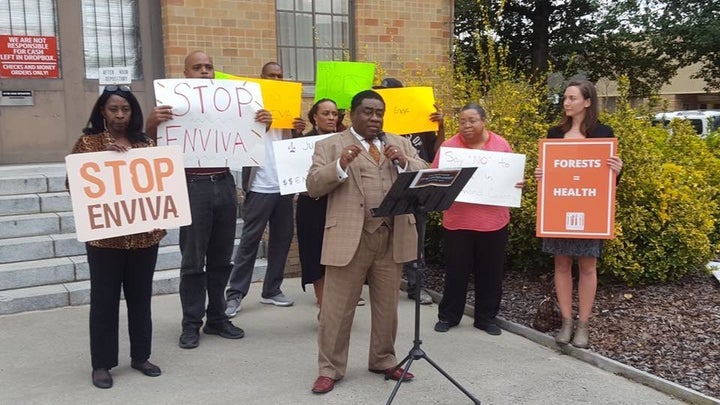 Woodberry hopes these collaborations can elevate the work of grassroots activists and provide a more visible platform for affected communities across the Southeast, particularly those in rural areas.
While the Justice First Tour calls for climate justice, forest protection and 100 percent clean energy for all people, organizers say that it's the affected communities who will drive the agenda and prioritize the issues.
"The communities on the ground need to be leading this," Woodberry said.
While national organizations like the Sierra Club's Ready for 100 campaign are helping organize the tour, they have brought local environmental justice organizations into the planning.
This is crucial, said Woodberry, who serves as chair of the environmental justice advisory committee for the campaign, because once the national groups leave, "we are the ones who are going to make sure that our policymakers, our elected officials are being held accountable."
In the case of wood pellet mills, the Dogwood Alliance has found that residents often weren't notified when local government agencies approved the construction of mills in their neighborhoods. Suddenly, round-the-clock mill noise assaulted residents and prevented them from sleeping, while dust would trigger or worsen medical conditions like asthma.
If residents were willing to speak out, they faced a power dynamic where political decision-makers weren't listening to their concerns. Leaders touted the economic benefits of these mills without considering the environmental or health downsides.
One of those communities is Hamlet, North Carolina. Concerned Citizens of Richmond County unsuccessfully fought a plan from Enviva, the world's largest wood pellet producer, to build its fourth mill in the state there.
"The voices of resistance of those most directly impacted are not always being heard," said Smith.
In the Southeast, wood pellet mills are 50 percent more likely to be located in low-income communities where at least a quarter of the population is nonwhite, according to a new Tufts University study published last month in collaboration with the Dogwood Alliance. In North and South Carolina, every wood pellet production facility the researchers analyzed fit this description. Many residents are already struggling with other environmental justice issues.
An increasing demand for the wood pellets in Europe is fueling the construction of new processing facilities in the U.S. As part of the European Union's efforts to reduce carbon emissions, utilities are required to move to 20 percent renewable energy and cut emissions 20 percent by 2020.
Europe classifies biomass electricity as carbon neutral, despite evidence that emissions of nitrogen oxides and carbon monoxide from biomass-burning facilities are greater than those from coal, Smith said. A 2014 study found biomass plant emissions "exceed those from a natural gas plant by more than 800 percent for every major pollutant."
As Europe has become the world's largest importer of wood pellets, the Southeastern United States has become the No. 1 exporter, at more than 5.5 million metric tons a year, according to 2017 data. Smith notes that the climate implications from burning wood pellets also include the loss of forest cover, which serves as a carbon sink ― absorbing CO2 from the atmosphere.
"We also have to pull carbon out of the atmosphere," said Smith, "and the best technology that we have for doing that is letting trees grow in natural forests."
Last month, Environmental Protection Agency Administrator Scott Pruitt announced that the agency will also consider biomass electricity to be carbon neutral, a change from the previous agency policy on an issue that's been fiercely debated. Some Southern environmental groups fear this will cause greater harm to their communities.
Woodberry is also championing an environmental bill of rights calling for clean air, water and land, something that residents across the country can request their political leaders adopt at the local or state level. This bill of rights would require municipalities to take into account the human impact of industries, not just the money or jobs they will bring to the region. In South Carolina, Woodberry is working on a referendum to add this bill of rights to the state constitution.
"People count too, and especially people in frontline communities who have already been cast aside," said Woodberry. "Martin Luther King Jr. was really clear about the fact that we should never put profits over people."
Like Woodberry, Smith says it's time to find solutions that value not just the economic stakeholders in the equation, but also the residents. She sees the Justice First Tour as the beginning of a movement across the South that recognizes the links between climate change, forest destruction and polluting industries and the disproportionate impact on poor communities of color.
"If you think about times in history where there have been needed paradigm shifts, it happens because people who have typically maybe not ever worked together come together behind an ideal," said Smith.
After the tour's last stop in New Orleans on Aug. 29, the coalition plans to encourage people to participate in California's Global Climate Action Summit in September and future climate marches. It also is urging people to turn out for the midterm elections in November.
"We're talking about the environment that we live in; and that environment includes not just our communities, not just our homes, but the environment of our bodies as well," said Woodberry. "All of those are rights, and if you don't recognize or consider those rights, then we have the kind of catastrophe that we do now, where communities are hurting, people are sick, people are dying and the entire planet is in peril."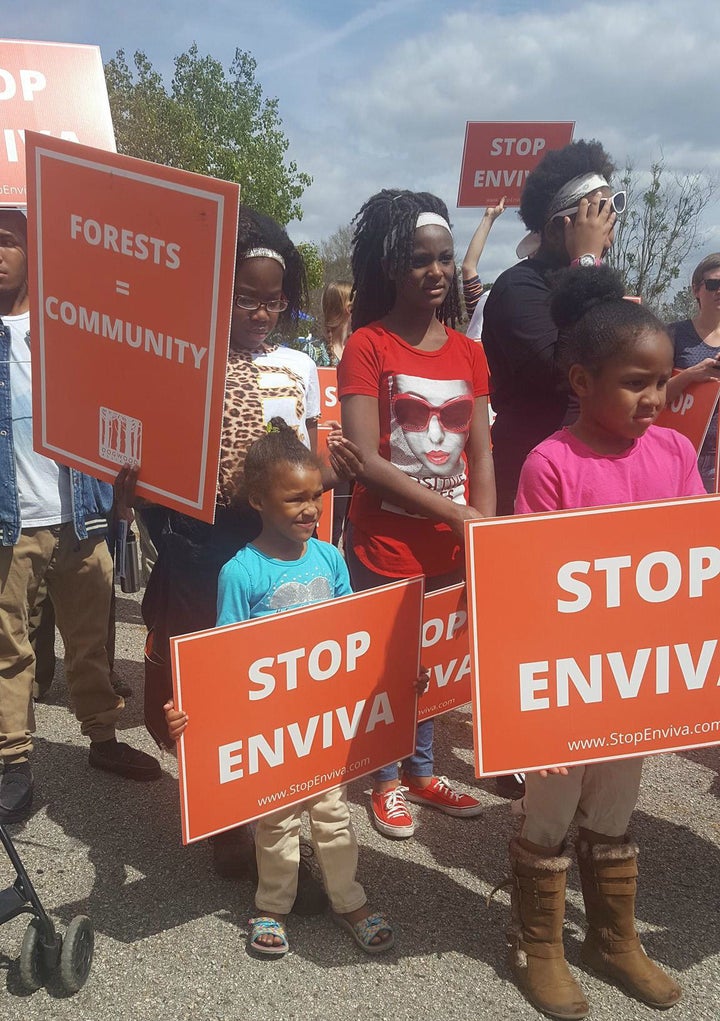 Related