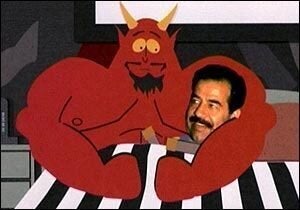 Matt Stone and Trey Parker, the creators of the long-running Comedy Central animated series South Park, say that they received a signed photograph of Saddam Hussein from U.S. Marines charged with guarding the Iraqi dictator prior to his 2006 execution. The Marines reportedly made Hussein watch the South Park movie, South Park: Bigger, Longer And Uncut, repeatedly while imprisoned. From the Telegraph:
During his captivity, US marines forced Saddam, who was executed in 2006, to repeatedly watch the movie South Park: Bigger, Longer And Uncut, which shows him as gay, as well as the boyfriend of Satan. He was also regularly depicted in a similar manner during the TV series.

...

[Stone] said: "We're very proud of our signed Saddam picture and what it means. Its one of our biggest highlights.

"I have it on pretty good information from the marines on detail in Iraq that they showed Saddam the movie.

"Over and over again - which is a pretty funny thought. "That's really adding insult to injury."
The show is now on its 13th season and remains a staple item in Comedy Central's lineup.
REAL LIFE. REAL NEWS. REAL VOICES.
Help us tell more of the stories that matter from voices that too often remain unheard.