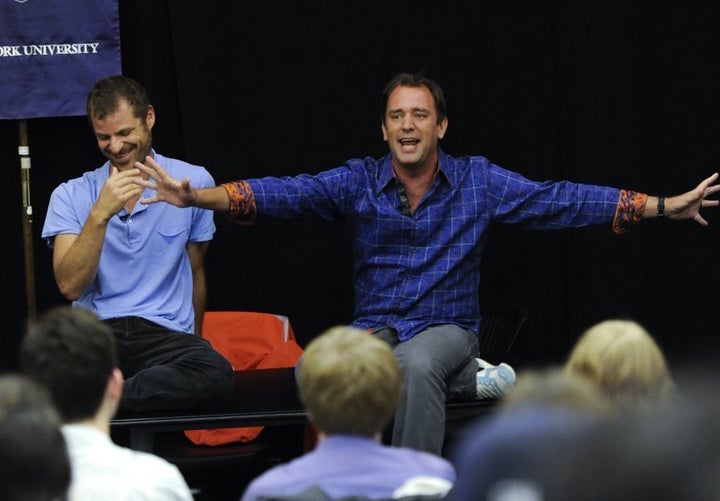 While unseasonably chilly New York University students braved the dreary weather in the wake of the Labor Day holiday, one very fortunate handful of the campus's newest urbanites found no reason to complain on their first day of class.
Multiple-paged syllabi, intimidating grading policies and redundant personal introductions are synonymous with the first day of college classes. Students struggling with the transition from the freedom of summer to the structure of a class schedule find difficulty concentrating during these preliminary academic gatherings. But, for the students of Professor Ken Liotti's "Story-Telling Strategies" class, this first meeting was perhaps the most captivating hour and fifteen minutes they will experience all semester.
Liotti's "Story-Telling Strategies" class at NYU's renowned Tisch School of the Arts is a mandatory introductory course designed to equip aspiring filmmakers with the tools to create successful narrative screenplays that resonate with the an audience. As the group of new students shuffled into the screening room where their class is scheduled to meet regularly, they were told to disregard the video cameras positioned at the back of the classroom which were recording for an NYU promotional commercial.
The unsuspecting students soon discovered that the cameras were actually from MTV's 24-hour college network, mtvU. The network surprised the students with two guest professors for their first day of class as part of its ongoing, Emmy-nominated "Stand In" series. Each episode features participants such as Madonna, Kanye West, Marilyn Manson and Senator John McCain who teach a class specific to their areas of expertise.
The NYU newbies gasped in utter disbelief as Trey Parker and Matt Stone, the comedic masterminds behind "South Park" and "The Book of Mormon" took over Professor Liotti's position for the duration of the class. The room erupted with excited chatter as the charismatic duo positioned themselves comfortably in front of their captivated student audience.
WATCH: (article continues below)
Parker fittingly began the lesson with a slew of profanities to set the humorous and casual tone of his and Stone's insightful presentation about the art of story-telling. As two of the most successful and wildly popular figures in this industry, the awestruck students clung to each piece of advice Parker and Stone had to share about the sculpting process of moving from a collection of great ideas to a cohesive narrative. Parker and Stone emphasized the value of simplicity during this transformative process.
"Just do one thing really right," Stone said when explaining the necessity of cutting down material in a script.
"All you need is clarity," Parker added.
Professor Liotti reiterated the importance of this message, saying that, "if there is anything I hope the students walk away with after their first day of class, it is that less is more, and they need to keep their stories simple."
Parker and Stone also discussed the power of collaboration, and encouraged students to build off of each other's ideas in a positive way as opposed to immediately dismissing another person's suggestion. They talked about their own fears as writers, and assured the freshmen that they themselves are also constantly learning.
"It's so cool to talk to you guys and pretend like we know what we're doing," Stone said.
Parker insisted that, "having that blank page in front of us is still the most terrifying thing in the world."
The enlightened freshmen found comfort in their ability to relate to Parker and Stone, whose tremendous success in their temporary roles as teachers can be largely attributed to their honesty throughout this unique educational opportunity.
"It was amazing, cool, I even took a whole page of notes!" gushed Tisch freshman Matthew Block, who described his first impression of Parker and Stone as "really smart."
Black was one of many students who abandoned certain apprehensions about tackling this challenging craft after this first lesson in story-telling, which is demonstrative of mtvU's success in empowering college students to achieve their full potential as blossoming scholars through the "Stand In" series.
Parker and Stone's "Stand In" will premier on mtvU to over 750 college campuses and on-demand at mtvU.com beginning at 12pm on Monday, October 3rd.
Related
Popular in the Community