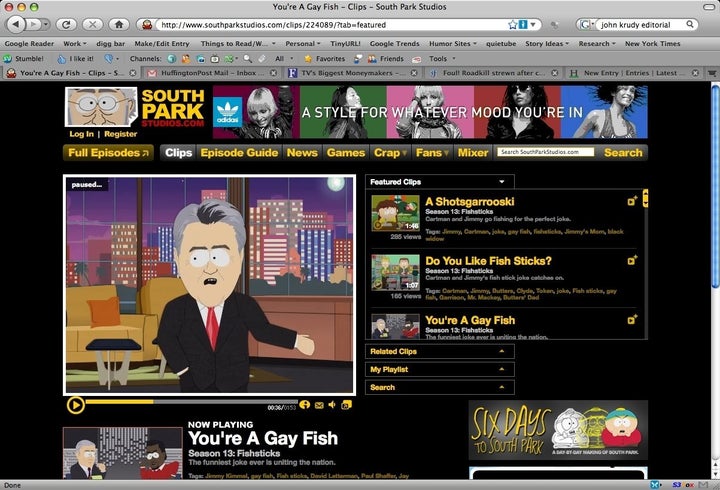 In last night's episode of "South Park," Cartman (kind of) created a joke that spread like wildfire across the country and was eventually proclaimed the funniest joke ever told. What was it you ask? Here's a sample...
"Do you like fish sticks?"

"Yes"

"You like to put fish sticks in your mouth?"

"What are you a gay fish?"
BRILLIANT. Anyway, it took off and Jimmy Kimmel, Jay Leno, and David Letterman all used it on their shows to barf-laughingly good reviews. The only person who didn't love the joke was Kanye West.
Kanye then went on a crusade to find out who created the joke and ended up killing a dickless Carlos Mencia.
UPDATE: Kanye has responded to the episode on his blog (in all caps obvi):
SOUTH PARK MURDERED ME LAST NIGHT AND IT'S PRETTY FUNNY. IT HURTS MY FEELINGS BUT WHAT CAN YOU EXPECT FROM SOUTH PARK! I ACTUALLY HAVE BEEN WORKING ON MY EGO THOUGH. HAVING THE CRAZY EGO IS PLAYED OUT AT THIS POINT IN MY LIFE AND CAREER. I USE TO USE IT TO BUILD UP MY ESTEEM WHEN NOBODY BELIEVED IN ME. NOW THAT PEOPLE DO BELIEVE AND SUPPORT MY MUSIC AND PRODUCTS THE BEST RESPONSE IS THANK YOU INSTEAD OF "I TOLD YOU SO!!!"
Calling all HuffPost superfans!
Sign up for membership to become a founding member and help shape HuffPost's next chapter