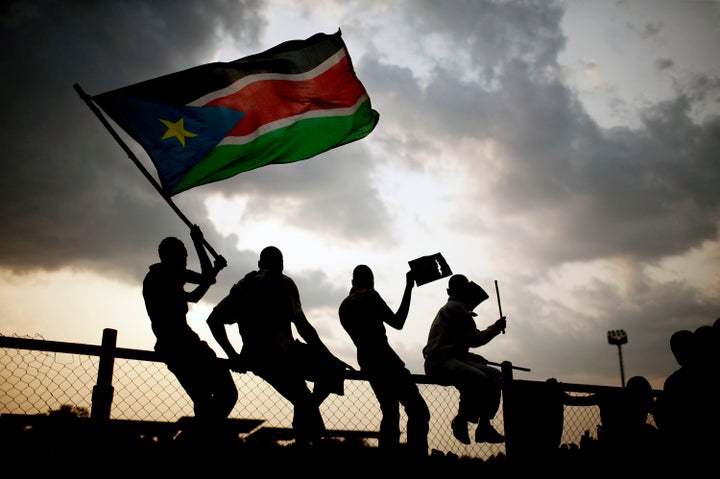 With South Sudan becoming the world's newest nation on Saturday, July 9, some commentators have suggested that violence or even a full-blown war might be imminent. Meanwhile, distant from the headlines and unaware of the many broader issues that still need to be addressed -- such as defining final borders or splitting oil revenues -- many South Sudanese are hoping for a new beginning.
After losing her husband in the civil war, Dudu Joseph fled Sudan with her children and took refuge in Uganda. She recently returned to her homeland in Yapa Village, Juba County, South Sudan, after 17 years in exile. Although finally home, life has been anything but easy, as the mother of four lacked the income to support her family.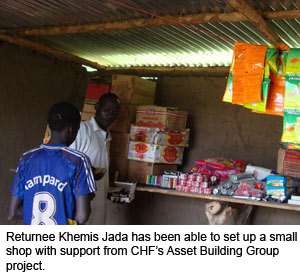 Khemis Jada, a returnee after 20 years in Uganda, had a similar path. Returning to his village in Ngulere Boma in 2008, he was also unable to provide for his family. "When I arrived from exile life was difficult, as there was no food, shelter and we had to start new life from nowhere," Khemis recalls.
Dudu and Khemis were not alone. Since the end of the 22-year civil war that killed an estimated 1.5 million people, two million southerners have returned home, which is both the greatest potential and a great concern for South Sudan. The country lacks the basic infrastructure to accommodate the newcomers: paved roads are nonexistent, schools are scarce and health services are a rarity for a population of roughly eight million -- and this influx of individuals is straining existing services, evidenced recently in CHF International's returnee and host community assessment in Central and Eastern Equatoria.
The key to stability and peace is economic development. A prosperous, stable people are less likely to go to war with their neighbors. People like Dudu and Khemis have the energy and the desire to start a new life in their homeland, but lack the means to do so. As part of CHF's work in South Sudan, we have helped these communities gather in small groups to learn together and from each other. "Helping us mobilize assets and even creating new ones as well as generate income, our asset building group is helping us understand and collect assets together for development. We can now generate income as a group and individuals to buy salt and soap," explains Dudu.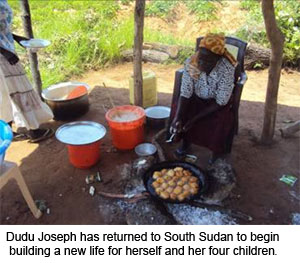 Her enthusiasm is shared by Khemis. "We formed a group of twelve members, we received inputs in form of assorted shop items like sugar, soap, salt, onion, beans, cooking oil, to mention a few. Our group operates a rotational shop attendance roster of two days per person and all money received is given to our treasurer. We have monthly meetings to discuss how the business is doing and also how we can share profits gained and what percentage to plough back into the business."
With these profits, Khemis and other members of his group were able to build a grass thatched house, where he currently lives with his wife and three children. The group also developed a savings scheme, which operates on a bi-weekly basis and where each member contributes 10 Sudanese pounds, which can be used for their respective household needs.
The economic development most needed is at the micro-level, working with individual entrepreneurs and small farmers, bringing them together, putting them in touch with local and regional markets and helping them to get beyond subsistence to a level where they can sell their products. Harnessing the skills and energies of returnees and host communities, providing them with training to improve their businesses, broadening their networks, creating access to services -- these are the catalytic actions that need to take place to enable the people of South Sudan to be in charge of their own recovery. If this can work hand-in-hand with a capable government to encourage foreign investment, South Sudan faces a brighter future.
Despite the many hardships they have encountered and challenges yet to be faced, Dudu and Khemis remain hopeful and optimistic about their future. As Africa's largest nation splits in two and South Sudan becomes the world's 193rd country, millions of people will also be starting anew. Back in their homeland after decades of exile, people like Dudu and Khemis are eager to work together to create a country where returnees and host communities can provide for themselves. We, as part of the international community, are committed to doing our part and working with them to make sure this day comes sooner rather than later.
Calling all HuffPost superfans!
Sign up for membership to become a founding member and help shape HuffPost's next chapter