They fought for dignity. They also fought for new shoes -- a better life in impoverished South Sudan after decades of devastating warfare. But explosive border conflicts threaten the stability of the world's newest nation.
Still Thursday was a day for celebration when the U.N. General Assembly admitted the Republic of South Sudan as its 193rd member to applause." I declare South Sudan a member of the United Nations," said Joseph Deiss, president of the General Assembly, after a vote by acclamation. "Welcome, South Sudan. Welcome to the community of nations," said U.N. Secretary-General Ban Ki-moon.
The new flag -- black, red and green with a blue triangle and a gold star -- was hoisted outside of U.N. headquarters with the country's new U.N. ambassador, Ezekiel Gatkuoth, breaking into a jubilant dance around the sidewalk as dignitaries spoke. (The last nation admitted was Montenegro in 2006.)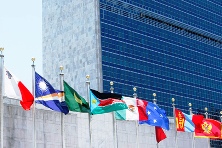 South Sudan flag is fourth from left, UN photo
In 2005, a Comprehensive Peace Agreement (CPA) formally ended decades of civil war between the largely Muslim north and the Christian and animist south with 2 million dead and more than 4 million southerners forced to leave their homes, many captured as slaves. The agreements called for an independence referendum which the South held in January.
Riek Machar, vice president of South Sudan, reminded listeners that big problems lay ahead and his government would continue to work with brothers in Sudan "to seek justice for the people of Darfur, Southern Kordofan and Blue Nile."
Mass graves And then on Friday, more details leaked out on indiscriminate killings and mass graves in Southern Kordofan. Fighting broke out on June 5, between the Sudan Armed Forces and militia allied to the south Sudan People's Liberation Army (SPLA) near the town of Kadugli, following weeks of tension over security arrangements. Adding to the tension was the re-election of Ahmed Haroun as governor of the state. He is wanted by the International Criminal Court for war crimes in Darfur.
U.N. peacekeepers have been barred by the Khartoum government in Sudan from doing any preventative work and most of them are being transferred to a new U.N. mission in South Sudan. Ethiopian troops are expected to arrive shortly to monitor the border regions but no one knows how much muscle they will provide.
More than 100,000 people have been displaced from their homes in South Kordofan. Worse yet satellite images, gathered by the Enough Project and a program that involves actor George Clooney, revealed mass graves. A Christian minority, the Nuba people, were reported to be the first victims.
The Satellite Sentinel Project (SSP) has revealed visual evidence of mass graves in South Kordofan, which corroborates new eyewitness reports, obtained by SSP, of systematic killings and mass burials in this conflict-torn region of Sudan. The evidence found by SSP is consistent with allegations that the Sudan Armed Forces (SAF) and northern militias have engaged in a campaign of killing civilians.
On Friday, the Security Council, acting on a U.N. report, condemned the violence. It called on all parties "to respect humanitarian principles and to allow humanitarian personnel timely and unfettered access to the affected civilian populations," said Germany's ambassador, Peter Wittig, this month's rotating Council president.
Valerie Amos, the chief U.N. humanitarian coordinator said she was "alarmed by the mounting allegations of mass graves in South Kordofan" as well as "disappearance of civilians, targeting of people on an ethnic basis and extra-judicial killings." But she said U.N. investigators could not get into the region.
A lot of oil After losing the South, Khartoum is not eager to make compromises elsewhere, particularly in oil-rich areas like Kordofan. Most of the country's oil is in South Sudan, with estimated reserves of some 6.7 billion barrels. At the moment it produces about 500,000 barrels a day that are transported via a pipeline to Port Sudan in the north, with oil revenues estimated at about $9 billion.
According to Louise Arbour, president of the International Crisis Group:
The North, in particular the ruling National Congress Party (N.C.P.), is moving boldly both to assert control over Northern territory and to improve its negotiating position vis-à-vis the South on the post-independence arrangements... In Khartoum, the ruling party's rank and file is increasingly discontent. Despite austerity measures, the government is confronting a serious budget deficit and spiraling inflation, and it is not able to pay all salaries. The N.C.P.'s security-dominated policies are alienating huge swaths of Sudanese.
In any case, revenue sharing, border demarcation, the status of southern military units in northern regions as well as future arrangements on citizenship will likely remain points of contention for years to come, and could trigger more violence.
The South, while the underdog, is not made up of choir boys, including the articulate Vice President Machar. Said Arbour:
Southern leaders have to switch gears from the solidarity of the liberation struggle to the more mundane, though more divisive, tasks of running a democratic country. The signs are not encouraging. The new draft transitional constitution includes several red flags, including an amendment giving the president power to dismiss democratically elected governors as he pleases.
And then there is Darfur in the West, a region Khartoum does not want to lose and a continuing area of suffering and a challenge to human decency.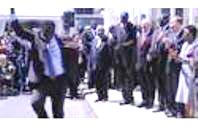 S. Sudan UN envoy dances as flag is hoisted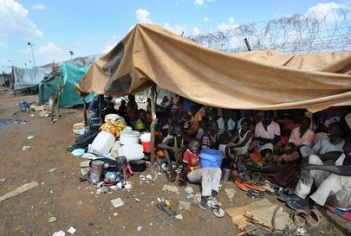 Refugees from South Kordofan
Calling all HuffPost superfans!
Sign up for membership to become a founding member and help shape HuffPost's next chapter