World Refugee Day is a sobering reminder of just how many people around the world are left with no choice but to flee. And that number continues to climb.
More than 3 million people have been forced from their homes in the war-torn nation of South Sudan, according to a report published Monday by the United Nations Refugee Agency. Of that group, 1.9 million are internally displaced and 1.4 million are refugees. The country is now home to the fastest-growing refugee population, ahead of Syria and Afghanistan.
South Sudan became independent in 2011 but devolved into chaos when President Salva Kiir accused his vice president of plotting a coup in 2013. After a peace deal collapsed, ethnic violence spread from Juba, the capital, to the country's rural areas. Recruitment of child soldiers, gang rape, murder and mass starvation are rampant.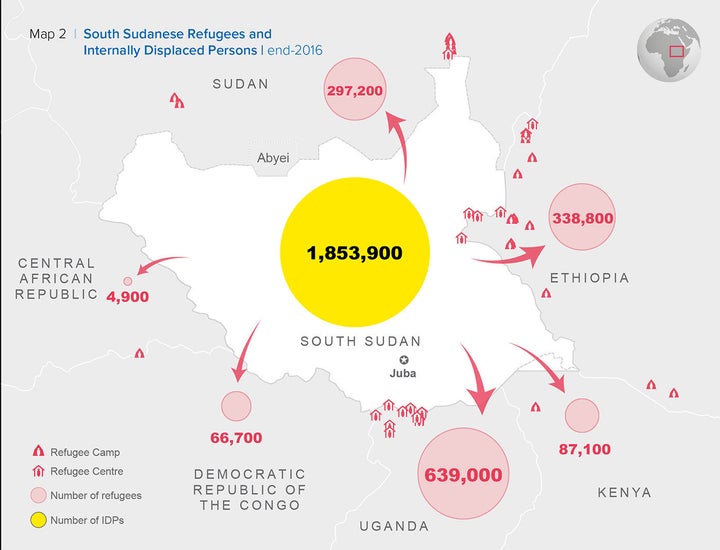 Afghanistan and Syria still have more refugees than South Sudan. But the number of refugees in the African country soared by 64 percent during the second half of 2016 alone, according to UNHCR's annual Global Trends Report. Approximately 2,000 people are fleeing South Sudan every single day, and two-thirds them are children under 18.
The vast majority flee across the country's southern border into Uganda. Uganda boasts some of the world's kindest laws towards refugees, awarding them plots of land and access to public services like health care and education.
Yet the country is now shouldering a burden it's not equipped for. The South Sudanese refugee population in Uganda swelled more than threefold, from 199,400 to 639,000, during 2016 alone, according to UNHCR. The country is now home to the world's largest refugee camp, Bidi Bidi. Located in the northern part of Uganda, the camp opened just last September and its population already hovers around 250,000. Settlements across the area are so full that UNHCR has to keep opening new reception centers, said Amy Parodi, senior public relations manager for World Vision USA.
The government said it's worried about reaching a breaking point.
"Uganda has continued to maintain open borders," Ruhakana Rugunda, Uganda's prime minister, said in April. "But this unprecedented mass influx is placing enormous strain on our public services and local infrastructure."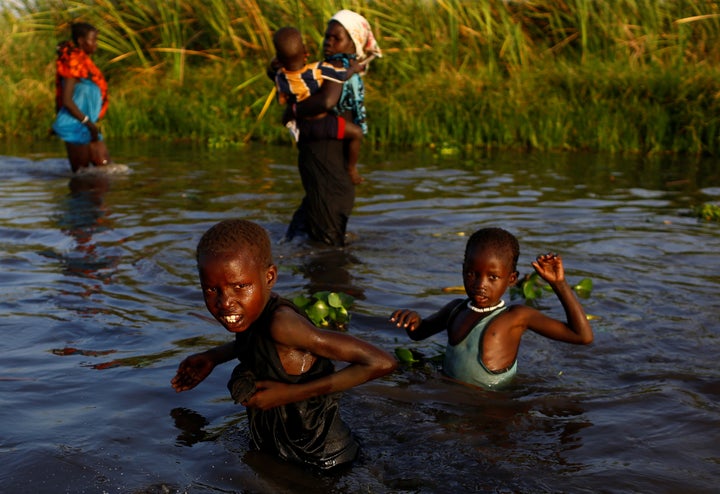 Aid organizations are providing life-saving support in Uganda, but severe underfunding has limited their reach. UNHCR operations in Uganda were only 33 percent funded last year, the report said, creating a gap of $186 million. The World Food Program was forced to cut its food rations for South Sudanese refugees in half, meaning that an adult woman is now receiving the same amount of cereal recommended for a 3-year-old.
The funding gaps have led to a "desperate lack of food, water, shelter and other basic services" in Ugandan refugee settlements, an Amnesty International report published Monday said. "Support for vulnerable groups such as unaccompanied children, persons with disabilities, and the elderly, was also severely lacking."
Doctors Without Borders said Monday that it's provided 80 percent of the population of Palorinya, a 170,000-person refugee camp, with water.
"Even though we are pumping and treating record amounts of water in Palorinya, it's always only just barely enough for the population," said Tara Newell, the group's operations manager for Uganda.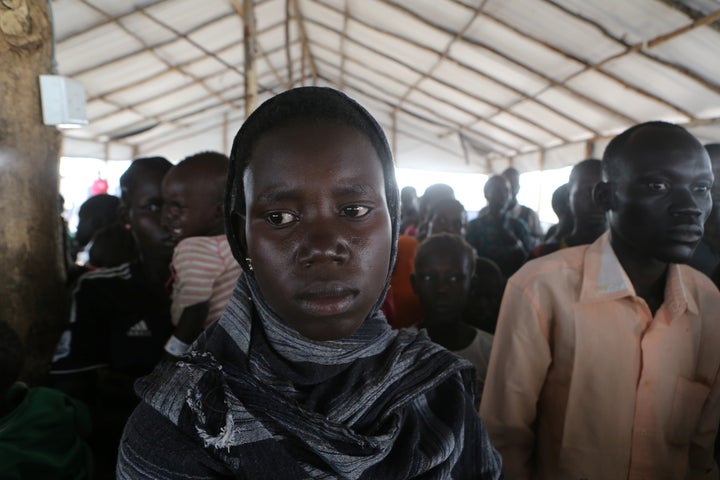 Drought also descended on the Horn of Africa last year, worsening an already growing food insecurity crisis in countries like South Sudan.
"My husband was killed in the war which, in addition to the shortage of food, made me decide to leave my home, everything, behind," Nyawet Tut, a South Sudanese mother of five in her 30s, told UNHCR staff.
The drought itself hasn't affected agricultural production in South Sudan as much as places like Somalia. The South Sudanese "breadbasket" southern region remained relatively green and fertile throughout 2016.
"You've got people directly in the line of fire who have fled because they're afraid for their lives. And you've got people who have fled because they can't get food."
And yet it's "probably the worst food crisis in the world," said Challiss McDonough, senior regional communications officer for World Food Program in East Africa. "You've got people directly in the line of fire who have fled because they're afraid for their lives. And you've got people who have fled because they can't get food." Sometimes both are happening in the same place, she added.
Displacement has prevented people from cultivating their crops, McDonough added. As a result, about 100,000 South Sudanese are facing starvation, and an additional 1 million are on the brink of famine, according to U.N. estimates.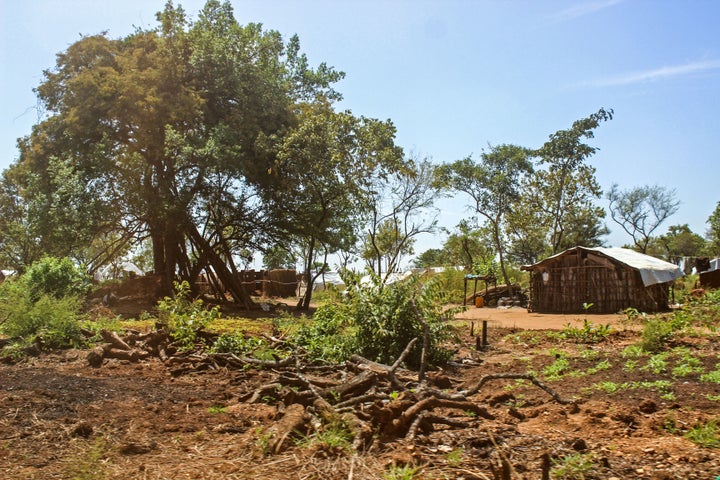 There is a silver lining, experts say. Uganda's compassion towards refugees has enabled South Sudanese newcomers to quickly begin anew.
People who have been in Uganda for several months have already started abandoning the UNCHR tarps they were using as roofs for more permanent options, Parodi said.
"You see them start to transition to more traditional round huts and thatched roofs, you start to see gardens growing and people starting to plant food for themselves. These plots of land [that the Ugandan government offers] are big enough that you can do that."
Related
Before You Go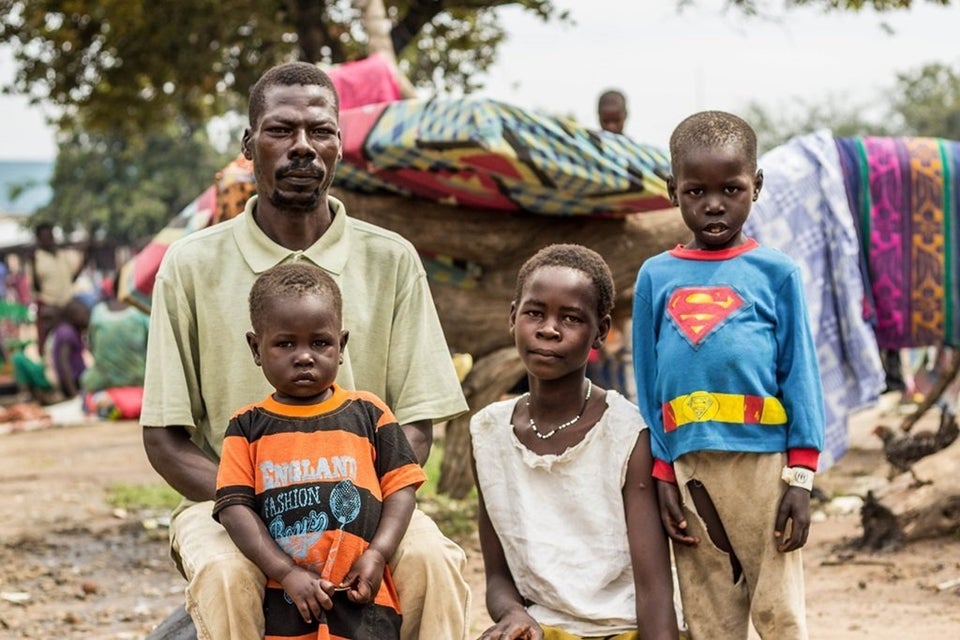 South Sudan Refugee Crisis by Natalia Jidovanu
Popular in the Community