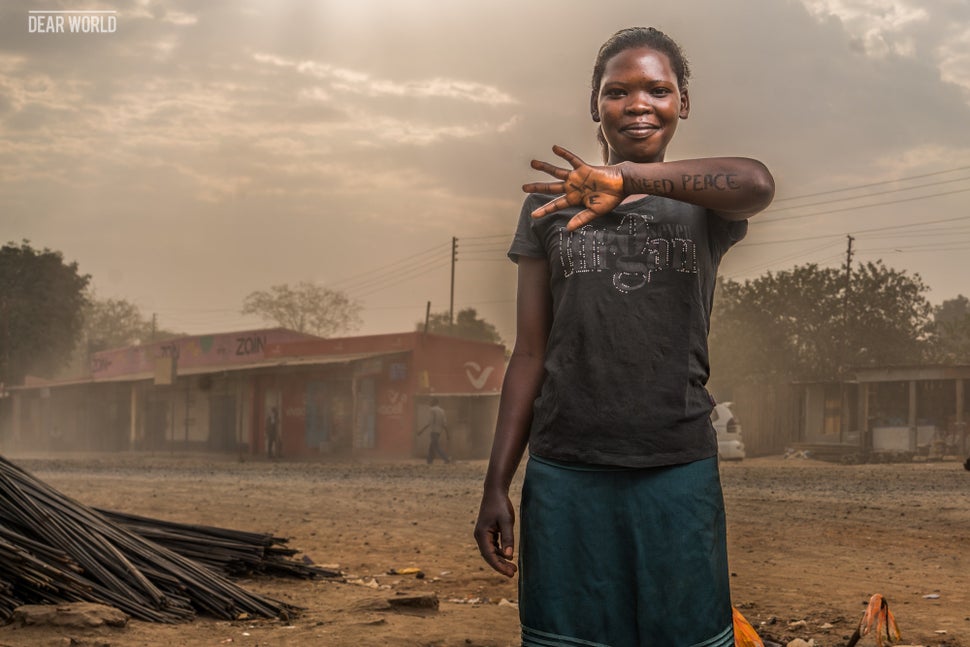 American photographer Robert Fogarty went to South Sudan, the world's youngest country, to tell a story about peace. What he found was tale after tale of heartbreaking loss.
This week, South Sudan marks its fifth birthday as an independent nation. Yet, for half of its brief life, the country has been ripped apart by war, leaving tens of thousands dead and over 2 million fleeing for their lives.
Fogarty went to South Sudan in January in partnership with Oxfam for the latest iteration of his Dear World photography project. The project, which photographs people with a message to the world written on their skin, was founded in New Orleans in 2009, and now includes some 50,000 portraits including Syrian refugees in Jordan and survivors of the Boston marathon bombing.
He intended to photograph women working for peace in South Sudan, but after his first few interviews on the streets of the capital Juba, a common theme emerged.
"Everyone there has lost someone they love," Fogarty told the WorldPost. "We all have people in our lives we wish were still here, but this is really acute in South Sudan."
Fogarty began asking people to share a message about a person they have lost, and wrote it on their arms or hands. "People appeared re-energized as they paid tribute to someone they love," Fogarty says. Some of their answers "still give me goosebumps," he said.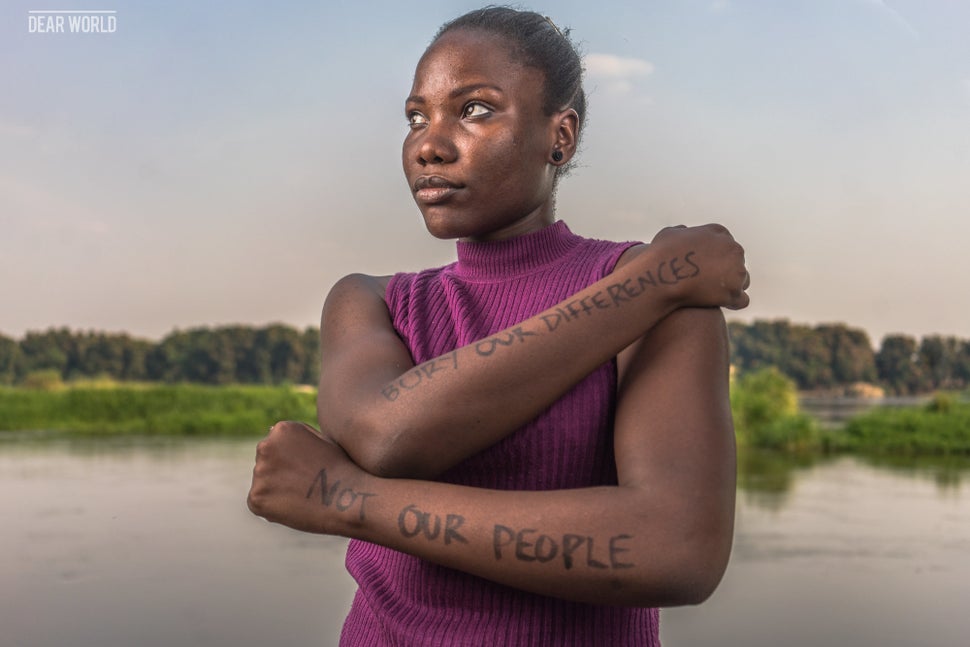 The resulting series of portraits are a moving look at the many shades of grief behind a harrowing war.
Fogarty spent four days collecting stories and pictures on the streets of Juba and a camp for people displaced by war in Mangaten, on the outskirts of the city. They ran into a couple of obstacles along the way. One evening, they had to rush out of the camp before finishing their interviews as a nightly curfew set in. On their last day, they were detained and interrogated for six hours until they were able to convince a senior official that they were not engaged in a conspiracy to make the country look bad, Fogarty says.
The incident gave Fogarty all the more respect for the people battling these obstacles every day to reconcile and heal their young country.
"We met so many people working for peace ... these incredibly talented and smart people living under curfew and watching what they say," he recalls.
"These are people in a very difficult situation, but they still yearn for a better day."
See some of Fogarty's portraits from South Sudan below, and see more at the Dear World South Sudan website. To learn more about the crisis in South Sudan, visit Oxfam's page here.
Calling all HuffPost superfans!
Sign up for membership to become a founding member and help shape HuffPost's next chapter