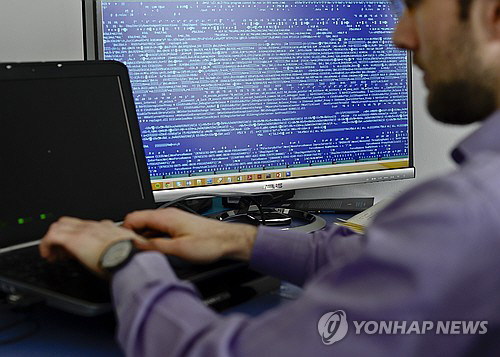 By AsiaToday reporter Lee Mi-hyun - Voices urging to prepare for cyber warfare is growing in Southeast Asia, which has weak information security against cyber threats. India has turned its attention to artificial intelligence (AI) in preparation for cyber warfare.
"India turns to AI as cyber warfare threats grow," reported AFP on Sunday. India's tech start-up Innefu has recently signed an agreement with the government of India and is using AI to look at data provided by Indian intelligence agencies to find patterns in the past and predict future behavior. Its latest offering Prophecy has been able to find the main players of an incident along one of India's borders and the connection among them by analyzing intelligence documents, including social media snippets on planned protests.
India has been struggling with numerous armed conflicts on the border and the target of cyber attacks. More than 20,000 pages outlining the secret combat capability of six submarines that French shipbuilder DCNS was designing for the Indian Navy were leaked to the media last year. India's first opposition leader Rahul Ghandi's Twitter account was hacked in November.
"Cyber warfare is happening right now. India should not lost out in the cyber revolution," said Tarun Wig, co-founder of Innefu Labs.
Southeast Asia, including India, is considered to be more vulnerable to cyber attacks. Cyber security vulnerabilities in Southeast Asia alter the safety of the internet on a global scale, said Bloomberg BNA quoting security analysts.
Southeast Asia has the world's fourth-largest internet population, and smartphone usage is also surging. However, it has an underdeveloped system of data protection laws and weak adoption of cyber security best practices. Besides, illegal software is rampant, making it easier to infect systems with malware.
Southeast Asian countries realized the emergence of a new war zone called cyberspace, and are now preparing for cyber warfare.
Malaysia, where botnets still run rampant, launched last week the Cyber Defense Operations Centre (CDOC), which was first suggested in 2013. The Malaysian defense ministry has set its goal of building the best cyber defense capability in Southeast Asia.
Nepalese media The Himalayan Times urged changes in Nepal, saying, "Nepal is extremely vulnerable to cyber-attacks in the era where an individual or even a group of individuals can wage a war with just a use of computers." According to the report, Nepal is encountering a high number of malware attacks on a daily basis and it has also become a target and being exploited by cyber criminals and state sponsored hackers. Previously, the Nepalese government and the military were attacked by the cyber -espionage organization Naikon, and the Nepalese financial institution also suffered financial loss from cyber-criminal organization Carbanak.
According to the report, Nepal has Information Technology Security Emergency Response Team (ITSERT-NP) but technical personnel capable of defending the national level infrastructure are extremely limited and are always outnumbered by start-up hackers. The media said that Nepal needs to build up "an elite cyber task force for national defense of information and security of Nepal." It pointed out that not only the government but also the nation as a whole should raise awareness of cyber security.
Some Southeast Asian countries are seeking cooperation for cyber security among them. India and Vietnam signed a Memorandum of Understanding (MOU) in the field of cyber security last year. The MOU intends to promote closer cooperation for exchange of knowledge and experience in detection, resolution and prevention of cyber security-related incidents between India and Vietnam.