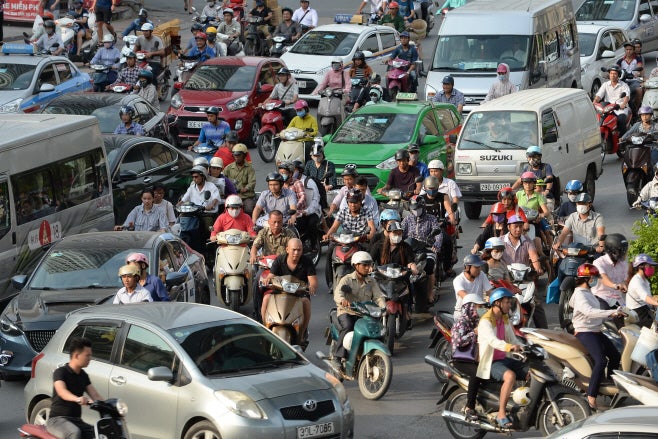 By AsiaToday reporter Jisu Kim
Southeast Asia, which has been notorious for serious traffic congestion, is seeking solutions with various ideas.
First, the Indian city of Bangalore is home to a large number of global IT outsourcing companies such as Infosys Ltd. and Wipro Ltd. Nearly 800,00 IT-related workers live nearby. This is why the city's Silk Board Junction is nicknamed "India's largest parking lot." V. Ravichandar, urban infrastructure expert and chairman of market research firm Feedback Consulting, estimates that traffic jams directly chip away about 2% from the city's GDP of $30 billion. Combined with indirect costs such as opportunity, health care, and reduced productivity, the social costs wasted by traffic congestion are snowballed.
Recently, IT giants and startups have started to pay attention to tackle the traffic problem. Bloomberg reported on Sunday that India's e-commerce company Flipkart launched 'Gridlock Hackathon', a contest to find solutions to traffic congestion in Bangalore, with $5,500 in prize money to celebrate its 10th anniversary. Over 1,000 teams from more than 400 companies worldwide participated in the hackathon. These companies included global giants such as Microsoft, Google, and Amazon as well as local startups including Ola.
According to Yourstory.com, the TrafficSense team, who won the prize, suggested "Smart Traffic Signal Switching" based on real-time traffic feeds from Google and Bing MapsVision. Using self-learning technology, it can interact with traffic signal system real-time making the entire traffic network as smooth as possible. According to the team, the use of this technology can reduce wait times at Silk Board Junction by 17%.
Vietnam has decided to ban motorbikes as a national solution. Recently, Hanoi's lawmakers passed a bill that will ban the use of motorbikes in the city by 2030. The city council plans to increase the public transportation rate from 12% to 50% while banning the use of motorbikes.
The city's decision comes after a report showing that the number of motorcycles in the city is growing too fast. Within the next three years, the number of motorcycles in Hanoi is expected to reach 6 million. Some studies suggest that there are as many as 2,500 motorbikes per kilometer.
Kuala Lumpur, the capital of Malaysia, also has serious traffic congestion. According to the World Bank's 2015 report, Kuala Lumpur is wasting 1.2 billion liters of fuel in traffic congestion, which is about 2% of GDP. The New York Times reported that Malaysian car ownership ranks third in the world, quoting a survey by Nielsen. 93% of households own at least a car and 54% have more than one car. Seven out of ten respondents said they would like to purchase a new car within the next two years. The media said about 1,000 new cars are registered every day.
Such boom is due to the perception that car ownership represents one's social status. Nearly two-thirds of respondents said the car symbolizes their status. 88 percent said they want to upgrade their cars as soon as they are financially able. This is partly due to poor public transport in Kuala Lumpur. The city's use of public transportation remained at 20%.
The city government is carrying out several projects. One of the most important projects is the construction of MRT (mass rapid transit) Circle Line looping around the city. Like Singapore and London, the city plans to charge motorcycles that enter the central part of the city.
Jakarta, which was named the city with the world's worst traffic by Castrol in 2015, plans to introduce MRT and open its first stage in 2019. According to the Guardian, it is expected to halve the hour it takes to travel 20km from LeBak Bulus to Bunderan Hotel Indonesia in the center by car. Jakarta aims to increase its public transportation use from the current 23% to 60% by 2030.
The city has already introduced the Bus Rapid Transit (BRT) for the first time in Southeast Asia 13 years ago. The BRT carries about 350,000 people a day in Jakarta. Recently, the city also introduced 10 buses for women.