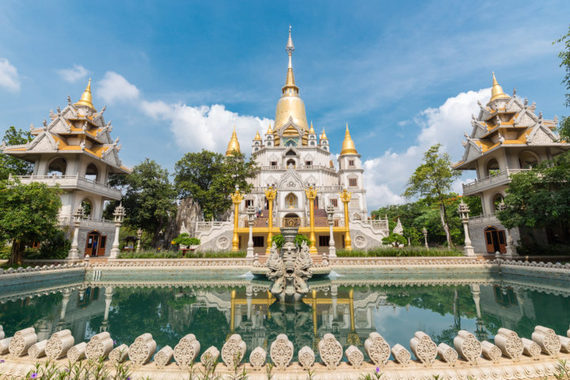 Every adventure-loving traveler has "Southeast Asia" scribbled down on their bucket list -- myself included. For nearly a year, I waited for the right airfare offer to present itself, and as soon as it did, I whipped out my credit card faster than my mother at a Macy's semi-annual sale.
While my nearly three-week long trip was all rainbows, pad thai and sunshine, there were some bumps in the road while planning that, even as a seasoned traveler, I did not anticipate. When thinking about what knowledge and tips I could pass on to future Southeast Asia travelers, I whittled it down to what I'm referring to as the "travel trifecta":
Assemble the A-Team
This is something that most people would not necessarily put on the top of their list. Plan your ideal vacation and then see who wants to come along, right? Or maybe you have a built-in travel buddy like a best friend or a spouse, so the thought never crosses your mind. Personality compatibility is crucial to any vacation, but I found this to be the case more than ever on this type of adventure-packed, travel-heavy (we're talking planes, trains, automobiles, and longtail boats) itinerary. As planned as any trip can be, mishaps ranging from "shucks, it's raining today and we planned to go to the beach" to "that monkey just bit me!" can creep their way into the most airtight agendas.
When asked about my recent travels, one of the first things I've found myself saying is: "I've never laughed so hard." This is a testament to the three girls I traveled with. When one of our flights was delayed nearly three hours, we popped open some Tiger beers and created a black-and-white dubsmash of Adele's "Hello" music video. (We're still waiting for it to go viral.) Slight setbacks and sunbathing on white-sand beaches all turned into equally unforgettable memories.
Also one thing to note: There is such a thing as having too many cooks in the kitchen. With an easygoing group of four, it was stress-free to manage and plan daily activities. I've traveled with as few as one and as many as 10 friends before, and I can say that this small but mighty group of four has been my favorite.
Plot Your Course
This sounds all too easy at first. Oh, of course I want to just skip off to Southeast Asia and see all of the countries in a very small timeframe. It's SO doable. I laugh looking back at myself six months ago. You overzealous little traveler, you!
I booked an open-jaw airfare (that's travel jargon for flying into one city and out of another), flying from New York City to Bangkok and home from Ho Chi Minh on ANA Airways. Fun fact: ANA is a 5-star airline on Skytrax and has great food and impeccable service to boot; they also have a Star Wars plane, so feel free to geek out. Because I had my flights to Asia, it was totally fine to wait and book internal flights and sort out visas only a month before departure ... EH, wrong.
Just because all of these countries seemed so close together did not mean that flights were as frequent or as cheap as I expected them to be. Most flights we took internally were no longer than an hour. However, on our leg from Chiang Mai, Thailand, to Siem Reap, Cambodia, we had a connection in Bangkok (there were no direct flights), which cost about $160 one way. Ouch. Other flights, however, like our leg from Krabi to Chiang Mai, only ran about $42 per person. Great success.
Hotels and hostels in Asia are both plentiful and reasonably priced. We often stayed in four- and five-star hotels, not running more than $30-$40 per person, per night. Those on an even tighter budget can find suitable, well-located hotels for half this price.
Visas! All of the visas. Thailand, that sweet, beautiful, place. This nation full of friendly people does not have a visa requirement for U.S. citizens. (I mean so genuinely friendly that my fellow New Yorkers and I thought a man on our first day was trying to plot our inevitable kidnapping, but he really just wanted to help us avoid packed temples during prayer time.) Our two additional stops of Cambodia and Vietnam, however, both required visas. The first was a piece-of-cake, online visa application with a $37 fee.
The latter required a visa-on-arrival letter, which must be done online prior to entering the country at select international airports, costing just under $14. We used InstantVietnamVisa.org, which provides you with a private approval letter (easing the worrying minds of those who don't want their personal information, i.e. passport number, shown to a list of other strangers on the same document). This does mean you'll have to wait up to about 40 minutes and fork over another $25 once at a Vietnam airport. The alternative: Pay about $100 and visit and/or send your information to one of the Vietnamese Consulates in the U.S. Our route may have taken a bit more time, but it was one-third of the price.
Do and Eat All of the Things
I was warned countless times not to eat from questionable-looking street vendors or consume drinks with ice in them because water can be contaminated. "And don't do anything too crazy because you're in a foreign country and we can't get to you quickly," cautioned my not-so-carefree father. Well, here is the wind and here is me throwing caution right to it. None of the troublesome stories were going to stop me from living life to the fullest on this vacation.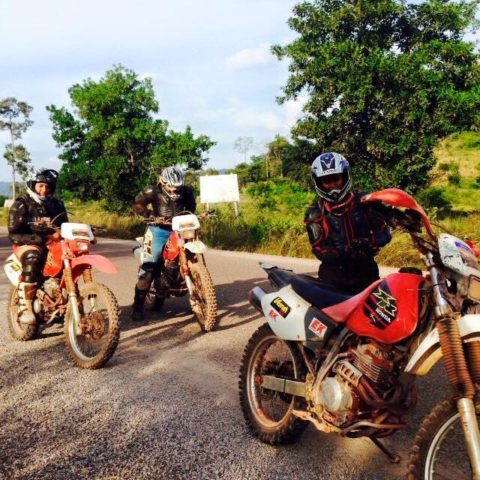 Cambodia

So what did I do? I rode a dirt bike for 80 miles through the hillside villages of Cambodia to a breathtaking waterfall at Phnom Kulen. Was I shaking in my boots at first? Sure. But this ended up being one of the highlights of my vacation, and dare I say it, my life. (Cambodia Dirtbike Tours couldn't have been greater; this family-owned and operated business knows how to do this kind of adventure right.) I also kayaked around and rock-climbed limestone cliffs on Railay Beach. (Look up Basecamp Tonsai; our guide was encouraging, helpful and absolutely hilarious.)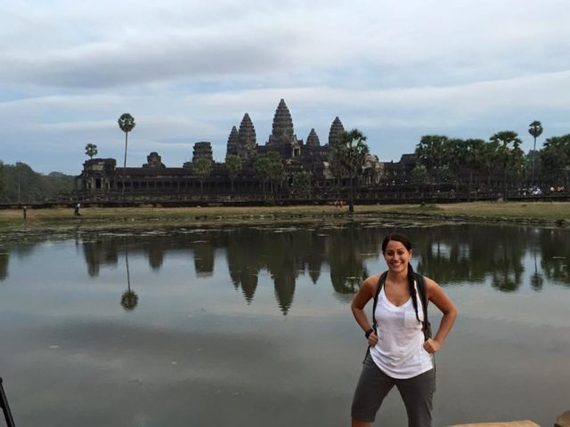 Angkor Wat

OK, so not everything I did was over-the-top adventurous. I also marveled at centuries-old UNESCO World Heritage sites like Angkor Wat and Bayon and pensively wandered through the Vietnam War Remnants Museum. From dreamlike sunsets to eating the best pad thai I've ever had at local night markets, this trip was by far the best of my life. If you're thinking about it, I encourage you not to. Just go...as quickly as possible.
Erin Oliveri is a deal expert at Travelzoo and based in New York. Travelzoo has 250 deal experts from around the world who rigorously research, evaluate and test thousands of deals to find those with true value.